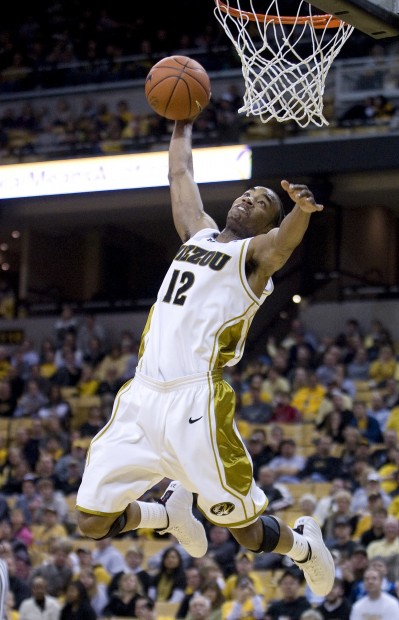 KANSAS CITY • It's true that Marcus Denmon once lived at 9th and Woodland, in an area regarded by outsiders as harsh.
It's a fact that his father, also Marcus, is in his life in an unexplained way but didn't raise him, a fact that his mother is not a topic for public consumption.
"She gave him to me," said Denmon's grandmother, Bertha. "Let's leave it at that."
And it's an inescapable reality that the tentacles of such circumstances still can clutch at his life, as they did most recently in the fall when a cousin - regarded by Denmon as a brother - was shot and killed and the funeral cruelly was interrupted by gunfire that left most seeking refuge.
"Who knows what's going on with these crazy kids today?" said Bertha Denmon, who couldn't bear to attend the service.
Amid the madness, Denmon stood to steady his cousin's casket - "He was going to stay right there by his cousin,'' Bertha Denmon said.
It was an act that in many ways was testimony to the selflessness, dignity, resilience, and restraint that mark him as a person and are paralleled in his rise this season to an All-Big 12 guard.
Still in mourning days later, Denmon scored 21 points to lead the Tigers to an 85-82 overtime win over Vanderbilt.
"I was angry about it, but there wasn't anything I could do," he said. "I mean, there is something I could do, but that's not something I'm going to do.
"So I just don't feed into it and keep continuing to do what I'm doing."
What he's done and how he's done it as MU enters Big 12 tournament play at 8:30 tonight against Texas Tech don't necessarily lend themselves to a seemingly predictable narrative.
Or as Bertha said in her house last month, his story isn't one of "a poor little black boy who grew up so poorly, look where he's come - that's not true."
By way of instant example, she notes Marcus had moved from the projects by the time he was 7.
Two houses later, the family home now is a plush and stylishly decorated house where she playfully refers to having her "own wing."
When Mizzou coaches visited during their recruitment of Marcus, she recalled, Mike Anderson took a look around and told him, "Someone told me that you lived in the 'hood. ... What a 'hood!"
Yes, Marcus Denmon says, early unnamed adversities helped make him a "mentally tough person" who can fight through pain "better than people who have weak mentalities (by) channeling all that negative energy, like I always have, into good stuff."
But his baseline was one of love and stability, starting with the generosity of a grandmother who estimates she raised "16-plus" children beyond her own six.
"There was a need," she said. "Each one was a need, one way or another."
The needs began when one of her sisters died, and Bertha took in her two children. It escalated as others came to see her home as a haven and an answer for whatever it was they couldn't handle in their own.
Friends tell her she needs to write a book, but she shrugs.
"It wasn't that hard," she said. "You just get a little more meat, buy a few more clothes, open up your arms and give each one as much attention as you can."
The details that might make for a book sometimes are hard to extract from Bertha. Beyond her siblings and parents, she says "just me" and moves on when asked if she had a male companion in the child-rearing, says simply that "voice control" was the key to discipline.
She's not sure how she made ends meet - they just did - and said she "doesn't do age" and asked a reporter not to use names of children she took in.
In fact, she refers to nearly all of her family with nicknames, including the Mizzou star as "Master," for reasons she says she can't recall.
His name for her is "Honey," and that's not hard to follow.
By the time she took him in "officially" around the time he was 2, she said, "he made sure his arms were around me as often as possible."
"When you're younger, everything's always, 'Mom and Dad,'" Marcus said. "So people would always ask me where my mom was and stuff, but all I knew was my Grandma.
"She played the mother role in my life. She was the one who was there for me for guidance, the one who was always on my side, doing things that she didn't have to do just out of the goodness of her heart. ...
"I wouldn't change it for the world."
While he's "proud of" what his father does for him and "the love that he shows," Denmon doesn't hesitate when asked who the male role model is in his life.
"My Uncle Martinez," he said. "I mean, I've never met anyone like him. He's one of the most inspirational people you'll meet. Especially to me. He's taken care of me my whole life.
"Everyone sees and hears about my grandma, but he's the one behind the scenes who really takes care of everything. He's the one who takes care of her, so in essence he was taking care of me (that way) as well."
After transferring from junior college, Martinez, Bertha's oldest child, averaged nearly 17 points a game in two seasons at Iowa State and was picked by the Boston Celtics in the third round of the 1973 NBA draft. Although he never ended up playing for the Celtics, Martinez has prospered in the publishing world, rising to vice president at Prentice Hall publishing, and his magnanimity evidently is infinite.
His generosity is most obvious from the annual Christmas spectacle at Bertha's home, which will brim with tables of everything from jewelry to electronics to pots and pans purchased by Martinez for everyone from family to family friends to friends of friends and so forth.
"True story," Bertha said. "It's almost unbelievable."
Before he became the ultimate elf, Martinez moved his mother out of what she calls the projects.
Not that it was necessary to leave the five-bedroom apartment that she proudly kept immaculate and encouraged her extended family to make a neighborhood hub for snacks, meals and sheer warmth. Crime statistics, she said, were exaggerated, laughing and adding, "I'm not one to want to dodge a bullet."
"Let me tell you something: Most of the time (there) we didn't lock the doors," Bertha said. "But here and everywhere else I've lived, I lock doors. So just saying 'the projects,' they gave it a bad name.
"I'll tell you how great it was: Martinez made it to the pros. Begged me to move. 'Get you a house!' I did not want to leave."
Even so, Martinez ultimately convinced her to move about 13 years ago to a suburban home with an extra flourish: a basketball court he commissioned, a place where little Marcus ramped up his fledgling game and further thickened his skin playing against older boys and even men.
A fretful Bertha occasionally would yell, "Don't y'all hurt my baby."
With a laugh, she recalled, "They'd yell back, 'Your baby's hurting us.' "
All of which sculpted the heart and mind of Marcus Denmon, who is known by teammates and family for his unselfishness.
It's one of the few things he outwardly expresses pride in.
"I'm a like-to-do-things-for-others type of person," he said. "Just out of, like, the goodness for it, not really expecting anything in return."
So often does he give away his own clothes or gadgets to others, Bertha said, that Martinez has chastised him: "Boy - sometimes hold on to your stuff. Sometimes. Sometimes!"
Similarly, even if family members might like to see him take more shots on the court, not forcing it is at the core of his success.
After two seasons encumbered by knee injuries, the reason Denmon leads MU in scoring (16.8 points a game) and steals (54) and is making 45.7 percent (74-162) of his 3-pointers among his 50-percent plus overall shooting (182-360) is because of an uncanny sense of what to do when.
"Marcus is one of the best I've ever seen at never forcing the issues, taking what the defense gives him and rarely (shooting) a bad shot," junior guard Kim English said, adding, "He won't make iffy passes, and he won't shoot bad shots. He's really good at doing the right play."
Assistant coach Matt Zimmerman notes Denmon's demonic work ethic and adds, "Marcus is no-maintenance."
By that, Zimmerman includes Denmon's interest in school as a general studies major, an emphasis that Denmon came to after what he called a rebellious phase that left him drummed out of Lincoln Prep after his sophomore year and transferring to Hogan Prep.
"Now I'm older and more mature and grown into knowing what the real world requires," he said.
Nevertheless, he appreciates the reality of what his own world required, a topic he addresses only broadly.
"I've always for the most part been taken care of and gotten everything I've needed and wanted," he said. "But stuff I went through ... stuff other people didn't go through, I think it's molded me."