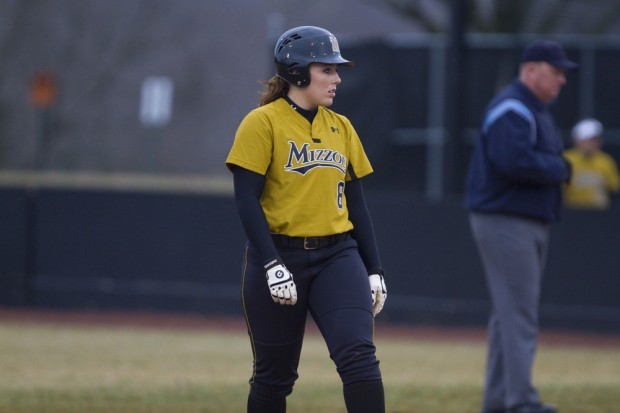 Nicole Hudson, the third baseman on Mizzou's fifth-seeded softball team, is among the Tigers' leaders in just about every offensive category. The sophomore is third in batting average, second in slugging percentage, second in runs batted in.
Based on what she had done before she got to Mizzou, the only thing in that paragraph you wouldn't have expected is that Hudson is a third baseman.
In high school, Hudson was a pitcher who played outfield and first base when she wasn't in the circle. But when she got to Columbia, what Mizzou needed was a third baseman. Since there's always a need for a hitter like Hudson in the lineup, Tigers coach Ehren Earleywine decided to try her at third. Welcome to college softball.
"It was a big adjustment," Hudson said. "Last year I felt like I scratched and clawed to get by. But I put in my time and experience will do a lot. I feel so much more comfortable there now. I feel like it's my position."
Hudson has been one of the offensive forces for the Tigers, who face 12th-seeded Washington in a best-of-three super regional starting Saturday night in Columbia. The winner of the series moves on to the College World Series in Oklahoma City.
Hudson is hitting .337 with 12 home runs and 49 RBIs for the Tigers (50-8) and was voted the top third baseman in both the Big 12 and the Midwest region. On the other side, she's made just five errors at her new-found position, down from eight a year ago, and no longer lives in fear of the ball being hit to her, as was sometimes the case as a freshman.
"There were definitely points in the season where I felt uncomfortable," Hudson said. "It's a scary thing when you're out on the field in these big games and it got into my head and I started to panic. That hasn't been an issue this season. There was a lot of repetition, and now I go out there and know if it's hit to me, I know I can do this."
Earleywine made the move because of the nature of the position in softball, where it's almost akin to being a goalie. You keep the ball from going past you.
"We didn't know where to play her," he said. "My initial thought was left field, but I decided before we send her out to the outfield, let's try third. She has decent hands and a decent arm. It's not a highly skilled position in my opinion. You have to field one-hoppers. Last year, she had struggles and was lacking in her defensive skill set, but she's increased her range and had a year of experience. And this year, she's a good third baseman."
Hudson, who grew up in Webb City in the southwest corner of Missouri, about a 10-minute drive from where a tornado devastated Joplin, suspects that some of her defensive concerns crept over to the offensive side of her game last season. Even then, she hit .323 and led the team in homers with 10. She had 15 doubles as a freshman, the fourth most in school history.
This year, her ease in the field means more comfort at the plate. In Mizzou's key series with Texas, she got hits in five straight at-bats over two games, and in four games that week hit .692. In last weekend's regional, in three games against DePaul, Hudson came to the plate five times with runners in scoring position and got three hits, driving in five runs.
With a bunch of shortstops coming in for next season, Earleywine thinks one of them may take over the third-base job next season. "We'll see what the best nine look like," he said. "It could mean left field (for Hudson), it could be back at third."
Wherever it is, he'll certainly find a place for Hudson.