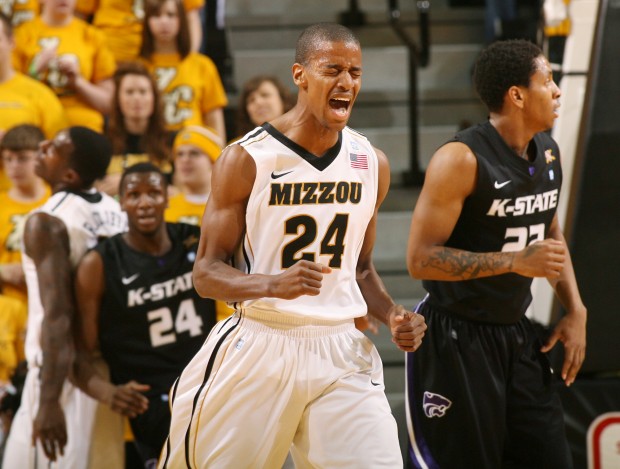 COLUMBIA, MO. • If his diction isn't precisely the king's English, Kim English nevertheless exudes rare eloquence and reverence for the language.
That's why he's among Mizzou's most sought-after interviews, why it's torture for him to reduce postings on Twitter during the season and why he could be found on a September evening reading aloud in Peace Park his poetry about the absence of hands-on leaders in the national black community.
"I love the collaboration of words. I love quotes. I love poetry," said English, a junior guard for the 11th-ranked Tigers. "I love hearing people who speak well, like the guy from Cleveland, the YouTube sensation. I love hearing great voices. I can watch a game and hear a commentator and I can say he's not really that good at it, or I can hear a guy when he just has it.
"I love the guy who does the previews for the movies, 'Coming to a theater near you.' I love all that stuff."
Part of that is sheer intellectual curiosity, spurred by his family and his own instincts. But part of it may stem from another reason.
"Maybe," he added, "it's because of my problem."
Before his sense of triumph in the last few years, English had a crippling issue with stuttering evocative of the current movie, "The King's Speech," which he said he is eager to see this week.
Rather than face humiliation in elementary school, English said he would go days without speaking during classes or recess. He recalled the torment of struggling with the word "hypocrisy" as he tried to read from "Sounder" in third grade.
"I just had to sit there, because I knew that if I were to jump in everyone would turn and look at me and then I (would) get stuck on a word," he said, adding, "And then when you're stuck on a word, it's like a boa constrictor.
"It's like the more you fight, the more you see people laughing, the more tense it gets. The tighter the boa, the more you fight."
English had the problem since he can remember, which is to say not long after he recalled teasing an older cousin about her stutter. "Karma," he joked.
Speech therapy helped, English said, and so did his family, particularly his mother, Brenda, who would patiently wait him out and his little sister, Bria, who never made him feel different.
Countless broadcasters also served as therapists to English, who often sat alone and repeated the words he'd hear over the television or radio.
But what may have helped him most, English said, was a certain ease with himself that began as a trickle with becoming accomplished at basketball in his mid-teens, then realizing girls liked him and finally that he had worthy thoughts to express.
"Once I became confident in my thoughts," he said, "then the words really started to flow out."
And essentially have been flowing ever since.
"He's almost tried to be the voice of this basketball team," MU coach Mike Anderson said before the season.
This season, English is learning to be more than just the most loquacious and highest-scoring Tiger as he was last season with 14 points a game.
While his scoring average has dipped to 10.7, fifth on the team, English has made dramatic improvement in assist-to-turnover ratio (from 39-71 all last season to 49-41 in 20 games) and other aspects such as blocked shots and steals.
"I see everyone's eyes on me when I have the ball, so I make an effort to find other guys," he said. "I have a lot better scorers around me than I had last year, and I definitely utilize that."
He also has improved at utilizing different remedies on the occasions his speech impediment surfaces.
"I became a master of synonyms, so if I couldn't say a word I'd jump into another word quick," he said.
Other times, he'll create a rhythm for himself.
"You'll never hear a person stutter singing a song; it's true," he said. "If I catch myself stuttering, I'll, like, get a little beat on my leg or the podium ... and I'll get it out because I'm kind of like singing a song to myself."
Although he still can get jammed if he's in an argument or, say, in a huddle trying to passionately say something, English no longer is receiving therapy.
"I think my therapy is 24-7," he said. "I talk to my teammates. I talk to you guys. I talk to the coaches. I talk to my dad every day. Talk to my mom.
"It's kind of like if you want to be good at putting, you practice putting. If you want to improve your speech ... just keep shooting. It will become smooth. I had a hitch in my speech, so it became smooth, and I think I'm a pretty good talker now."