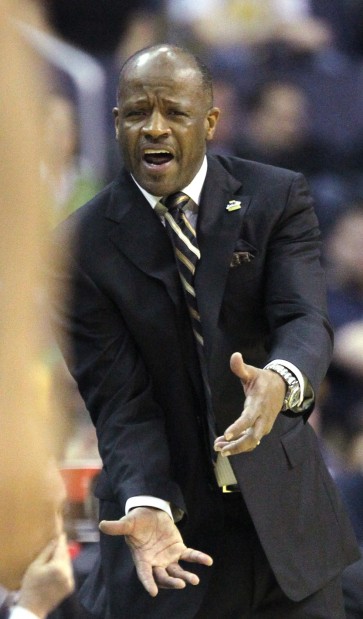 Barring the notion that Mizzou coach Mike Anderson's future could be clarified late Tuesday night or this morning as he was in Tulsa, Okla., to mourn a longtime friend, the saga appears sure to extend well into today if not beyond.
As MU fans remained captivated by, even captive to, concerns Arkansas may entice him away, uncertainty continued to loom on a day that figured to yield more transparency.
The university Board of Curators was asked Tuesday to consider a contract extension that would add two years to the five Anderson has remaining and boost his guaranteed salary to around $2 million from just over $1.5 million.
Presumably, that offer wouldn't have been taken to the board without a suggestion by Anderson it would seal the deal. MU officials believed it would.
As of Tuesday night, though, it remained uncertain how the curators voted or even if they did.
While the matter was a point of discussion and MU athletics director Mike Alden attended the meeting in Rolla, Mo., a source with knowledge of the proceedings declined to describe what took place, and MU interim president Steve Owens offered only cursory remarks about Anderson.
"I think it is safe to say that we are all big fans of Mike Anderson," he said in a conference call after two days of meetings had concluded. "We appreciate very much what he does on the court and particularly off the court.
"But any hypothetical contract negotiations, we don't confirm either their existence or their status."
While some Arkansas electronic media outlets and Razorback-related Internet sites continue to say they believe Anderson is headed there and suggested the school was seeking formal permission to interview him, as of midafternoon Tuesday a source said MU had received no such request.
Even so, the Arkansas Democrat-Gazette was reporting for the first time Tuesday night that Arkansas has determined it will offer the job to Anderson.
Anderson's contract calls for him to have written permission from Mizzou before he can be interviewed, but the clause seems not to include the same provision for a representative of Anderson.
A request to interview his agent, Memphis-based Jimmy Sexton, did not receive an immediate response Tuesday evening, but Sexton spoke briefly to the matter of MU's attempt to extend Anderson's deal Tuesday on WHBQ-AM in Memphis.
"We've been in discussions with them for several weeks now," he said. "Those are ongoing discussions. Nothing is imminent this second, so I can't really speak to it. But there should be some resolution to that in the next few days."
Sexton did not address whether he is negotiating with Arkansas, where the job opened when John Pelphrey was fired March 13.
Anderson, an assistant at Arkansas for 17 years, immediately was perceived as a logical candidate and was asked several times if he could douse speculation that he'd consider it if offered.
In each instance, he has declared he is happy at Missouri and excited about his future but failed to say he wouldn't listen to Arkansas.
Arkansas also is believed to be interested in Marquette coach Buzz Williams, but the Democrat-Gazette reported that Williams' buyout is well over $3 million.
The price for buying out Anderson, according to section 15B of his contract, would be no more than $550,000 — two years of his base salary.
Anderson by all appearances has gone about business as usual at MU since the Tigers were ousted from the NCAA Tournament last week.
He has been seen recruiting for the Tigers and participating in his usual Monday lunch time routine of playing pickup ball at the student rec center. And Mizzou players through their social media accounts have indicated no unrest as of late Tuesday morning.
None of which means Anderson and his agent aren't entertaining another offer, though it certainly suggests an effort to make it appear he is staying at MU.
Many aspects of the situation remain unclear and seemingly fluid and seem likely to stay the same way through today as Anderson was to attend services for Tulsan Jim Pharr.