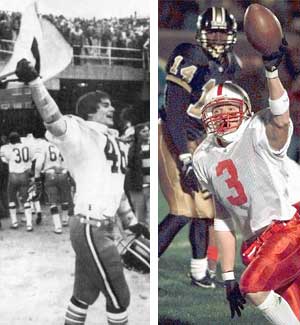 LINCOLN, NEB. - From the rumbling of Mizzou's "Sikeston Train" to the shame of MU's forfeit of its would-be initial game against Nebraska, from Pete Woods' exhilarating 98-yard touchdown pass to Joe Stewart to the excruciating "Fleakicker," the third-oldest college football series west of the Mississippi has made for an indelible collage of images since its inception in 1892.
The last will be affixed Saturday, when the Tigers and Cornhuskers meet for the 104th and perhaps last time with Nebraska deserting the Big 12 for the Big Ten next year.
"It hurts my heart to see the conference go this way," said Corby Jones, the former Tigers quarterback and current FSN analyst who also lamented the breakup as a traditional Big Eight man. "The Big Eight is the core of the Big 12. The Southwest Conference disbanded, and we hand-picked the teams we wanted."
In some ways, that debatable point is at the heart of Nebraska's decision to leave.
"We didn't feel uncomfortable in the Big 12, but we felt that the Big 12 was a marriage of the Big Eight and the remaining Southwest Conference that was kind of rather precipitous, and there wasn't a lot of forethought in how do you mesh these two cultures," Nebraska athletics director Tom Osborne said in his office this week.
Meanwhile, Osborne said, Nebraska came to believe in June both that the culture of the Big Ten was "a little better fit" and that the future of the Big 12 was in jeopardy as several schools were somewhere between courting and being courted by other conferences.
"If anything, the Big Ten represented stability," he said. "We knew the Big Ten was probably going to be there for 50 years. We had no such feeling about the Big 12."
Yet Osborne called the change "bittersweet," and he's not the only one who'll feel that way.
While current players and coaches either are indifferent to the history or too riveted on the finale pitting No. 7 MU and No. 14 Nebraska to try to express a broad view of the end of the era, many who've been a part of it over the years feel pangs of sadness as the rivalry culminates.
"I'll feel a little nostalgia," said John Kadlec, who played for the Tigers from 1948-50 and largely has been part of the program as coach, administrator or announcer since. "I hate to see Nebraska go. We've had some really big slam-bang games with them."
Even if they didn't all quite go MU's way, the series looks a lot more even (40-36-3 Nebraska) without the generation of Tigers futility from 1979 to 2002.
Beginning with ending that 24-game losing streak to the Huskers, Mizzou has won four of the last seven.
"It seemed like Missouri games were always very physical," Osborne said.
That was particularly so during the span from the time Bob Devaney began resurrecting Nebraska in 1962 and for a few years after Osborne took over in 1973. Nebraska won only nine of 17 against MU in that time.
Among those games were 12th-ranked MU's 13-12 victory over No. 2 Nebraska in 1973; No. 17 Mizzou's 34-24 win over the third-ranked Huskers, highlighted by Woods to Stewart, in 1976; and "Sikeston Train" James Wilder's four touchdowns in Mizzou's 1978 win over No. 2 Nebraska in Lincoln — the last the Tigers would enjoy there until 2008.
That '78 win may have kept Nebraska from a national title in more ways than one.
"We had beaten (then-No. 1) Oklahoma the week before, then we turn around and Missouri beat us, then we played Oklahoma again in the Orange Bowl," Osborne said. "Had we won the Missouri game, we would probably not have played Oklahoma again."
Instead, Nebraska faced the Sooners a second time and lost the rematch 31-24. OU became national champion.
More memorable to MU fans, of course, is the national title aspiration Nebraska kept alive with a 1997 overtime win in which Nebraska's Matt Davison scooped his fingers under a ball kicked in the air by teammate Shevin Wiggins to tie it at the end of regulation play.
Nebraska went on to share the national title with Michigan.
"They were easily the best team in the country, and we played them point for point, tit for tat, on heart and pride alone," said Jones, who relishes the game despite the heartbreak.
That game, in which Osborne said Nebraska had "great good fortune ... in a very desperate position" was Osborne's last in Columbia, something he knew at the time but didn't convey publicly until weeks later.
"I knew going into that season that that would be my last year, because I had made a promise that after a certain amount of time that I would leave," he said, "and the time was up."
Osborne declined to specify to whom he had made that vow and simply called it "a significant promise." And on the premise of that promise, he said he experienced the emotions then that some may be feeling now.
"Every school, every venue I visited, I took special notice because I knew that would be the last time as a head coach," said Osborne, who recalled former Mizzou coach Dan Devine telling him to appreciate rides from the team hotel in Jefferson City through the limestone of Highway 63. "I always would notice the rocks. ... And I remember thinking, 'I won't be on this road again' ... in the same capacity."
Meanwhile, anyone who's experienced game day in Lincoln likely has vivid memories of their own.
Jones, like many, remembers the unique Nebraska fan gesture of lining the sidelines to cheer the opposing team after the game.
Some over the years have considered that either sarcastic or a backhanded compliment, especially after Nebaska may have battered the opposition.
But Jones said he always believed it to be a sincere sign of respect, at its best if an opponent challenged Nebraska but couldn't quite win.
And Kadlec said, "I might be nutty, but I think the fans are terrific up there. ... They back their team and, why, when the opponent does a good job, they give them credit."
More often than not, of course, the fans have had plenty to cheer about in a stadium that will be sold out for a record 309th straight time Saturday.
Nebraska has won five national titles, including three in Osborne's final four seasons, and 43 conference championships.
Even the less-known moments of yesteryear are part of that tradition and part of the fabric that always will tether the schools together despite an inauspicious debut to the series in 1892, when Missouri forfeited because Nebraska had a black player, George Flippin, the son of freed slaves.
Kadlec recalled, for instance, a 40-34 loss in Lincoln in 1950 in which he said he took "four swipes" at tackling Nebraska back Bobby Reynolds on one play. If it sounds like an exaggeration, Huskers.com suggests Reynolds "easily covered" 100 yards on a 33-yard touchdown run in which he reversed field three times.
The school's football fortunes may have been reversed by a twist of fate. At least in the long term.
When Don Faurot was retiring as Mizzou coach after the 1956 season, in his role as AD he was the decision-maker on his successor.
The choice, Kadlec recalled, ultimately came down to Frank Broyles, a Georgia Tech assistant, and Devaney, then an assistant at Michigan State.
Faurot chose Broyles, who left for Arkansas with an overwhelming offer after a year and opened the way for Devine at MU.
"Bob Devaney told me many times, 'John, I really wanted that job at Missouri,'" Kadlec said. "If Devaney would have come here, who knows?"
MU, of course, had a glorious era under Devine and many notable moments under successor Al Onofrio. But Onofrio was fired in 1977 with a 38-41 record despite numerous monstrous upsets of top 10 teams.
For many years after, Nebraska prospered while MU suffered.
Now with MU ranked in the top 10, in theory it would be an upset for Nebraska to win. The Huskers have lost 13 straight to top 10 foes since 2001.
Even so, part of Nebraska's legacy holds even as it prepares to change radically.
"If you beat them, well, you know what, you've really done something," Kadlec said, wistfully adding, "I just liked Nebraska in the conference. I think Nebraska adds a lot of prestige and class. ...