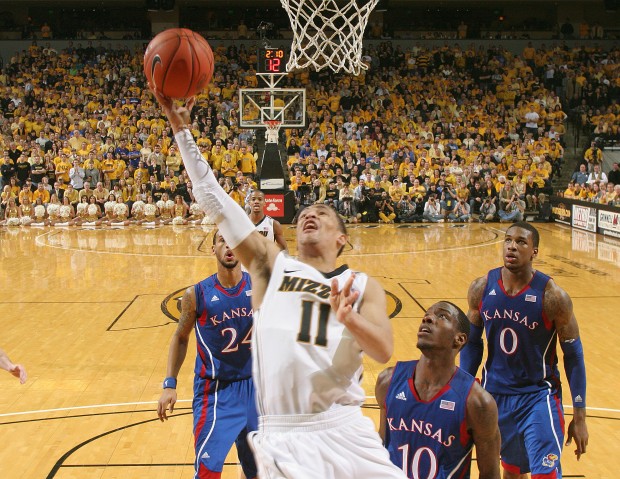 Suspended and embattled Mizzou senior guard Michael Dixon will transfer from MU, the school announced in a statement Thursday night attributed to Dixon.
"It's been a challenging few months," the statement began. "And while I appreciate the support of many in the Mizzou community, including my coaches and teammates, it's in the best interest of me, my family and the University of Missouri for me to finish my career elsewhere."
The announcement came hours after the Post-Dispatch posted online a story about a second rape accusation against Dixon coming to light in a two-day period. It's uncertain whether the story precipitated Dixon's departure.
Dixon, one of only two players to return from last season's team, had been on indefinite suspension by MU coach Frank Haith since at least early October.
Last season, Dixon was voted sixth man of the year in the Big 12 and was expected to be a vital part of Mizzou's first season in the Southeastern Conference.
But now his MU career is over.
Less than 48 hours after a rape accusation against Dixon in August became public in the wake of that case being closed for insufficient evidence, another documented accusation of rape surfaced Thursday in a 2010 University of Missouri police incident report obtained by the Post-Dispatch.
That report also led to no charges against Dixon, as the alleged victim declined to press charges out of what she said was fear of retaliation and being ostracized by family. But a nurse who examined the woman said afterward that from the injuries sustained she "believes force was involved," according to the report.
The earlier case could have been a pivotal factor in Dixon's future at Mizzou. His indefinite suspension apparently hinged on an appeal of an apparent Student Conduct Committee ruling to be rendered by Chancellor Brady Deaton.
Speaking in broad terms not specific to the Dixon case, MU news bureau executive director Mary Jo Banken on Thursday said, "When a case is brought before the Student Conduct Committee, any previous accusations against the same student can be taken into account and may affect the final decision."
Some believe Dixon's case may have been bolstered by the closing on Nov. 16 of the accusation against him made in August, an accusation made by the same woman whose recent posts on Twitter suggested Dixon's suspension was related to her allegations against him.
Boone County prosecutors determined that a police investigation lacked sufficient evidence to even interview Dixon.
It's believed that the conduct committee had information about the previous accusation reported to university police on Jan. 11, 2010.
According to the report, a recently graduated MU student described a sexual assault by Dixon to University of Missouri police from an episode late the night of Jan. 9, 2010.
The alleged victim declined to press charges, she said in a supplemental follow-up interview conducted by Det. Sam Easley, for various reasons "including not wanting her family to know and not going through the pressure and harassment from outside sources.
"(She) stated she was concerned that since Dixon is a basketball player (for Mizzou) that no one would believe her about what happened and she may be persecuted for it."
That fear included concern about reprisal from Dixon, who she said with descriptions consistent in both interviews forced intercourse upon her despite her protests and struggle.
A nurse who attended the initial interview indicated that "from the injuries sustained, she believes force was involved," the report summarized.
Dixon also allegedly disregarded being told the accuser was not on birth control, something she said in hopes of deterring him. Afterward, she reported, Dixon said, "If you're pregnant, you can't be."
"She told Dixon she would never get an abortion, and she stated Dixon told her that if he found out she was pregnant he would 'kick her in the stomach and push her down the stairs,'" the report said. She "stated Dixon was laughing as he was saying this and did not think anything was a big deal."
But she did, and that influenced some of her thinking as she tried to determine what to do afterward.
" 'If he's going to threaten to do this to me if I get pregnant, what would he threaten to do if I pressed charges or pursued it?' " a source close to the woman said Wednesday, explaining what he believed her thinking to be.
It's uncertain whether the MU athletic department knew about the incident report itself, the source said.
But the alleged victim, then an MU employee, told the source close to her that at least two Mizzou athletics officials knew about it soon after she shared the information with authorities.
That led, she believed, to it being discussed at a broader athletic department meeting.
Though she was unsure of who attended the meeting, soon thereafter she apparently was invited to meet with then-MU basketball coach Mike Anderson.
Anderson was sympathetic, she said in a past interview with the Post-Dispatch and the source verified Thursday, to the point where the coach cried as she told her story.
Each source said Anderson also told her he could take no action unless she moved forward with the accusation, presumably meaning into the legal process though possibly also meaning entering into a complaint to Mizzou — such as the one that engaged the Student Conduct Committee more recently.
Anderson in no way tried to pressure her not to take it forward, each source said.
It was later suggested she move on from her MU job, the source said Thursday, though specifying that she wasn't forced out and that she seemed to take the suggestion as in her best interests.
On the final page of the report, written on Jan. 21, 2010, Easley writes that the alleged victim did not wish to prosecute or want Dixon to be contacted concerning the case.
He concluded, "At this time I request this case remain open."
MU police department spokesman Brian Weimer said Thursday the case would remain open in the event the alleged victim changed her mind about pressing charges or new evidence became available.
The source close to the alleged victim said it was doubtful she would ever press charges. But the source was not certain of that and noted there is no statute of limitations on forcible rape in the state of Missouri.
An attorney representing Dixon did not immediately return a phone message on Thursday afternoon.
Dixon did not respond to a text message seeking comment, but the Columbia Missourian reported earlier that Dixon had texted the following to a friend who asked to remain anonymous:
"Yea I'm done here bro I'm not gonna be here anymore another girl my freshman year pulled this ... on me now it's coming out and everyone is gonna think it's real so I'm thru bro I appreciate you tho just let as many (people) as u can know."
In a second text, the paper reported, Dixon wrote, "I have never harmed anyone."
MU men's basketball spokesman Dave Reiter declined comment on behalf of coach Haith. Anderson declined comment through a spokesman at Arkansas, where he is the current coach.
(Stu Durando of the Post-Dispatch contributed to this story).