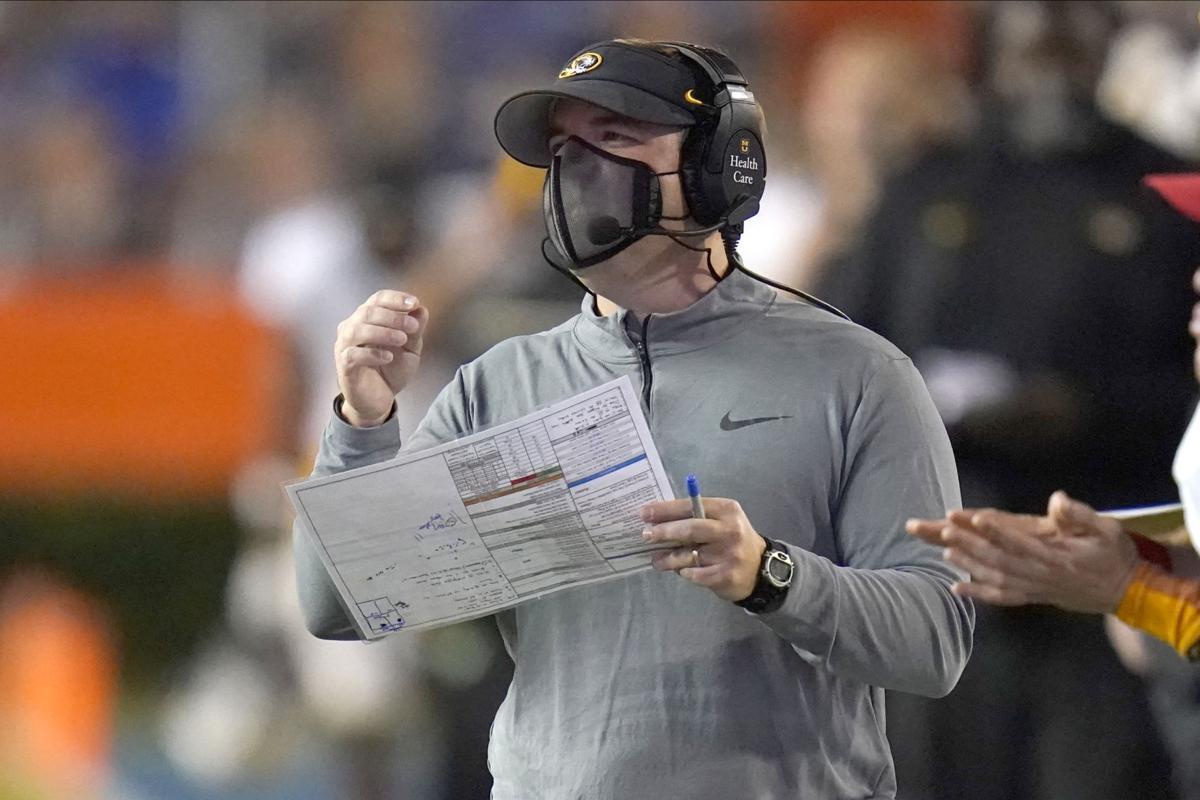 The Missouri football staff secured its latest offensive line commitment from a small Missouri town that's produced one of the program's all-time greats. Tristan Wilson, a three-star prospect from Lebanon, Missouri, announced his verbal pledge to the Tigers on Wednesday. In 2009, Mizzou landed another lineman from Lebanon, Justin Britt, who turned into a first-team All-SEC left tackle, a second-round NFL draft pick and a fixture for the Seattle Seahawks from 2014-19.
Wilson, a 6-foot-5, 300-pound guard, is built in the same mold, longtime Lebanon coach Will Christian said Wednesday.
"What Mizzou is getting is a very blue-collar, hard working, very talented offensive lineman," Christian said. "The thing that I think makes him most unique is he's athletic for obviously a big kid. But he's very nasty between the lines. He finishes blocks as well any kid I've had. And this is my 26th year of coaching football. He's a finisher. Of course, we had Justin, so we've had some good ones. He's right up there and does just a tremendous job."
Wilson has played offensive guard in Lebanon's flexbone wishbone offense but Christian believes he could play any spot along the front five at the next level and beyond.
"To be honest with you I believe he could play all five positions," he said. "I know in talking with Mizzou and others, some seem him as a tackle, some see him as as a guard/center. Tristan is open to whatever is his best opportunity to get on the field for Mizzou and play on Sundays."
Britt's legacy as one of Mizzou's great offensive lineman has influenced Wilson, Christian said, but in choosing Mizzou he was also comforted by the experience current Tigers defensive lineman Cannon York has had in the program. Also a former Lebanon Yellowjacket, York was promoted from walk-on to scholarship player last fall.
"Cannon being there now was big just in giving Tristan some confidence and belief in what's going on (at Missouri) and that he's going to be taken care of," he said.
Wilson is rated as the nation's No. 25 offensive guard for the 2022 class by 247Sports.com's national composite and the No. 18 player in the state of Missouri. The first-team all-state lineman holds offers from Alabama, Arkansas, Arizona State, Baylor, Illinois, Iowa State, Kentucky, Miami and Virginia Tech among others. His first offer came from Kentucky and since then, Christian said, the offers came flooding into Lebanon.
"It's just been so overwhelming all the offers," Christian said. "I think he had narrowed his list for a little while, but in the narrowing of that list, I think he just knew where he wanted to go. And so he wanted to pull the trigger so that some of the distraction would go away. I told him, 'If you're comfortable and this is what you want then rock and roll M-I-Z.'"
Wilson gives the Tigers seven commitments for the 2022 class, including six from the state or just across the state border. Wilson is the class' second offensive lineman.
Mizzou 2022 commitments
Sam Horn, QB, Suwanee, Georgia (Collins Hill)
Armand Membou, OL, Lee's Summit (Lee's Summit North)
Mekhi Miller, WR, Overland Park, Kansas (Blue Valley North)
Isaach Thompson, S, St. Louis (SLUH)
Jamario Wayne, WR, St. Louis (Parkway West)
Max Whisner, TE, Lee's Summit (Lee's Summit)
Tristan Wilson, OL, Lebanon (Lebanon)