COLUMBIA, Mo. — While other college teams are playing high-profile opponents in fancy holiday tournaments in tropical locales — Maui, The Bahamas, the Cayman Islands — Missouri passed on the out-of-town events in favor of a more manageable stretch of games on Norm Stewart Court, like Wednesday's matchup with Coastal Carolina.
For first-year coach Dennis Gates, there was a plan behind this early-season schedule.
"What I wanted at this stage was to play in front of our crowd, play in front of our city," Gates said this week. "I think that's very important in Year 1, possibly Year 2, to do that. But more importantly, try to establish and reconnect with our tradition. And our tradition is our fans. … You have longtime season-ticket holders who make up this institution who (were) probably third- or fourth-generation Mizzou alums. They deserve to have home games. So I wanted to balance that with a growing and a new team, which allows us now to grow each and every day."
Gates' Tigers treated an announced crowd of 7,459 to a sixth straight victory Wednesday, beating the Chanticleers 89-51. Playing the second of three games over a seven-day span, the Tigers feasted on 27 turnovers and scored a season-high 28 points in transition.
Mizzou closes its season-opening seven-game homestand Saturday against Houston Christian before finally hitting the road for Tuesday's game at Wichita State.
Here are some takeaways from Mizzou's latest win:
Isiaih Mosley on the mark
Just when Mizzou needed an offensive spark, Isiaih Mosley delivered in the first half, scoring 11 quick points in a five-minute burst. The Missouri State transfer might still be adjusting to not starting — he led the Missouri Valley Conference in scoring each of the last two years, starting all but two games for the Bears — but he's quickly mastering his role with instant offense off the bench.
A look at Mizzou vs. Coastal Carolina basketball on Wednesday, Nov. 23, 2022
Here's a look at Missouri vs. Coastal Carolina men's basketball on Wednesday, Nov. 23, 2022, in Columbia, Missouri. 
Mosley started with a dunk in transition off a steal, came back with a 3-pointer then a turnaround jumper along the baseline, and a floater from the same spot. The Tigers had missed 10 of 11 shots midway through the first half, but Mosley's slick scoring gave Mizzou another comfortable lead.
Mosley finished with a season-high 23 points, becoming the fourth different player to score 20 points for Mizzou this year, along with Kobe Brown, Noah Carter and D'Moi Hodge.
Playmakers galore for Mizzou
For the sixth straight game, the Tigers tallied at least 20 assists, finishing with 27 on 35 field goals. Coming into Wednesday, this was the first time Mizzou had five straight games with 20 assists since the 1989-90 season.
Eight players had multiple assists Wednesday led by Hodge with seven. The Tigers came into the game fourth in the country with 21.4 assists per game.
Ronnie DeGray back in the mix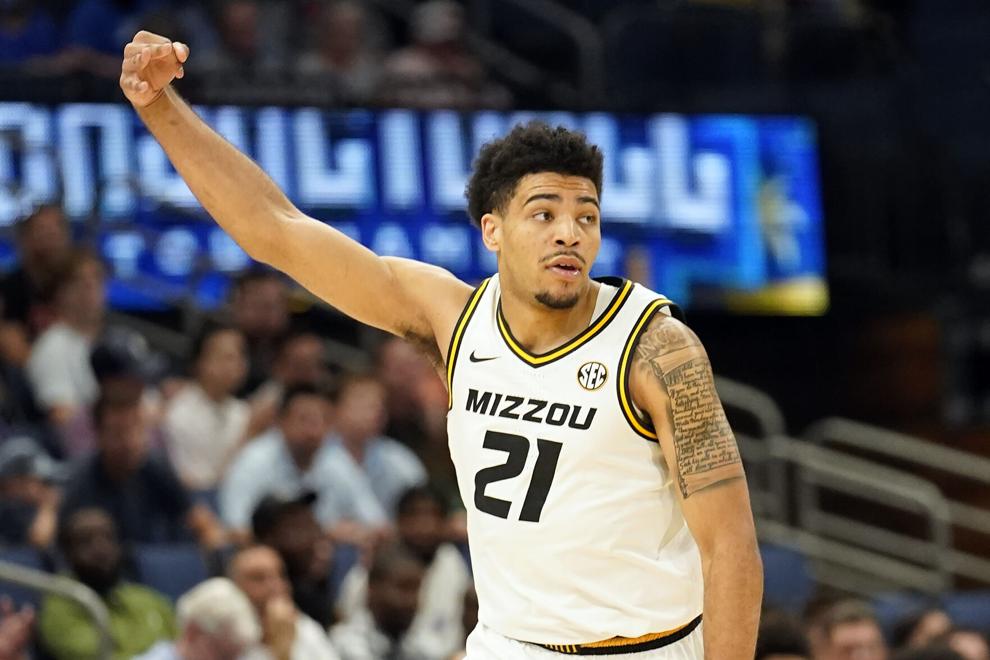 Coming into Wednesday's game, Gates said he needed to give more minutes to reserve forward Ronnie DeGray, who had been glued to the bench for most of Mizzou's first five games. The 6-6 forward, one of three holdovers from last year's roster, offers size and rebounding off the bench, and with the schedule about to heat up in the coming weeks, Gates wanted to see more from his reserve forwards, including 6-10 junior college transfer Mohamed Diarra.
DeGray made a quick impact off the bench Wednesday, sinking a corner 3-pointer then pulling down a couple rebounds in traffic. He finished with five points and four boards. Before Wednesday's game, Gates said DeGray can add "a high level of energy on the defensive end."
"I think he can be a person to help us with those rebounds," he added. "He shoots a high field-goal percentage. We have to improve on his catch and shoot, but defensively, he's been through experiences at the highest level with his years of play."
The Tigers were concerned with Coastal Carolina's 6-foot-9 forward Essam Mostafa, who came into the game second in the nation in rebounding. Through the first half, he was scoreless with four rebounds and two turnovers. Brown, DeGray and freshman Aidan Shaw took turns guarding the 6-9 forward from Egypt and held him to just two points on three shots.