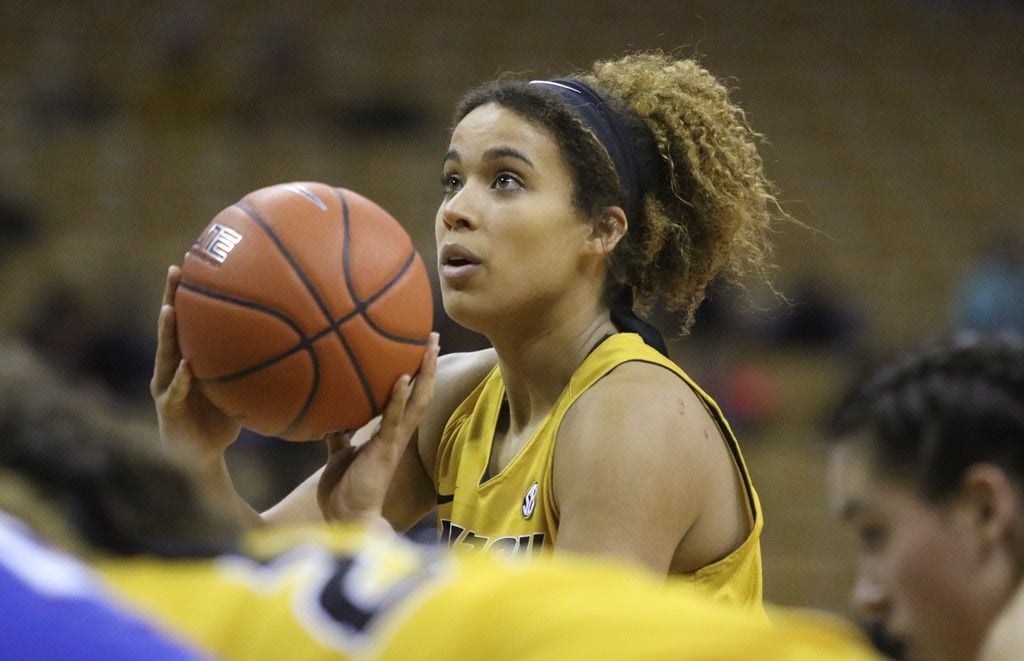 COLUMBIA, MO. • Three weeks ago the Missouri women's basketball team had lost three straight Southeastern Conference games, including a collapse at home against Alabama, which won on a buzzer-beating 3-pointer. Throw in December's fourth-quarter meltdown to St. Louis University and an unfathomable 28-point road loss to IUPUI, and the Tigers' season had all the makings of a rocky transition year for Robin Pingeton's program, one that would fall well short of last year's journey to the second round of the NCAA Tournament.
The Tigers won their fifth straight SEC game Monday, knocking off No. 25 Kentucky 73-67 at Mizzou Arena to climb into a tie for third place in the conference. In a game that featured 14 lead changes and 10 ties through three quarters, the Tigers (16-7, 6-3 SEC) dug their heels into the Wildcats' throats and never relinquished their fourth-quarter lead.
"I thought we bent a couple times but never broke," said Pingeton, whose team beat Kentucky for the first time in five tries since joining the SEC in 2012-13. "Our girls in huddles and timeouts seemed very focused and very poised. They never really wavered."
That's been Mizzou's demeanor throughout its five-game winning streak, the program's longest in conference play since 1990. Yes, 1990, two head coaches ago and two conferences ago. In the 1989-90 season, Joanne Rutherford's team won six straight games on their way to a Big Eight regular-season championship. Missouri's oldest player, senior point guard Lianna Doty, wasn't born until 1993.
It's too early for visions of an SEC championship — No. 4 South Carolina and No. 5 Mississippi State still rule the standings — but the Tigers played like a team that won't surrender against the league's better lineups. Kentucky coach Matthew Mitchell called Mizzou "an inspired team that's really, really good."
"I have to give so much credit to the Tigers," he added. "I don't know if we would have beaten them in Lexington the way they played. They attacked us and were well prepared."
Kentucky (15-7, 6-3), ranked No. 14 in the RPI rankings used by the NCAA, had won three straight road games but couldn't sustain any runs Monday, even with Sophie Cunningham on the bench for all but four minutes in the first half. MU's leading scorer picked up her first foul 1:50 into the game, then another later in the first quarter. Pingeton sat her scoreless sophomore alongside her for the rest of the half, even when Cunningham lobbied to get back on the floor. With her reserves playing well in Cunningham's absence, Pingeton resisted. Freshman Amber Smith scored 10 of her 15 points in the first half.
"I felt like at that point as it got later in the (second) quarter, if we could keep it to a one-possession game it was important to save (Cunningham) for the second half," Pingeton said.
With Cunningham back on the floor feeding forward Cierra Porter (17 points) in the post and Sierra Michaelis (19) on the wing, Mizzou pulled away in the second half with a clear ambition to attack inside. Cunningham scored all 14 of her second-half points at the foul line or in the lane. The Tigers attempted only one shot from outside the lane in the second half and capitalized on the game's choppy pace with free throws, making 18 of 22 in the second half. By the third quarter, Mizzou's plan had UK's best two post players in foul trouble. Makayla Epps, UK's All-SEC guard, finished with a game-high 20 points and Taylor Murray added 18 points, but MU's firepower was too much.
"We're only a formidable team if we're down in our stance, moving our feet, hustling, playing tougher," Mitchell said. "We just stood up way too much tonight, and Missouri really, really attacked us."
Missouri takes its winning streak on the road for the season's biggest challenge, Sunday's game at Mississippi State, a game that figured to be a mismatch a month ago. Now, the Tigers find themselves squarely in position for an NCAA Tournament invitation — and one Alabama buzzer-beater away from sitting one game out of first place in the SEC.
"We didn't want those losses to be empty," Pingeton said. "We wanted to learn from them. We wanted to grow from them. If we could do that, it wasn't a bad thing. Our kids have done that."