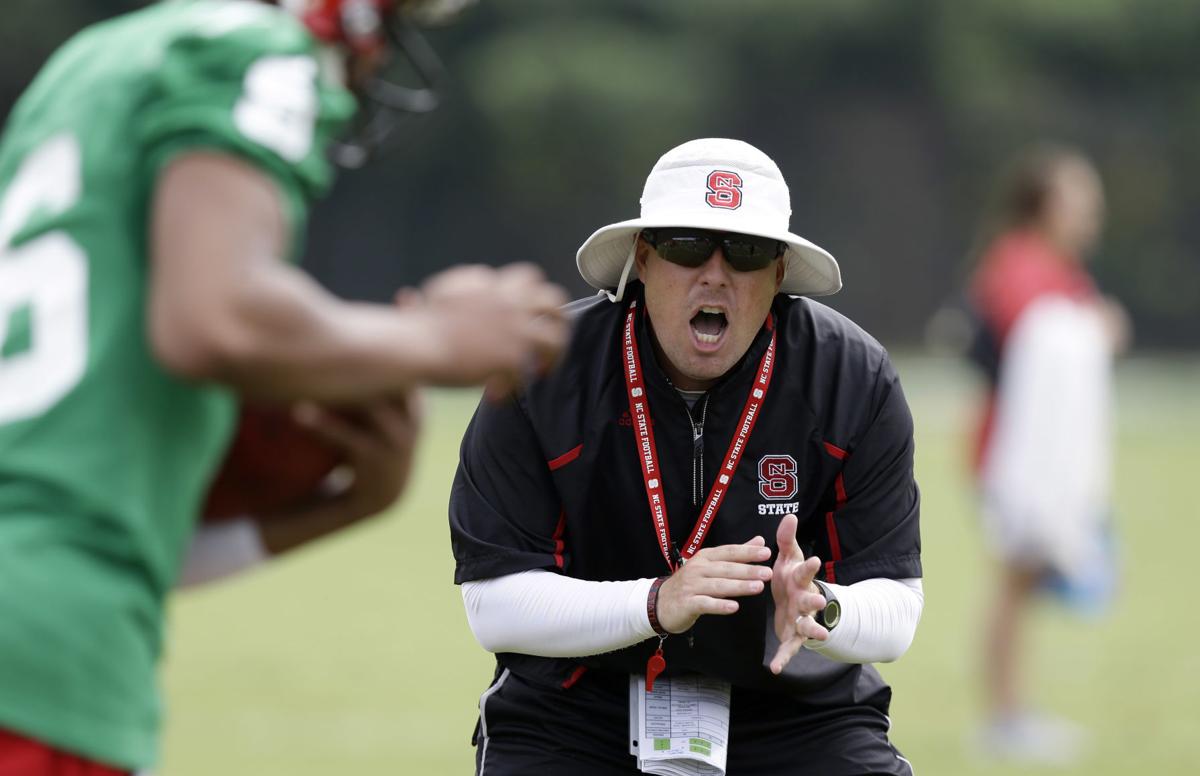 More than a decade ago, Ashton Glaser never could have realized he was working with a future Southeastern Conference head football coach during those grueling morning workouts at Springdale High School in Arkansas.
Glaser was the team's quarterback. Eliah Drinkwitz was his offensive coordinator.
Four days a week, every week, they'd meet for 6 a.m. sessions. Film. Throwing. Film. Throwing. In 2008, Glaser was preparing for his senior year. Drinkwitz was a 25-year-old history teacher and football assistant.
Drinkwitz went to college to become a lawyer but changed lanes after a couple years at Arkansas Tech and studied history education with plans to become a high school coach. In college, he student taught for a year under Arkansas high school coaching wiz Gus Malzahn. After college, he got started with the seventh grade team in his hometown of Alma, Ark. Later he joined the staff at Springdale, where he worked closely with Glaser.
"He was only eight years older than me but it felt like 20 years," Glaser said. "That says something about his maturity."
Drinkwitz's career hasn't stopped reaching new heights. Fresh off a 12-win season at Appalachian State in his first college head-coaching job, Drinkwitz will be introduced as Missouri's new coach Tuesday. On Sunday, Drinkwitz, 36, agreed in principle to a six-year contract that will pay him a guaranteed salary of $4 million per year, a source confirmed Monday. The UM System Board of Curators must approve the contract in a closed executive session meeting Tuesday morning, followed by his introductory press conference at 10:45 a.m. at the Show Me Club in the south end zone facility at Memorial Stadium. The event is open to the public.
Looking back on those morning workouts in Arkansas, Glaser, 28, isn't surprised by his former coach's trajectory in the industry.
"I was not thinking that clearly as a 16- or 17-year-old, but knowing what I know now I can absolutely see it," said Glaser, who played quarterback at Missouri and Missouri State. "With the work ethic he has, the drive … it was incredible. He has the ability to communicate and make players understand why you're doing what you're doing. A lot of times that's taken for granted in the coaching world."
"I had a lot of great coaches but with a lot of them you didn't know why you were doing what you were doing," he added. "You were doing it because you were told to do it. As a quarterback leading a team if you can really understand the purpose behind what you're doing and it can be explained simply, it's much easier to lead a team."
From the first time Zac Clark met Drinkwitz at the Arkansas high school all-star game in Conway, Ark., when Drinkwitz, then a high school underclassman, was volunteering as a team manager, he's been amazed by his close friend's relentless drive. They'd later coach together on the Springdale staff. Clark is now the team's head coach.
"He's younger than I am, and he seems older than me," Clark said. "He's extremely intelligent and works very hard but what's always struck me about Eli is there's black and white and not a whole lot of gray. He has his convictions."
After the 2009 season, Drinkwitz came to a crossroads in his career. He hoped to land the open head-coaching job at Springdale, but when he didn't, he headed to Auburn, where Malzahn was the offensive coordinator. Drinkwitz, 27 at the time, joined the staff as a quality control offensive coach. His wife, Lindsey, paid the bills with her teaching job, while Drinkwitz did the grunt work for an Auburn staff that would capture the 2010 national championship behind Heisman Trophy winner Cam Newton.
From there, Drinkwitz followed Malzahn to be his running backs coach at Arkansas State. When Malzahn returned to Auburn for the head-coaching job, Drinkwitz stayed in Jonesboro, Ark., under new coach Bryan Harsin and became his co-coordinator. He'd follow Harsin to Boise State, where he'd take over as coordinator in 2015, directing an offense that averaged 39 points a game and threw for 4,000 yards and ran for nearly 2,500 more. From 2016-18, he coordinated the offense at North Carolina State centered around quarterback Ryan Finley, a transfer from Boise State.
Drinkwitz broke down his offensive philosophies during a segment on N.C. State's coaches show shortly after he was hired in 2016.
"We're going to control the tempo of the game," Drinkwitz said. "We're going to be able to play as fast as anybody in the country. We'll be a no-huddle football team and we're also going to be able to control it. When we need to slow it down and get into a rhythm, keep the defense off the field, we're going to be able to do that. … We're going to attack the defense for four quarters, and it's going to start with a physical downhill run game. We're going to throw the ball vertically down the field, and then we're going to have those funky tricks and specials that everybody gets excited about, double passes and all that, reverses."
"It's a quarterback-driven offense," he added, "and that's the most important thing to understand. Whatever his strengths are, that's what we're going to do. If we got Peyton Manning and he wants to come play here we'll make sure the offense fits his skill set."
Back at Springdale, Glaser described Drinkwitz as a tireless, meticulous worker, especially on the practice field, where he brought a similar style to another Missouri coach.
"He pushes you extremely hard," Glaser said. "He's a lot like coach (Gary) Pinkel. He's loving and compassionate but will drive your (butt) into the ground — and he's doing it for a purpose to make you win and make you a better person."
After Glaser's junior year, Drinkwitz urged him to give up soccer, the sport he'd played the longest, to focus on football? Why, Glaser and his mom asked the young coach. Drinkwitz pulled out a stack of letters from college coaches interested in the QB.
Drinkwitz put together Glaser's highlight clips, carefully editing different packages for different college programs. Glaser committed to Mizzou before his senior year and enrolled a semester early so he could take part in 2009 spring practices. That spring, Clark and Drinkwitz brought the Springdale team to Columbia to visit Mizzou and see their former quarterback.
"And to think 10 years later," Clark said, "Eli's going to be the head coach there."
Dave Matter brings you the latest updates from the Mizzou sports scene.