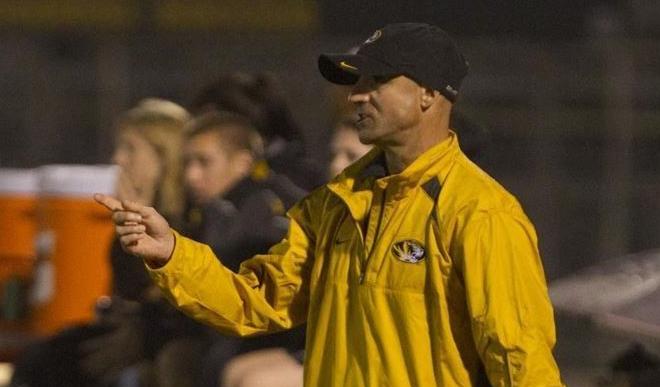 COLUMBIA, Mo. — Once Bryan Blitz was certain his Missouri women's soccer team would miss out on the NCAA Tournament this past weekend, he had closure. He decided he was ready to hand the program over to its next head coach, a decision he'd wrestled with for three years.
Blitz had guided the Tigers back from several rough years, and after a season-ending victory over Kansas on Saturday, he felt secure about the state of the program moving forward.
"I've run my race," Blitz told Mizzou players on Sunday, he recalled Monday. "It's time for somebody else. You're in a good spot."
That wasn't the case in 2019, when the Tigers had one of their worst years in Blitz's 25 seasons at Mizzou. He'd lost one goalkeeper to meningitis, then another to appendicitis and Mizzou bottomed out with a last-place finish in the Southeastern Conference. This year, though, the Tigers produced their first winning record (6-5-3) in five years and finished fifth in the SEC, again their best mark since 2016. Had COVID-19 protocols not forced the Tigers to cancel two games, Blitz figured his team might have squeezed into the NCAAs, even with the field trimmed from 64 to 48 teams.
But when he broke the news to his players Sunday, Blitz, 57, was at peace with his decision to step away from coaching — at least for now.
"I felt like the program is where it should be and it's set up for success moving forward," he said Monday. "That's probably my own ego because I didn't want to go out in some other way."
Blitz could have stepped aside after that hellacious 2019 season, when the Tigers went 1-8-1 in the SEC after a 5-0 start but said, "I felt like I owed it to the players, to the program, to the university" to return for another season.
"It could have gone another way," he said.
For 25 years, everything went Blitz's way in Columbia. Mizzou was one of many schools nationwide that launched a women's soccer program in the 1990s — and one of five new women's teams in the newly formed Big 12 Conference in 1996. At the time, the league's other five teams were no more than three years old. Everybody was building on the go.
To oversee the program, former athletics director Joe Castiglione chose the 32-year-old Blitz, who had been part of two program launches at Tulsa and Butler, over a candidate pool that included St. Louisans Warren Lipka, Mike Gauvain, the longtime coach at Chaminade, and former UMSL All-American Stephanie Gabbert.
A quarter-century later, Blitz has served more consecutive seasons than all but four head coaches in Mizzou athletics history. Under Blitz, the Tigers have enjoyed measured success on a national scale and captured two conference championships, one Big 12 regular-season title and a Big 12 tournament title while logging a career record of 254-216-39. He ran a clean, stable program that avoided messy headlines and consistently excelled academically.
"When you have someone who started your program and is the only head coach you've ever had, it's obviously pretty special," senior deputy athletics director Sarah Reesman said. "The work that it takes to build a program from scratch is pretty incredible. He had to look to the club team for players and come up with staffing and really was doing it alone for a long time. It was a huge undertaking."
Blitz believes Mizzou's program played a role in boosting the sport's popularity around the state on the women's side. When he first came to Mizzou, the high schools around the state produced maybe three major conference recruits every year, he said.
"Now," he said, "there's probably 15."
Blitz isn't sure what he'll do next but if he returns to the sport it won't be in a head-coaching capacity, he said. He wants to spend more time with his wife, their four children and his parents, both in their 80s.
"I don't know what that journey is, but there'll be some exploration to figure that out," he said. "I love Columbia. I love Mizzou. But I just want to be able to find a path that I can serve humankind."
Now, for just the second time in school history, Mizzou needs a new soccer coach. Deputy AD Tim Hickman is heading a national search.
"It's a new beginning," Reesman said. "We're so fortunate that Bryan is so invested in the program. He wants to help as much as we want him to help. With his connections and his knowledge, that's going to be a great resource for us."