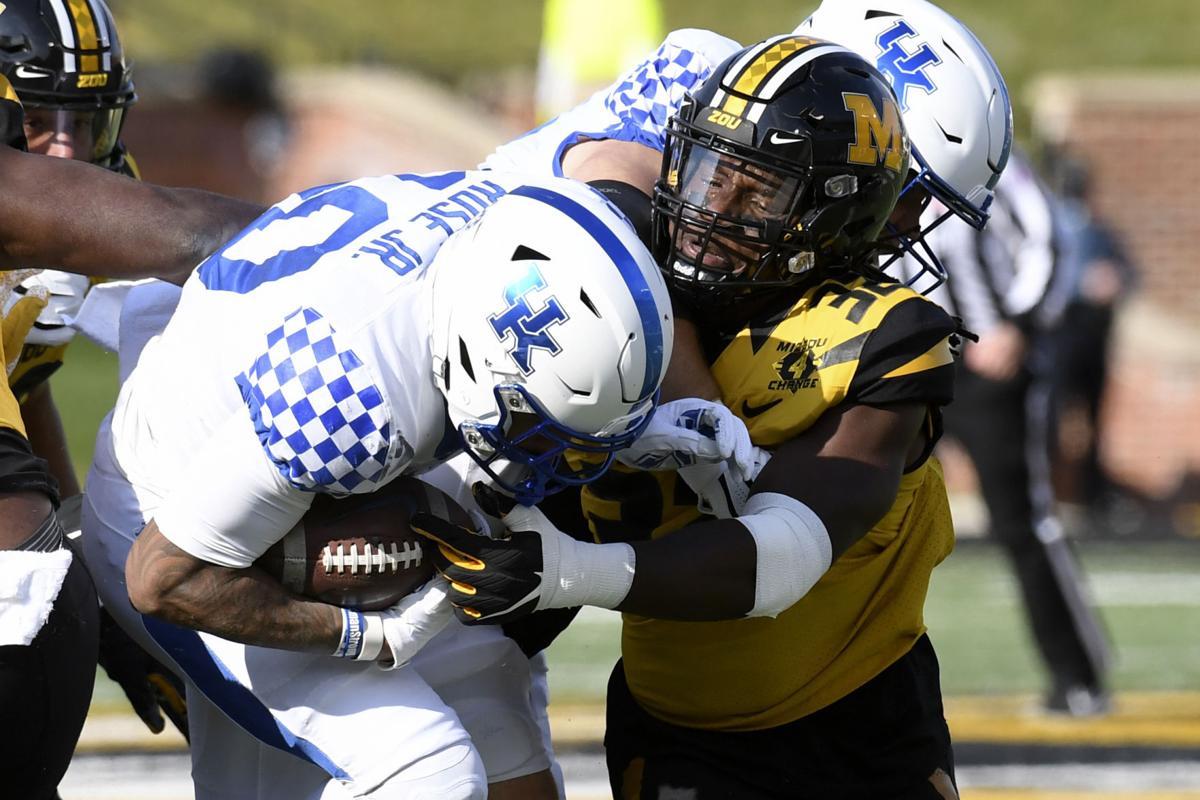 COLUMBIA, Mo. — Sometimes you don't need the analytics to measure a game. Missouri's 20-10 victory over Kentucky on Saturday was a master's class in defense and ball control. It wasn't necessarily the prettiest game offensively, but that was by design. Short of pitching a shutout, Missouri's defense couldn't have played much better, holding the Wildcats to just 145 yards of offense on only 36 snaps from scrimmage.
That said, it's still worth checking out the grades from Pro Football Focus this week, even if some are a little head-scratching.
DEFENSE
Linebacker Nick Bolton was named SEC defensive player of the week Monday after tallying seven tackles, plus his team's only sack. Bolton earned his highest PFF grade of the season (81.8) and third-highest of his career. He earned MU's best grade for pass rush (75.1) and the team's second-best grade for run defense (72.6) and tackling (82.0). Bolton had three of MU's six pressures. He was MU's only player with a pass rush grade in the 70s. Per PFF's count, Kentucky's two quarterbacks completed only one pass on six attempts against the blitz — and that was the 26-yard touchdown pass.
It was a superb tackling game for the Tigers as seven players earned tackling grades of 75 or higher, led by safety Tyree Gillespie at 83.1. Gillespie was also MU's highest-graded defender against the run at 76.2. For the day, Mizzou missed only one tackle—after coming into the game averaging nine missed tackles per game. That's outstanding. This team has tackled well all season, ranking 15th among all 101 FBS teams that have played a game. Georgia and Auburn are the only SEC teams with a higher tackling grade. That's the highest Mizzou ranks in any of the team categories that PFF measures for offense or defense.
Strong safety Martez Manuel scored his highest overall team grade of the season at 86.1 for the game, the day's best individual score for either team. He scored especially high in coverage (87.6), holding his two targeted receivers without a catch. Safety Josh Bledsoe (74.5) also posted a strong game in coverage, allowing just one catch for 12 yards. Cornerback Ennis Rakestraw Jr. was picked on the most, targeted on six of UK's 13 passes for three completions for 35 yards, including the lone touchdown. The rest of the secondary had a clean day againt the pass: Manuel, Gillespie and cornerback Jarvis Ware weren't tagged for any catches on five targets.
Somehow, Mizzou's overall defensive grade (74.1) wasn't its best of the season, falling just short of its team grade against Tennessee. The Tigers did, however, earn the season's highest grade for tackling (82.8) and coverage (81.5).
OFFENSE
As Bennett Durando described well in today's paper, quarterback Connor Bazelak played a smart game Saturday, taking what a typically strong pass defense gave him. PFF thought so much of Bazelak's day it was his highest overall grade of the season (82.8), even higher than his grade for the 400-yard, four-touchdown game against LSU. (Remember, PFF grades every play based on execution, not necessarily production. Getting the job done counts more than getting yards.)
Bazelak was especially effective completing the shorter underneath routes, completing 16 of 19 passes targeted under 10 yards for 116 yards total. Once again, he continued to use the middle of the field to his advantage, completing 17 of 21 passes between the numbers for 140 yards.
Bazelak was strong against the blitz, completing 4 of 5 passes for 50 yards when UK rushed an extra defender with a sack and three first downs, good for an excellent NFL QB rating of 108.3 against the blitz. 
When UK was able to get pressure into the pocket, Bazelak had his only struggles, completing just 1 of 5 passes for 10 yards.
PFF docked the Tigers for one drop on Micah Wilson's one target, a deep ball he nearly grabbed in the end zone. Not sure that should count as a drop, but he had a chance to make the snag. Drop or not, on 65 combined pass attempts the last two games Mizzou has — at most — one drop.
Jalen Knox was efficient, catching five of the six passes thrown his way for four first downs. Damon Hazelton Jr. made a strong return to the lineup with six catches on eight targets for 51 yards and a couple first downs. And Niko Hea continues to assert himself as the team's primary pass-catching tight end with four catches on five targets for 31 yards and two first downs.
Mizzou had one of its best pass-blocking games with three players scoring in the 80s, led by right guard Case Cook, this week's SEC offensive lineman of the week. He scored an 87.7 pass blocking grade. Cook and center Mike Maietti have played every snap for Mizzou — 302 through four games — and have been tagged for just three combined pressures on 150 pass attempts. 
Larry Rountree III, on a game when he carried the ball 37 times for 126 yards and MU's only two touchdowns, also had a standout game as a pass-blocker with a score of 83.8. Left guard Xavier Delgado was off to a good game before getting hurt in the first half, posting a pass block grade of 83.7.
Left tackle Zeke Powell is still adjusting to this level. PFF gave him a pass blocking grade of just 55.9 and tagged him for three pressures. But the junior college transfer was much better blocking for the run with a score of 77.0. Javon Foster replaced Larry Borom at right tackle for the game's final seven snaps and must have done something right, posting a team-best run blocking grade of 80.2. Tight end Daniel Parker Jr. also had a decent day blocking for the run, per PFF, at 74.2.
Dave Matter brings you the latest updates from the Mizzou sports scene.