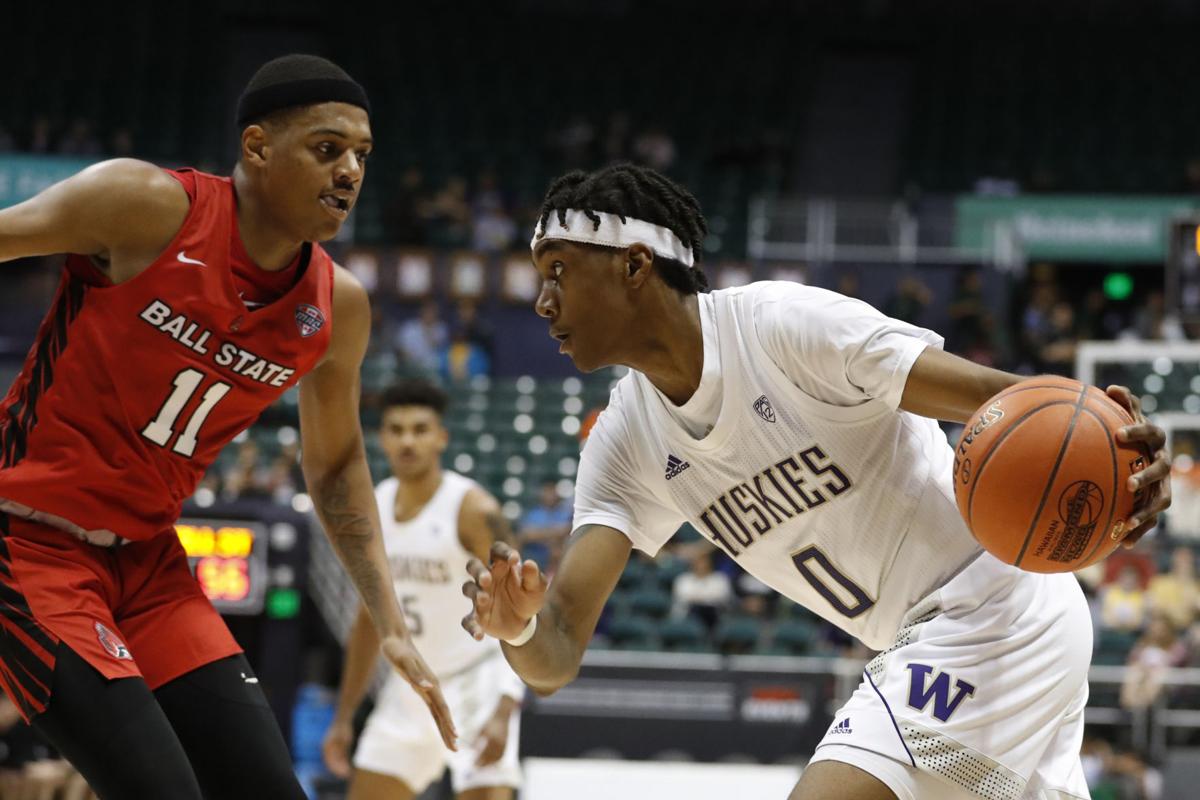 COLUMBIA, Mo. — Missouri's basketball rapid roster makeover this offseason calls for proper introductions, which means in the case of Ball State transfer guard Jarron Coleman, one question comes before the rest: Jarron or Boogie?
"You can call me either one," he said this week in a phone interview. "But everyone here calls me Boogie."
Here would be Indiana, where Coleman has lived all his life. His next home will be Missouri, where he'll spend next season in Cuonzo Martin's backcourt. Will his nickname from childhood make the trip west?
"He's starting to be known as Boogie worldwide now," Jarron Coleman Sr. said.
Well, then, Boogie it is.
The third and most recent player to emerge from the NCAA transfer portal and sign with Mizzou's program brings the best college credentials and three years of eligibility. In this past season, his second year at Ball State, the 6-foot-5 point guard missed the first 10 games after undergoing foot surgery but recovered to average 13.8 points, 5.2 rebounds and 3.2 assists. With a late-season surge from behind the arc, he shot 42.9% from 3-point range for the year. The advanced metrics were strong, too: Coleman's PER (Player Efficiency Rating) of 20.8 and his true shooting percentage of 62.0%, which measures combined shooting efficiency for 3-pointers, 2-pointers and free throws, were higher than every Mizzou guard since Jabari Brown in 2013-14.
"Boogie is a leader who is scrappy, hungry and works tremendously hard at his craft," Martin said. "He takes pride on defense, and he's a playmaker on offense. He makes great decisions, plays at his pace and can score at all three levels."
Coleman could be Martin's instant starter at point guard and supply much-needed 3-point shooting. He'll be one of at least eight newcomers joining Martin's program next season — five freshmen and three transfers as of Friday — and could quickly become a fan favorite if his play transcends the Mid-American Conference.
"I bring an experienced player who knows the game very well, a player who wants his teammates to be the best they can be," Coleman said. "I'm a playmaker at heart. I always want to make the best play, whatever it is. Whoever's got the advantage, whoever's got the mismatch, I'm trying to put them in the best position."
"He's thankful for Ball State getting his skills where they are now," Jarron Coleman Sr. said. "But he's thankful to be on a big stage. He wants to show the world his talents."
After winning MAC freshman of the year honors a year ago, Coleman dabbled with the idea of entering the transfer portal, his father said. Instead, he stayed in Muncie, Indiana, with two goals in mind: win the MAC tournament to earn the conference's automatic spot in the NCAA Tournament and win MAC player of the year. He fell short of both ambitions, though a broken foot in late October sidelined Coleman until the middle of January. Gradually, he took charge, scoring in double figures in eight of the season's final nine games. He averaged 22 points and shot 46.5% from 3-point range in the final five games.
"We gave it our best run," Coleman Sr. said, "but he kind of grew out of his shoes at Ball State."
"I felt like I could still grow (at Ball State)," said Coleman, who also drew heavy interest from Georgia and Wake Forest. "But I feel like at somewhere like Missouri my ceiling is even higher playing with all these different players in the SEC and seeing all their abilities."
Growing up in the hoops-mad state of Indiana, Coleman was always among the tallest players on elementary and junior high teams, which meant he'd play on the wing or in the frontcourt as a post player. But on the AAU circuit, where he played for the Indy Heat in the Nike Elite Youth Basketball League, he was primarily a point guard on a team stacked with talent: UCLA's Tyger Campbell, Michigan's Brandon Johns, Kentucky's Keion Brooks Jr. and Michigan Sate's Marcus Bingham Jr.
At Cathedral High School in Indianapolis, Coleman split the ball-handling duties with Armaan Franklin, who played the last two seasons at Indiana.
"Extremely high basketball IQ, probably, one of the best I've ever coached from the EYBL to high school," Cathedral coach Jason Delaney said. "He is a guy who can see something or you can explain it to him and he just gets it and can explain it to others. A leader, vocal leader. A guy who can play position one through five and can guard position one through five. He's so versatile."
There's some flair and sizzle to his game, too. Highlight clips on YouTube offer a library of slick plays in the open court.
"I just love the game," he said. "I always have fun out there. The behind-the-back passes, that's nothing planned. When it happens, it happens. I just do a lot of stuff I don't think about it and even I'm surprised when it happens. The fun of the game is what keeps me going."
Delaney believes two factors limited Coleman to interest from only mid-major college programs his first tour through the recruiting process: his body and his 3-point stroke. His form was inconsistent from game to game and college coaches wondered if he'd develop a reliable shot at the next level.
"The technique always looked good," Delaney said. "It was just being consistent with the feet, being consistent with his shot approach. … He's done a great job of (improving) at Ball State."
As for his fitness, Coleman entered college at 215 pounds with 17% body fat, he said. This past season, he was down to 200 pounds with his body fat closer to 7%. He could feel the difference every time his feet left the floor.
"I've always had to rely on my creativeness and skills because I wasn't the best athlete growing up," he said. "But coming to Ball State I've definitely grown a lot being an athlete. I can dunk on every play now. If I want to go dunk, I go dunk. I can run faster. I can play better defense. I'm in better condition. All of that helps me out with this simple game of basketball in ways that I didn't even know until I got to college."
Next stop, Mizzou. Can Coleman become the Tigers' next mid-major import to become an All-SEC guard, following the path of Kassius Robertson and Dru Smith?
"It's not that he thinks he has to make an immediate impact. He wants to. He plans to," Coleman Sr. said. "He's coming in with a chip on his shoulder. He's attacking this situation, not sitting back waiting on it."
Coleman didn't know anything about Missouri's program or its head coach when he entered the portal. That quickly changed. Martin's connections in the state of Indiana — Martin played at Purdue and coached there for nearly a decade — resonated with Coleman's family. Justin Cage, a family friend and longtime mentor who played at Xavier, spoke highly of Martin when Coleman picked his brain, he said.
"We have a lot of people in Indianapolis who know Coach Martin well, so he got a lot of praise from a lot of networking we did with former college players and overseas players, assistant coaches, AAU coaches," Coleman Sr. said. "They all know him as Zo and they all give him high praise."
"He wants the best for all his players outside of basketball, too," Coleman said. "That just put the cherry on top. That's what really stood out for Missouri more than anyone else."
Who's gone? Who's new? Who could be coming soon? In this episode of the Eye On The Tigers Podcast, Mizzou beat writer Dave Matter and sports c…