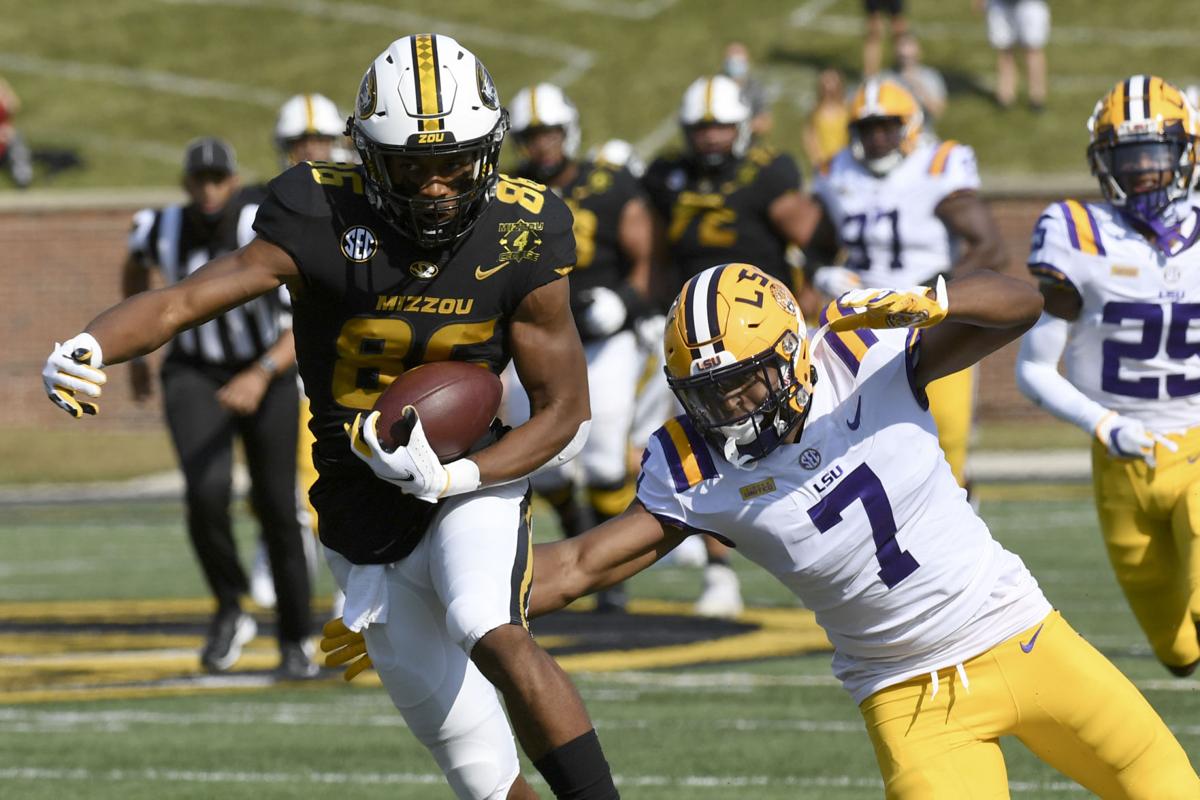 COLUMBIA, Mo. — As the game intensified and inevitably raised speculation about whether the moment had grown too big for Missouri's underdog offense, redshirt junior receiver Barrett Banister started preaching a simple message to his position group between snaps.
"This play," he said, keeping the focus narrow. "This play."
When Missouri's upset of LSU during the pandemic is remembered years from now, it will be known for the defense's improbable impenetrability in making four straight stops for a game-winning, goal-line stand. It will be remembered for Eli Drinkwitz's play-calling ingenuity in coaching his first win at Mizzou. It will be remembered for his tenacity in not calling a timeout with the game on the line and the defense on the field. It will be remembered for Connor Bazelak's unwavering composure in his first career start after winning the quarterback job.
It should also be remembered for the ragtag stable of receivers who caught Bazelak's passes. Eight receivers, to be exact, some of whom the average Mizzou fan has probably never heard of. That's because three of the Tigers' leading receivers — including their two starting wideouts — had to quarantine Saturday and missed the game.
That's perhaps the most impressive aspect of Mizzou's 45-41 shocker against the defending champions: For all the dialogue this fall about the added importance of roster depth in 2020, MU's first win was proof of it in action. Backups scored three touchdowns and saved the day. It was the quintessential COVID-era upset.
"I knew I had to step up to the plate," redshirt sophomore Tauskie Dove said. "Everyone in the receiver room competes. Coming into the week, Tuesday and Wednesday at practice, we knew what to expect. We set the standard high earlier in the week and attacked our goal."
With Damon Hazelton and Keke Chism out, slot receiver Jalen Knox was the only regular starter who was active. (Tyler Badie, who splits carries at tailback, also had a receiving touchdown.) Aside from them, backups collected 22 of Bazelak's 29 completions for 322 yards. The list of bench players who made vital contributions is hard to believe.
First, there's Dove: Before this game, he had three catches and 57 yards in his career. He led Missouri with 83 yards on six catches Saturday, including a 58-yard flea-flicker touchdown on the fourth play of the game.
"I think it gave everybody confidence that, yes, we could play; we could score; we could get out in front," Drinkwitz said. "The things that we practiced are gonna work."
Junior D'ionte "Boo" Smith joined the team as a walk-on after two years at Coffeyville Community College. He started Saturday and made six catches for 54 yards, prompting the virus-limited Faurot audience to recognize him with chants of: "Booooo."
Knox even introduced Smith at his post-game interview with a "Booooo" shoutout, declaring that "he got his nickname today." Smith said "Boo-Boo" is his second middle name, settling its mysterious origins.
"When (Drinkwitz) gave me the starting role, I felt numb to it," Smith said. "I didn't have no butterflies or nothing. In the locker room, I was just ready. No nerves, no nothing like that."
Freshman Chance Luper was making his college debut off the bench. He made one catch, but it was a 69-yard catch-and-run play to set up Missouri's game-winning touchdown in the fourth quarter
"I had to get on him, though, because I felt like he should have scored the touchdown," Smith joked. "I gave him love and let him know he's doing big things."
Micah Wilson was a backup quarterback who changed positions to receiver last season but never actually made a catch after making the switch. On Saturday, he broke free in the LSU secondary for a 41-yard, game-tying touchdown in the third quarter. It was one of two catches.
"The corner was soft, and then the safety — I don't know if there was a miscommunication or what — but he was low," Wilson said. "Everyone was excited for me, and I went up to Baze and told him, 'Great throw.' He was throwing some dimes today, and the receivers stepped up and made some plays."
Sophomore tight end Niko Hea didn't want to play college football when he was at Christian Brothers College High in St. Louis. He slowly came around to the game and was set to play at Bowling Green until he got his first and only Power Five offer from Barry Odom. He made three catches for 30 yards as a freshman last year. On Saturday, his two catches included the game-winning touchdown with 5:18 left.
"It wasn't 100% how we designed it to end up, but Niko just found an opening in the defense," Bazelak said. "I just kind of had to put it on him low and put it in his stomach. … I thought he made a great play."
Then there's Banister, the leader of the misfit bunch, a walk-on for two years until Odom offered him a scholarship in January 2019. Banister became a go-to target on third and fourth downs last season. He's still not a starter, but his wisdom in the huddle Saturday was just as crucial as his three catches for 28 yards.
"Barrett's just got that type of role," Smith said. "That's the type of person he is. Just communication."
For Banister, the stage was nothing new. It's why he implored his teammates to focus on "this play." For other receivers, Saturday featured personal milestones: first game, first start, first catch, first touchdown. But without all six backups, one of the milestone Missouri wins in recent memory would not have been possible.
Dave Matter brings you the latest updates from the Mizzou sports scene.