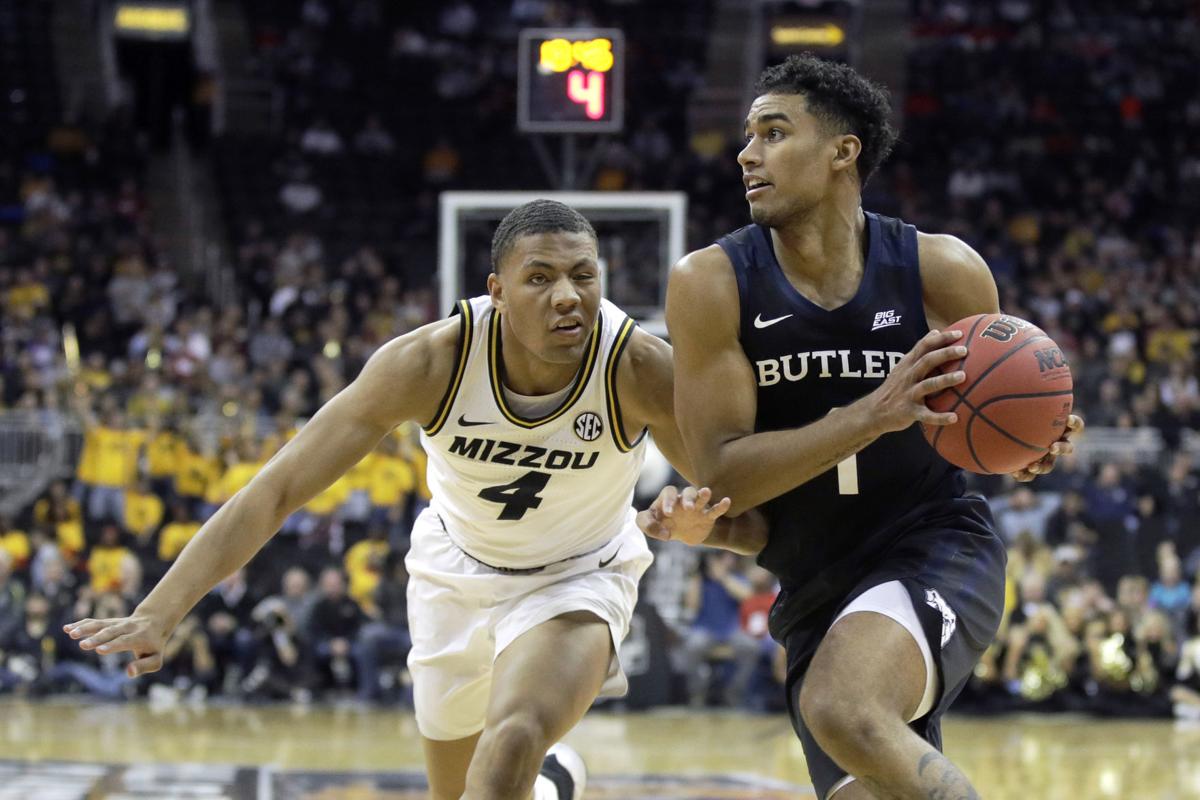 KANSAS CITY, Mo. — Just like the last time the Missouri basketball team stepped away from the buffet line of overmatched mid-major conference opponents at Mizzou Arena, the Tigers struggled Monday with a more formidable opponent away from home.
Two weeks ago it was Xavier that buried the Tigers in a hole early only to outlast Cuonzo Martin's team in overtime.
This time, in the opening minutes of the opening game of the Hall of Fame Classic, Butler essentially delivered a knockout punch before the partisan crowd settled into the Sprint Center. Butler grabbed control and rarely relinquished in a 63-52 victory to move into Tuesday's championship game.
It's still a small sample size, but while the Tigers (4-2) have cruised through four home wins over teams from the Southland Conference, Horizon League, Southern Conference and the Ohio Valley Conference, they're 0-2 against the Big East. They'll get another high-major foe in Tuesday's 6 p.m. consolation game against former Big 12 nemesis Oklahoma. Stanford blitzed the Sooners with a 17-0 opening run and led 37-24 at halftime, eventually winning 73-54.
The Tigers can relate to the early drought.
Butler (6-0) jumped out to an 18-5 lead before the Tigers could process what happened as Martin's team went 4 minutes, 46 seconds between its first and second baskets.
The defensive slugfest most expected only took place on one side of the court in the early going.
"We figured the first one to 50 probably wins," Butler coach LaVall Jordan said. "It was going to be a grind."
Not so much for his team early. Against a Mizzou defense that's locked down its four home opponents, the Bulldogs couldn't miss on open looks behind their maze of ball screens, connecting on their first six shots and 10 of their first 13 to take a 25-7 lead. In the opening minutes, sophomore center Bryce Golden hit two early 3s, doubling his career total from behind the arc.
"Honestly, I thought a lot of it was on us," Missouri guard Dru Smith said. "We missed a lot of assignments at the beginning of the game. Now, don't get me wrong. You still have to make open shots and they were doing that."
Golden's counterpart in the middle pulled an early but familiar disappearing act. Mizzou center Jeremiah Tilmon picked up two fouls in the game's first seven minutes and barely made an impact on either end. In 17 minutes total, Tilmon went scoreless with two rebounds. He took only two shots. Even when he was on the floor he was mostly ineffective. He had the team's lowest plus-minus rating at minus-13.
It was only the junior's second career scoreless game and his first since Auburn held him without a point on Jan. 24, 2018, during his freshman season.
"I wouldn't expect Jeremiah to have the numbers he had in a game like this," Martin said. "Even with fouls I wouldn't have expected that. That takes a lot away from what you're trying to do as a team because you feel like you could throw the ball inside to him, get a play, get a double (team), get him to the free throw line. But there was no production tonight from Jeremiah."
With Tilmon on the bench, the Tigers started chipping away an got within nine points on back to back Smith baskets in the paint. But any time Butler's lead would dip below double digits, the Tigers would give away a possession or watch the Bulldogs knock down another shot to recapture momentum. Mizzou got within double-digits four times in the second half and each time Jordan's team quickly muffled the rally.
"We've just got to keep fighting, and when we get it down to eight, nine we've got to get those crucial stops, those crucial rebounds we were missing toward the end," Smith said. "That way we can stay in the game and fight our way back."
The Bulldogs didn't shoot as well in the second half but controlled the glass, collecting 10 offensive rebounds for the game with an 11-6 edge in second-chance points. The Tigers struggled to ignite any offense outside of Smith, who finished with a game-high 19 points. Mark Smith hit an early 3-pointer but struggled the rest of the night, finishing with four points on 1-of-6 shooting. Point guard Xavier Pinson (10 points, three assists) gave the Tigers a few bursts, but without an inside presence to trade blows with Golden (13 points), Mizzou didn't have the complementary pieces to beat another quality opponent. Another one waits Tuesday.
"You have to get past this as fast as you can," Martin said. "Get over it. It'll sting. You learn from it but you have to get past it."
Dave Matter brings you the latest updates from the Mizzou sports scene.