COLUMBIA, MO. • From the day he arrived at Missouri hell-bent on reviving his career at a power conference football program, offensive coordinator Josh Heupel has talked about the glass doors to Mizzou's football facility.
For Heupel, those doors represented an entry back into major college football a year after he was fired at Oklahoma, the program he led to a national championship as a player.
For Heupel, those doors swing the other way, too, and will someday send him into his next career stop, perhaps a head-coaching job in 2018 or later. But for now, inside those doors is a place of business, and he wants his players to take their jobs as seriously as he takes his.
"We open the front doors and there's an intent, a focus, a purpose you've got to have to become the player you need to be to lead the team," Heupel said.
There are 14 offensive play-callers across the Southeastern Conference and dozens more scattered around the five power conferences. As the 2017 season kicks off this week, Heupel might have the best job of them all. He's hardly the highest paid SEC coordinator — though at $700,000 a pop for three years, he's got the richest assistant coach's contract in Mizzou history. But few of his peers, maybe none, return the kind of proven firepower he can unleash on opponents.
Consider: Last season, only six power conference teams featured a quarterback who threw for 3,000 yards, a running back who ran for 1,000 yards and a receiver who caught 1,000 yards of passes. Unlike the others in the 3K-1K-1K Club, MU's trio racked up their yardage in just 12 games. Oklahoma, Oklahoma State and Northwestern played 13. Washington played 14. Clemson played 15.
Of those six teams, only two return their pass-catch-run triplets: Oklahoma State ... and Mizzou.
The Tigers didn't have much to show for all those yards last season, finishing just 4-8 despite leading the SEC with 500.5 yards per game, the best single-season average in team history. Mizzou didn't always translate those yards into touchdowns — the Tigers averaged only 22.6 points in conference games — but with the core of his offense back this fall, Heupel expects more from a group powered by his milestone-setting playmakers: quarterback Drew Lock, running back Damarea Crockett and wideout J'Mon Moore.
THE RUNNING BACK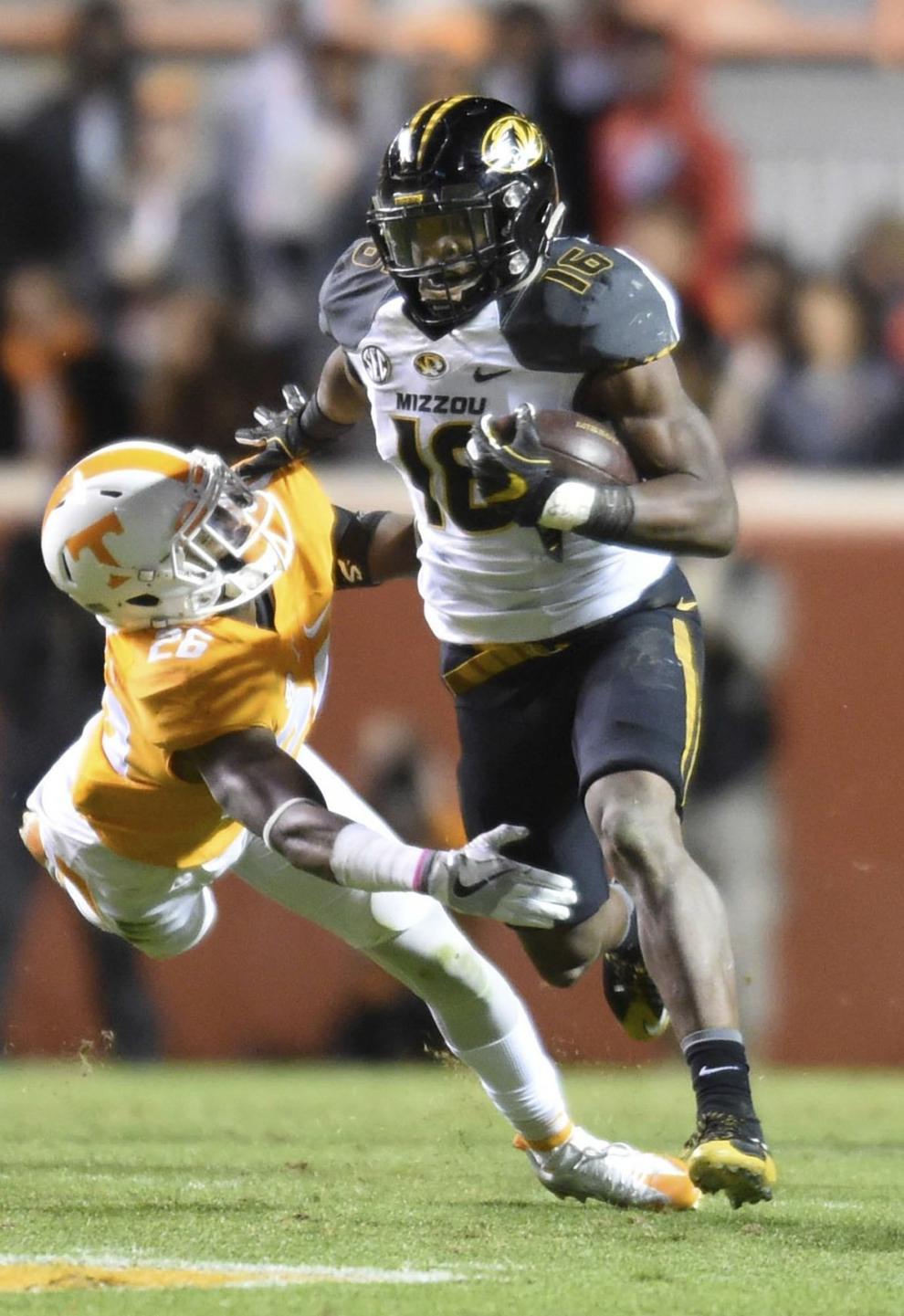 Crockett's college career began with a fumble and ended with a suspension. In between was one of the best freshman seasons for a Mizzou offensive player. The Arkansas native who changed his commitment from Boise State midway through his senior year, gave the ball away on his second college carry at West Virginia and then missed the season finale against Arkansas as punishment for misdemeanor marijuana possession. He's since sharpened his focus with plans to eclipse last year's totals: 1,062 rushing yards and 10 touchdowns.
"I have full confidence in my capabilities to rush for 2,000 yards," he said.
Only one Mizzou player has ever rushed for 1,500 yards, Devin West with 1,578 in 1998. But with an expanded workload, the chiseled 5-11. 225-pound Crockett will get chances to chase history. Not bad for a player who grew up in an SEC state but only received SEC offers from Missouri and Vanderbilt.
"I just laugh at it now," he said. "It's crazy how people will tell you what you can't do. You have to watch that because that'll bring some people down. I just have to stay mentally on edge and keep a strong mind."
Cornell Ford makes sure of that. Missouri's running backs coach constantly reminds Crockett about what he calls "the sophomore slump."
"You have a good year as a freshman and people are blowing stuff up your you-know-what all summer," Ford said. "Now he's got to bring it. He's got a target on his back now, and he's got to be better than he was last year."
The Tigers expect just that, especially the coach calling the plays. There's a reason Heupel didn't give Crockett any carries in April's Black and Gold game and both preseason scrimmages: He's too valuable to spend the fall on the sideline.
"Obviously," Heupel said, "he's a guy who should take more and more ownership of this football team, more ownership of that position and the carries."
THE RECEIVER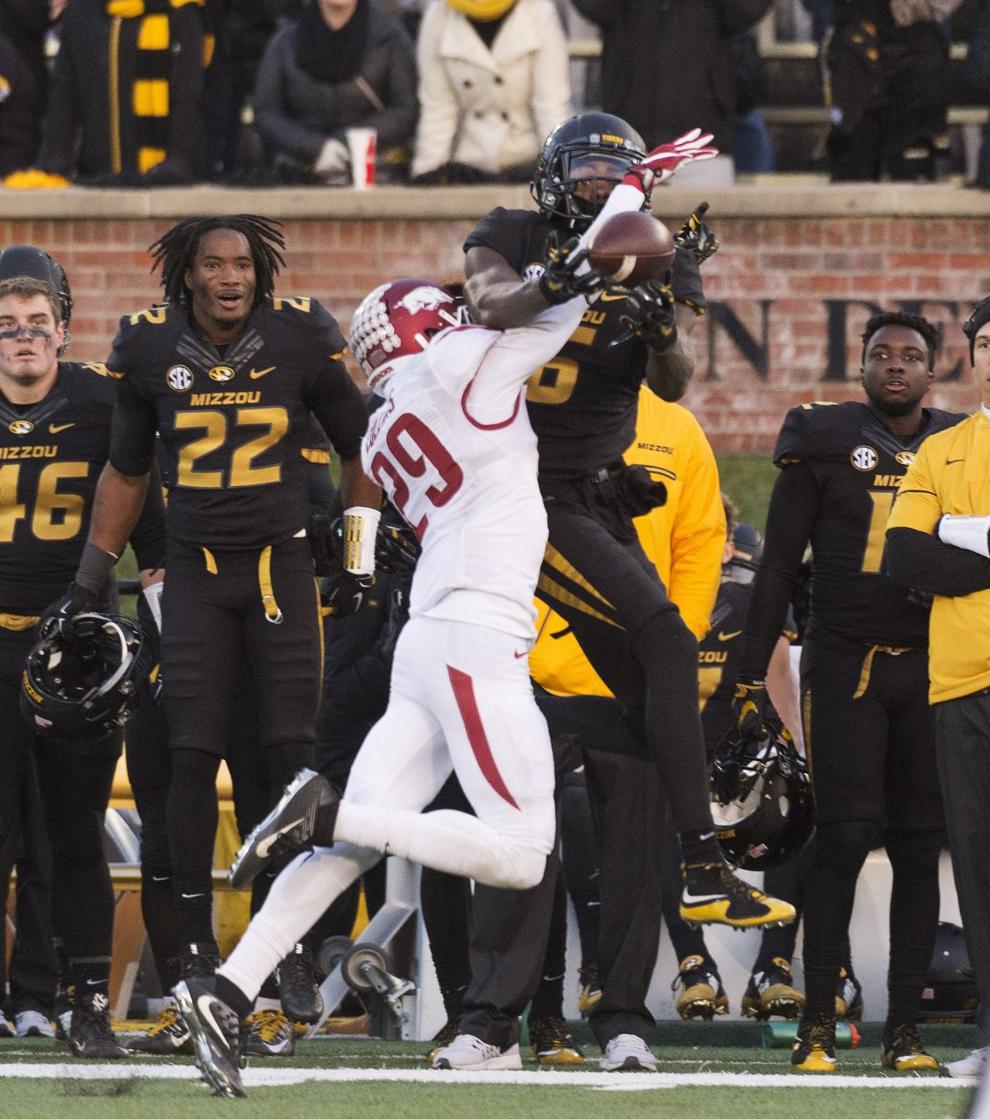 The Tigers threw the ball to Moore 124 times last year. That's almost 28 percent of the passes Mizzou put in the air. Here's the catch, literally: Moore only caught half of those throws, 62 for 1,012 yards and 10 TDs. Receivers coach Andy Hill said Moore should be catching 75 percent of the passes thrown his way, not 50.
"If you're running a route and you're always right, shoot, you should be catching the football," Hill said. "Focused catches."
The 6-3, 205-pound Texan has the makings of an NFL prospect. He's become especially skilled at contorting his body to put a defender in a poor position to play the ball.
"I know there's a knock on him that he had some drops last year, but he makes a lot of difficult catches," MU cornerback Logan Cheadle said. "Even if you're covering him in a good position, which is hard to do, a lot of times he'll still make the catch because of the way his body's set up. ... You've got to read his hips. If your eyes aren't in the right spot, he'll get you. You can't guess with J'Mon."
Moore dropped 18 passes last year — far too many for a receiver who aspires to be elite. He knows.
"As a receiver you've got to catch everything," Moore said. "It doesn't matter if it's looking like it's going out of bounds or if it's low, if it's behind you, if it's overthrown. As a receiver you've got to catch the ball. Period."
"But you've got to do it every day," Hill added. "You can't talk about it. You've got to come out here (on the practice field). Most of the guys we've had here who have been successful and struggled in their younger years have flipped a switch. We expect that final thing to happen to (Moore) this year."
THE QUARTERBACK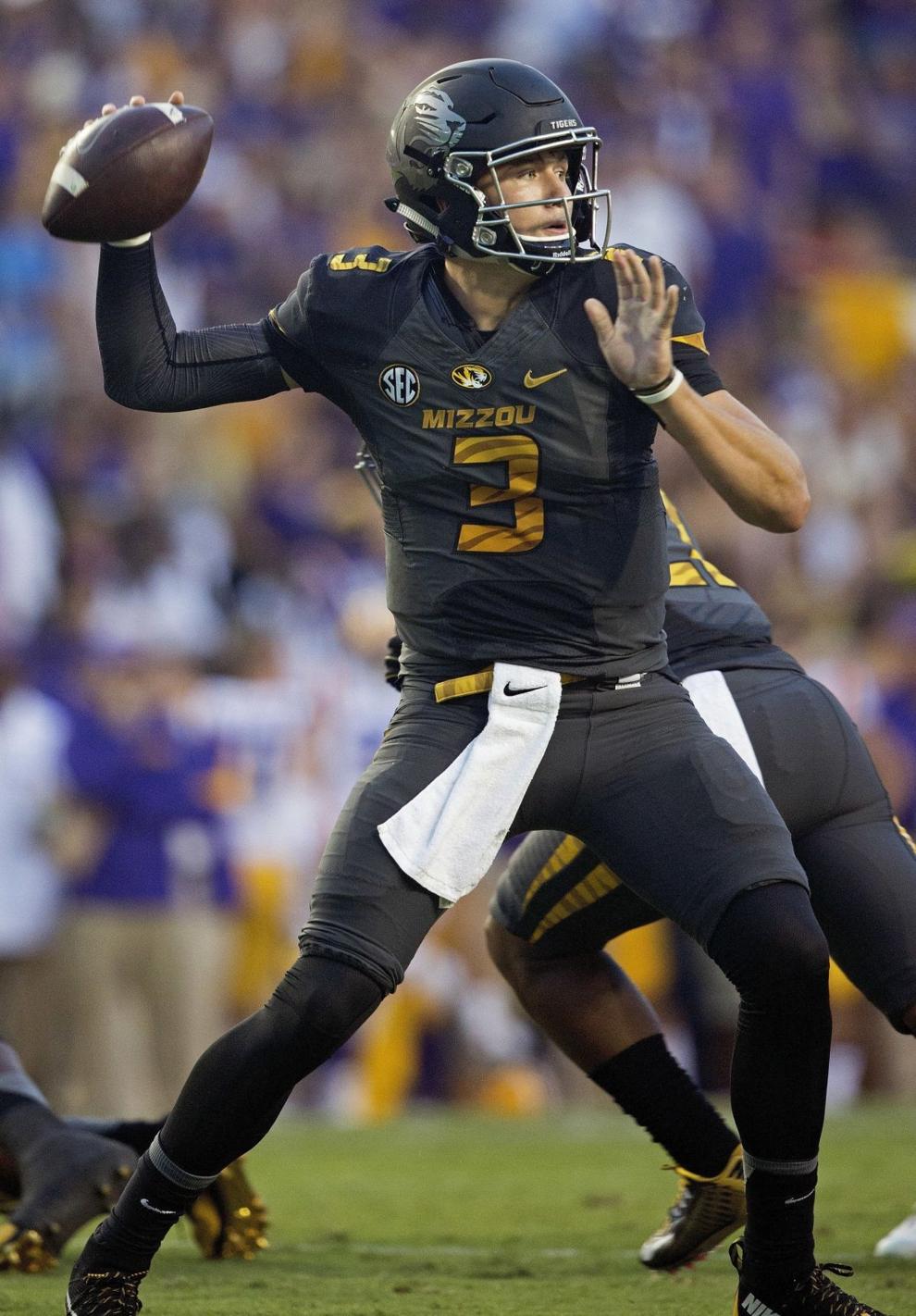 Lock opened his sophomore season with an uneven two months — brilliant in September, lousy in October — then played his best down the stretch, notably in MU's only two SEC wins, over Vanderbilt and Arkansas. Now, fully immersed in Heupel's no-huddle offense, Lock has earned some slack on Heupel's leash.
The coordinator lets the junior lead portions of their position meetings. On the field, he's given Lock freedom to change plays at the line of scrimmage. "He's so much further ahead in understanding our offense, understanding protections, understanding defenses and what they're doing and how that fits into each and every scheme that you're running," Heupel said.
That understanding, Heupel said, has made Lock more comfortable with "who he is as a person and a player" and turned the third-year starter into the naturally assertive leader of the offense. To no one's surprise, Lock's teammates voted him captain last week.
"Last year people told him, 'You have to be the leader. You're the quarterback. You have to take control,'" left guard Kevin Pendleton said. "So he was like if I have to do this I'll do it. Now, you see it in him, the way he walks around here, the way he interacts with dudes. He just knows this is his team and it's up to him to lead us."
As homework under Heupel, Lock studied film of NFL quarterbacks for two to three hours a week this offseason, spending most of his time watching Green Bay's Aaron Rodgers and Detroit's Matthew Stafford. He also reviewed all 434 passes he attempted last year and came away with a goal to complete 65 percent this fall, a steep increase from last year's 54.6. Lock threw for 3,339 yards last season, fifth all-time for a Mizzou quarterback, with 23 touchdowns and 10 interceptions.
Lock, once a four-star prospect ranked among the nation's 10 best high school quarterbacks, believes he's only skimmed the surface of his potential.
"I think last year you saw a lot of bad decisions from me every once in a while," he said. "I wouldn't have considered myself one of the elite quarterbacks last year. But the way I prepped after that season, the way we diagnosed all the plays ... and the way I'm coming out and the confidence I have in our offense, I think I am one of the elite quarterbacks in college football. I know I am."