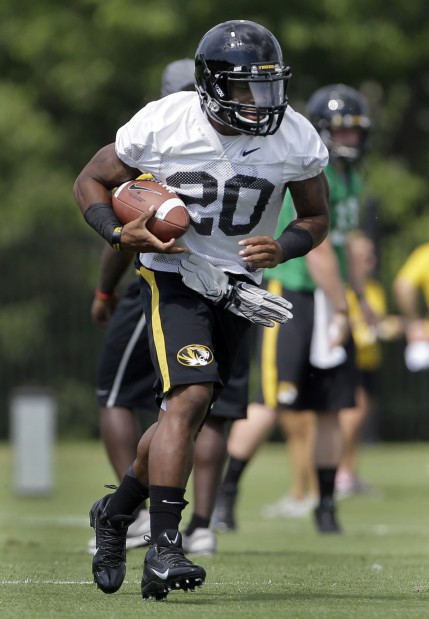 COLUMBIA, Mo. • Preseason camp is officially complete at Mizzou. The Tigers held their final morning practice today on the Kadlec Athletic Fields and have the next two days off as classes are set to begin Monday. Practices resume Tuesday afternoon.
With the offense and defense tied for practice wins heading into the final day of camp - one side is awarded a win each day - the offense scored the camp-clinching victory on an Andrew Baggett field goal on the day's final period. A few offensive players told me it was the first time in five years that the offense won more days of camp than the defense. Interpret that statistic at your own risk.
• Wide receiver L'Damian Washington was in a red pullover and appeared to sit out some early drills while recovering from a heel injury he suffered — yes, not a joke — while getting out of bed Friday. Backup wideout Wesley Leftwich (hamstring) remained out of action, while backup tailback Greg White was limited with an undisclosed injury. Cornerback E.J. Gaines remains out of uniform while recovering from a strained patellar tendon, an injury he suffered Monday. He was originally expected to miss at least a week of practice. He could return to some drills when practices resume next week.
• Perhaps the most important stat of preseason camp: Missouri's 20 offensive linemen made it through 16 practices without missing a single day because of injury. According to my journalist math skills, 20 players times 16 days of practice equals 320 practices.  And they didn't miss a single one. (I'm not counting freshman Harneet Gill in that equation. If you recall, he sat out the second practice then left the team.) After the O-line misery the Tigers suffered last year, I'd say Missouri's offensive coaches and the linemen of legal age owe themselves a congratulatory toast tonight — but just one.
"It's great," said No. 2 left tackle Anthony Gatti. "We made it a point this camp to stay up and stay healthy. Give it all we got but realize who we're playing against: We're playing against each other. It's good to get your technique work in and really work on that, but you need to know who you're going against and let up at the end (of a play) so people can stay healthy."
• Talking to reporters for the first time since Gary Pinkel announced that James Franklin will start at quarterback, backup Maty Mauk said he looks forward to getting a few series each game. The coaching staff hasn't told him exactly how those plans will unfold. "They just said there'll be a random series here and there that they'll throw me in there," he said. "I just know I'm going to be on the sideline focused and ready to come in and make an impact."
"For each week, I'm going to prepare myself like I am the starter," he added. "I'm going to know everything that that defense is doing like the back of my hand, just like what we're doing. I'm going to put in that time, balance it with school work and I'm going to know how we want to run things. It's going to be exciting and I'm ready to take that challenge."
• Offensive coordinator Josh Henson declined to talk about the quarterback decision but had plenty to say on other topics.
His tight ends combined for eight catches for 132 yards in Thursday's scrimmage, but that wasn't necessarily the plan. "They're effective enough at the line of scrimmage to block and get done what you need to get done and they're potent enough in the passing game to make some plays for us, like they did the other day," he said. "I think the more those guys do that the more versatile it'll make us. I didn't go into that scrimmage saying, 'Boy, we're going to hit the tight end this many times.' It just kind of happens sometimes. To me, when those things are happening like that, that's a product of your quarterback making good decisions. His eyes are in the right place reading coverage correctly and the ball is going where it should be going."
Tailback Henry Josey has carried the ball just eight times in the two scrimmages. Is the staff easing him into the offense? "I think he's full-go," Henson said. "It's probably an interesting question. We haven't leaned on him yet. I think it'll be one of those things we'll kind of see how it goes. The good news is Henry is doing really well, and the other backs are, too. We've got more than one guy there that can be explosive for us."
Asked about Missouri's use of packaged plays — where quarterbacks come to the line of scrimmage with an assortment of run-pass options available — Henson said the staff began dabbling in those options last season and Franklin became especially effective running those plays.
"On any one play, he's reading a linebacker, a safety or a defensive end," he said. "There's a lot on his plate to do some of those things. So far, he's had a really nice feel for it."
The offense is still working on plans for short-yardage situations, Henson said. He wouldn't say which running back will handle that role, but it's something the staff needs to identify. "I think there's a lot of different things we can do in short-yardage," he said. "We're trying to at least develop that personality that if we just need to grind a yard we can."