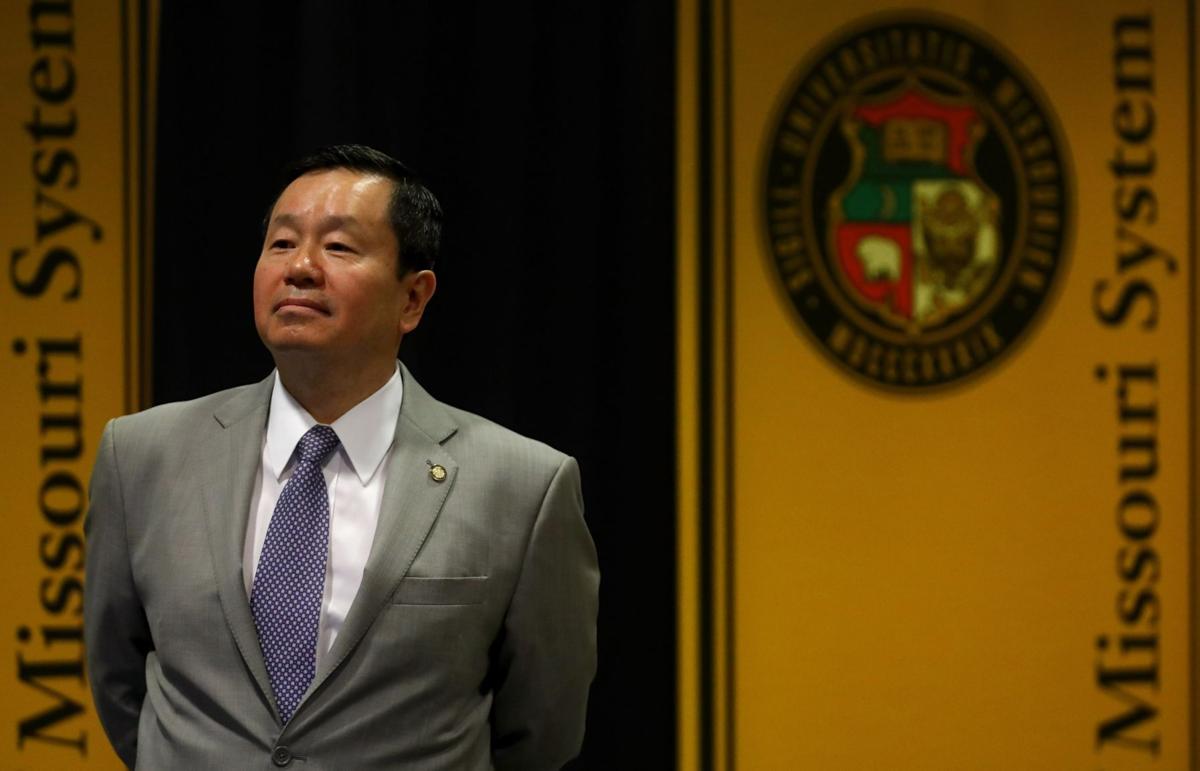 • Mizzou has a search firm under contract, Parker Executive Search.
• Mizzou has an advisory committee, a panel of nine people — eight men, one woman, one person of color — that includes three prominent, wealthy donors.
• Mizzou wants to swing big for this hire.
University president Mun Choi and the committee are putting a high priority on finding  a sitting Power 5 athletics director who has spent time at an SEC institution, sources have confirmed in recent days. That doesn't mean MU would rule out ADs at current Group of 5 schools, but university leadership wants to land someone with experience at a major program, preferably in the SEC. That means we can probably eliminate industry outsiders, like Jon Sundvold or Mike Owens, who had surfaced as candidates in past AD searches. (The last time Mizzou hired a sitting AD from a school that's currently in a power conference? Not since 1978, when Dave Hart came to MU from Louisville, then an independent. )
Before we get to some more names first let's take a closer look at the advisory committee, chaired by Jeff Layman, a member of the UM System Board of Curators from Springfield, Missouri. Layman was one of the select Curators who flew to North Carolina to recruit Eli Drinkwitz in December 2019. He's been an important ally for Drinkwitz since that day. He led the push for Drinkwitz's $34 million indoor practice facility the Board approved earlier this year. Three other Curators are on the committee: newly appointed Todd Graves, a Kansas City attorney and former chairman of the Missouri GOP; Greg Hoberock, from Washington, Missouri, and CEO of a construction service provider; and Michael Williams, another Kansas City attorney and the only Black committee member.
Also on the committee, Mizzou faculty athletics representative Pam Bruzina and UM executive vice president for finance and operations Ryan Rapp, who knows a thing of two about the university's bank account.
Finally, three prominent boosters: Mike Kampeter, president of Diamond Pet Company; Don Walsworth, CEO of the Walsworth publishing company and former chairman of the Board of Curators; and Richard Miller, CEO of Miller's Professional Imaging/Mpix.
The inclusion of the last three signals that Mizzou is ready to spend and spend big on its eventual target. In the 2020 fiscal year, 26 ADs at Power 5 schools made at least $1 million in total compensation, according to the database compiled at AthleticDirectorU.com. Sources indicate that Mizzou is fully prepared to have its first seven-figure AD.
"We're excited to launch this national search," Choi said. "We're seeking to hire a proven AD with a track record of visionary leadership, business acumen, fundraising successes, high integrity, effective management skills and a focus on the well-being of our student-athletes. Mizzou is a proud member of the SEC, and our new AD must radiate a winning and innovative approach."
"Our goal is to hire a dynamic athletics director who will build upon our success in the SEC and instill a championship culture at Mizzou," Layman said.
Now, some new names. Keep in mind, these aren't official targets. These are potential candidates who fit the profile of sitting Power 5 ADs with SEC experience. In no particular order, stream of consciousness style …
• Does Mizzou have the cachet to poach a current SEC AD? In Thursday's Mizzou Chat we mentioned Texas A&M's Ross Bjork, a former MU administrator who came to Columbia under Joe Castiglione then served five years under Mike Alden, primarily as a fundraiser. He's worked at some major programs: Miami, UCLA, Ole Miss and now A&M, one of the plum jobs in the industry. The Aggies have an enormous fan base and more money than God. Bjork, 48, makes about $1.1 million. But there's a lot of drama and unrest in College Station these days with the SEC's addition of Texas. Enough drama to lure Bjork back to Mizzou? I'm told he's a long shot, at best. But the Kansas native has strong ties to the Midwest — his wife Sonya is from Dexter, Missouri — and he knows the terrain well. It says here he's worth a call.
• It's no secret in the industry that Allan Greene could be a short-timer in Auburn. Greene, 44, has worked at Ole Miss and ran the show at Buffalo before coming to Auburn in 2018. Pleasing Auburn's powerful boosters makes this one of the SEC's more challenging jobs, as evidenced by his last coaching search, when Greene ousted Gus Malzahn but had to overcome a booster-led campaign for defensive coordinator Kevin Steele and instead hired Bryan Harsin. Considering Greene is one of the SEC's lowest paid ADs — he made less than Sterk in 2020 — he might have a wandering eye for a fresh start with less public pressure from the donor level.
• What about Mississippi State's John Cohen? In his former life he was the baseball coach at Kentucky and MSU who cut his coaching teeth at Mizzou in the 1990s. As AD, he pulled off hiring Mike Leach in football. His baseball program just won the school's first national championship. The Mississippi State AD can never have the Magnolia State all to himself. At Mizzou, you run the state's flagship program. Enticing?
• Here's a Big Ten AD with SEC history: Minnesota's Mark Coyle. He was Boise State's AD during Drinkwitz's time there as an offensive assistant. Coyle, 52, has SEC chops, too, serving as deputy AD at Kentucky under Mitch Barnhart, the SEC's longest-tenured AD. Coyle helped hire John Calipari at UK and worked closely with his hoops program. At Boise, he hired Harsin. At Minnesota, he hired P.J. Fleck. That's 2 for 2 on the football front.
• Another Big Ten AD with an SEC background: Maryland's Damon Evans, who also worked at Mizzou back in the 1990s, running the compliance department under Castiglione before spending three years at the SEC office. Evans was Georgia's AD from 2004-10 but had a messy ending in Athens with a DUI arrest. His time at Maryland has been marked by some controversial chapters. Maybe too much baggage.
• Virginia's Carla Williams, the first Black woman to serve as a Power 5 AD, was an All-SEC basketball player at Georgia, an assistant basketball coach and later worked for 13 years in the athletics department, responsible for the day-to-day operations of UGA's entire department. Williams also spent time working at Vanderbilt. Missouri has never had a woman AD or a minority AD. Two firsts at once?
• Here's a big swing: Oregon's Rob Mullens. He's another AD at a high-profile program whom some industry sources believe could be looking to leave. He's got the Nike empire at his fingertips, highly successful programs galore and luxurious facilities. He's got SEC experience at Kentucky and a seven-figure salary. Sounds like a reach.
• The Big 12 — or what's left of it — is home to some respected ADs in Iowa State's Jamie Pollard and Texas Tech's Kirby Hocutt. Neither have experience at an SEC school. Deal breaker? Maybe not. Then there's West Virginia's Shane Lyons, who spent four years in Alabama's athletics department. But he's a West Virginia native and a WVU grad who's 56 years old. Does he fit the profile?