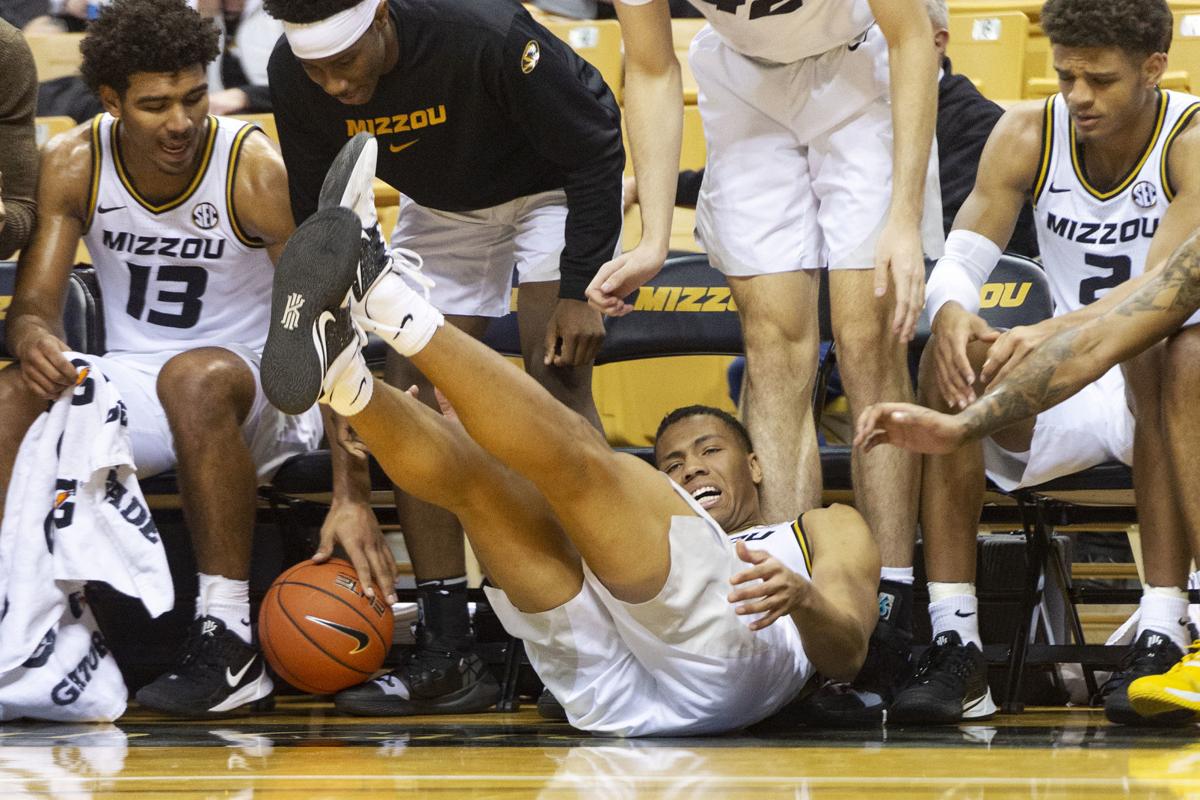 COLUMBIA, Mo. — It was a milkshake night for the Charleston Southern men's basketball team Tuesday. And that was bad news for the Missouri Tigers.
Longtime Buccaneers coach Barclay Radebaugh has a tradition that his team goes for milkshakes after every victory. His players couldn't have expected a cold dessert on this trip. Charleston Southern, a 26-point underdog at tipoff, had lost 15 straight games against high-major conference opponents and was soundly beaten by four straight opponents already this season.
But that didn't prevent Mizzou from its latest stumble out of the locker room and another 3-point shooting mishap. By night's end, Radebaugh was seeking tips on the best ice creameries in town.
"It's been a long time since we got a milkshake against a Power Five team," he said. "So that's going to taste really good."
The Buccaneers deserved extra cherries and whipped cream after this outcome: Charleston Southern 68, Missouri 60.
Apparently the Thanksgiving holiday break didn't solve Mizzou's problems. After back-to-back losses to Butler and Oklahoma in Kansas City, the Tigers' issues appear much deeper. One of the worst 3-point shooting teams in the country caught fire against the Tigers from behind the arc on Tuesday and outside of a brief Jeremiah Tilmon spurt, Mizzou looked lost on the offensive end. The defeat dropped Mizzou to 4-4 heading into Saturday's game at Temple.
This easily was one of the program's worst losses in Mizzou Arena, a building that opened in 2004. Tigers coach Cuonzo Martin counted it among the worst losses he could recall.
"Very, very tough loss," Martin said. "Very, very tough. … I've been doing this for a long time and probably one of the toughest ones ... because I felt it with about 10 minutes left in the second half. It just didn't feel right. We didn't have the right flow, the right momentum. We were just chugging along and they did enough to win the game."
The Buccaneers (3-5) blindsided the Tigers with a shooting display few could have expected. When the night began, Charleston Southern ranked No. 353 in Division I in 3-point shooting — out of 354 teams. By game's end, the Buccaneers made 10 of 22 shots from beyond the arc and eight of 11 in the second half. Duncan LeXander, shooting just 11.1 percent from 3-point range for the season, had missed his last 14 shots from there coming into Tuesday's game. He made five of eight against the Tigers and finished with a game-high 17 points.
"I knew this day was coming," Radebaugh said. "I didn't know that it would start against Missouri, but I knew this day was coming, because they play so hard and they play so well together. … Our team created great shots for each other. We just haven't made them all year."
With 2:29 left and the score tied, Charleston Southern took the lead for good with a corner 3-pointer from LeXander on an out-of-bounds play, good for a 59-56 lead. The sophomore forward drilled another 3 a minute later for a five-point lead, then Travis Anderson gave the visitors all the cushion they'd need with another 3 from the wing. Mizzou missed four of its final five shots in the last two minutes.
Before dousing their coach with bottles of water in the locker room, the Buccaneers screamed and danced and celebrated on Norm Stewart Court as the Tigers made the walk of shame into their locker room. Mizzou forward Mitchell Smith likened the scene to Oklahoma quarterback Baker Mayfield planting the Sooners flag at midfield on Ohio State's turf after beating the Buckeyes in a football game two years ago.
"I don't ever want to see a team celebrate on our floor," Smith said.
On this night, the Tigers didn't do nearly enough to protect their court. Point guard Dru Smith fouled out with nearly nine minutes left, finishing with just two points. Tilmon led MU with 15 points, but didn't attempt a shot until three minutes into the second half. Xavier Pinson made his first start of the season but finished with more turnovers (four) than field goals and assists combined (three).
Just like in their losses to Xavier, Butler and Oklahoma, the Tigers couldn't find any offensive flow in the opening minutes. Mizzou missed its first nine 3-point tries and finished just four of 26 from beyond the arc, along with 16 turnovers.
The Tigers were fortunate to lead 28-23 at halftime thanks to 18 points off the bench and a late surge from backup center Reed Nikko, as Tilmon sat with two early fouls. Mitchell Smith was a surprise scoring threat, matching his career-high with 10 points in 12 minutes.
The Tigers appeared to gain control early in the second half with an 8-0 run, fueled by a push to get Tilmon involved. He scored on four straight possessions in the spree, giving the Tigers a 39-30 lead that would quickly vanish. The Buccaneers later responded with a 9-0 answer.
In earlier losses to Dayton, Michigan State, Furman and Southern Utah, Charleston Southern's average margin of defeat was 39 points. That team didn't show up in Columbia on Tuesday.
"I worked for Eddie Fogler at South Carolina and I learned from him you never talk about shooting," Radebaugh said. "So we never mentioned that we were shooting 21 percent from 3. Never talked about it one time. We just kept shooting and shooting and shooting and telling them, 'We believe, we believe.' This team is capable."
• Martin usually doesn't mind open 3-pointers that come within the flow of the offense. That didn't describe the Tigers' first half. Mizzou misfired on 3 of 16 3s in the opening 20 minutes. For the game, Mark Smith and Torrence Watson combined to make just 2 of 19 from the field and 1 of 14 from the arc.
"I thought we settled in the first half," Martin said. "Then I thought a couple guys were hesitant in the second half. We settled in the first half. That's (Charleston Southern's) game plan: Let's see how many 3s they can make while trying to stop Tilmon from scoring the ball. … You have to be assertive. You have to be aggressive. You can't let up. You got to be ready."
• It didn't help that Dru Smith was on the bench for the game's final 8:46. Martin apparently trusted the veteran guard to stay on the floor without picking up his fifth foul. With Pinson having an off night, the Tigers struggled on both ends without Smith on the floor. From the point Smith fouled out, Charleston Southern outscored MU by eight points the rest of the way — and won by eight points.
"It hurts because he's a guy you're counting on," Martin said. "The foul he got was unfortunate because he's swiping from the corner. He's an intelligent player. He knows better than that."
• No minutes for freshman guard Mario McKinney, just three minutes for freshman forward Tray Jackson and three minutes for redshirt freshman Parker Braun. That's not uncommon for Martin in tight games. With no margin for error on each possession, he typically defers to his more experienced players.
• The two corner 3-pointers in the final stretch on out-of-bounds plays seemed to bother Martin more than anything. "That shouldn't happen," he said. "I think Javon (Pickett) gave up two of those. That can't when you're in position to see that. They made two of them. LeXander got hot, but that can't happen."
• The win was Charleston Southern's first over a high-major team since a season-opening win over Ole Miss on Nov. 14, 2014. That Ole Miss team went to win 21 games, including a first-round victory in the NCAA Tournament. 
• Charleston Southern was the lowest-ranked team as rated by KenPom.com to beat the Tigers at Mizzou Arena in the building's history. The Buccaneers were No. 313 at tipoff. The next-lowest team to win a game at MU the last 15 seasons was UMKC at No. 286. The Kangaroos upset the Tigers in Kim Anderson's coaching debut to open the 2014-15 season.