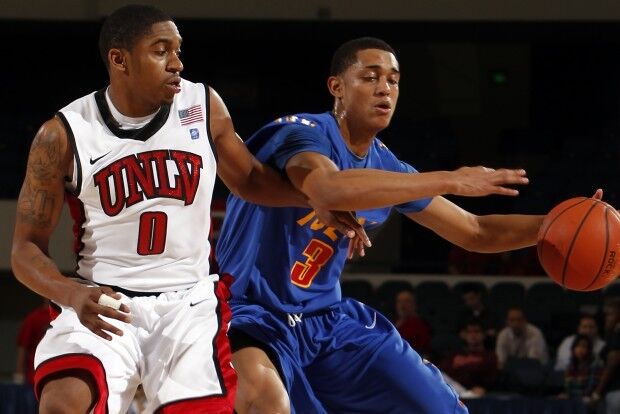 COLUMBIA, Mo. • Junior guard Jordan Clarkson will wear No. 5 for the Missouri basketball team this season. He's also No. 5 — as in the fifth of Frank Haith's seven Division I transfers.
He could prove to be the most valuable.
The thought crossed associate head coach Tim Fuller's mind last season while he put Clarkson through grueling game-day workouts, a series of meticulously crafted drills designed to keep Clarkson sharp during his NCAA-mandated year on the bench.
"I tell people all the time I thought he was arguably the best player on our team last year," Fuller said of Clarkson, who transferred to MU from Tulsa, where he earned first-team All-Conference USA honors in 2011-12. "Obviously, we've got some high-powered wings with him, Jabari (Brown) and Earnest (Ross), but I still feel like he has some intangibles that make him elite. He's got athleticism. He can shoot. He can handle the ball."
Missouri coaches have seen those skills on display inside an empty Mizzou Arena this summer as they put players through offseason workouts, when often a team's identity takes shape and personnel strengths and weaknesses surface.
Point guard Phil Pressey has left Mizzou for the NBA as the program's career assists leader, but coaches and teammates already point to Clarkson as the candidate to handle the ball in Pressey's absence, especially early, while freshman guards Wes Clark and Shane Rector get acclimated to the college game. And at 6 feet 5, Clarkson gives the Tigers a different kind of point guard than the 5-11 Pressey.
"That's the thing," Fuller said. "He's 6-5 and he plays above the rim. He reminds me of (NBA All-Star) Russell Westbrook. He plays with this free-flowing athleticism. And he has so much to draw on that he surprises himself sometimes."
Clarkson grew up in San Antonio and played in the same recreational league as Pressey during elementary school. Back then, he marveled at Pressey's playmaking skills — long before either was collecting college scholarship offers.
"Phil's a great passer, man," said Clarkson, who split time between both guard spots at Tulsa. "He might be one of the best passers I've seen. I wouldn't say my passing is all the way to his level. But I'll be able to get in the lane and score, bring in help defense, be able to make the easy plays, the simple passes. And I can play defense, too. With my size, I'll be playing against smaller guards, so I'll be able to keep my hands active."
Pressey reached out to Clarkson after the 2011-12 season, once Tulsa coach Doug Wojcik was fired and Clarkson announced he was transferring.
Once Clarkson arrived at Mizzou and the season began, Fuller worked closely with MU's latest transfer, each day focusing on a different part of his game to develop while the rest of the team prepared for the next game.
On game days, Clarkson came to the gym early for an extra pregame session with Fuller. Haith's staff used the same approach the previous year with transfers Keion Bell and Earnest Ross, who came from Pepperdine and Auburn, respectively.
"The sit-out year could be a year where the player actually regresses," Fuller said. "They can lose their competitive nature. They don't have something to wake up for every single day from a competition standpoint."
On game days, Fuller would stage one-on-one drills, pitting Clarkson against Brown, who transferred from Oregon. He borrowed the drills from Louisville coach Rick Pitino, under whom Fuller worked before joining Haith's staff. They were the same drills Pitino used to test draft prospects while coaching the Boston Celtics, Fuller said.
When Brown became eligible to play in games last December, a graduate assistant replaced him in the game-day workouts against Clarkson.
"We'd work so hard, it made time go by much faster," Clarkson said. "But it helped just knowing what I really had to work on this offseason."
Clarkson came to Mizzou weighing 175 pounds; he's up close to 195 and hopes to reach 200 by the fall. He already can tell a difference with the added bulk, especially driving through traffic.
"He'll just decide one day that he wants to come down the lane and start dunking on people," Fuller said. "That's when you know a player has some – I don't want to call it greatness – but some elite-level ability inside of them."
With their backcourt in transition this offseason, the Tigers welcome a new floor leader to emerge.
Pistons cut ex-Tiger English
Former Missouri guard Kim English is looking for his next NBA team. The Detroit Pistons waived their 2012 second-round draft pick after signing free-agent guard Chauncey Billups.
Billups' arrival, plus English's cold shooting week at the Orlando Pro Summer League, led to English's exit. He averaged 6.3 points in four summer league games this week, shooting just 23.6 percent from the field and 17.6 percent from 3-point range. English played in 41 games for Detroit last year, averaging 2.9 points per game.