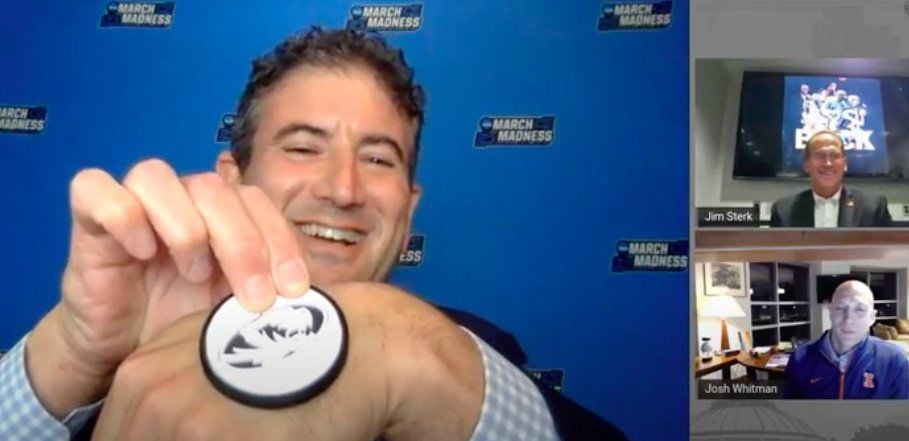 COLUMBIA, Mo. — The Missouri men's basketball team earned the right to brag Thursday night — with a successful coin flip.
The Tigers won the online coin flip to bring this year's unique Braggin' Rights Game to Columbia. Cuonzo Martin's team will play host to Illinois on Dec. 12 at Mizzou Arena, the first time the rivalry game will be in Columbia since 1978.
Hosted by Andy Katz, who served as the honorary coin-flipper, Thursday's online broadcast featured appearances by Martin and Illinois coach Brad Underwood, Illini guard Ayo Dosunmu and Mizzou center Jeremiah Tilmon, both team's athletics directors and chancellors.
Enterprise Center hasn't hosted a major event since March, and with both programs governed by so many COVID-19 protocols, MU and Illinois were reluctant to resume the series at the downtown arena, which has hosted the game every season since it opened in 1994. Instead, they preferred to play on their respective campuses. The schools plan to bring the game back to St. Louis in 2021. They're contracted to keep the game at Enterprise Center through the 2023-24 season.
This year's edition will have a much different look and sound: No fans will be allowed to attend, only family members of players and coaches, MU confirmed. The agreement to host the game at either site was contingent on being closed to fans, Whitman said.
"That's something that's a restriction within the Big Ten and here in our state in Illinois," Whitman said. "So before we could feel comfortable going to either site we felt like we need to have a comparable experience in both places. That was an important piece for us and I'm grateful for Jim to agreeing to that."
TV designation and tip-off time will be decided at a later date. The Mizzou football team is tentatively scheduled to host Vanderbilt that day, also.
As both programs deconstructed and rebuilt their nonconference schedules in recent weeks, the rivalry game remained a priority for both.
"I just think you have to give all the credit to both administrations for making this happen," Martin said, "because we both could have shied away from it just because of so much going on. We felt like this is a game that had to happen."
The Tigers are 3-3 all-time against Illinois in Columbia, with victories at Brewer Fieldhouse in 1946 and 1955 and at Hearnes Center in 1976. The Illini won in Columbia in 1932, 1943 and 1978. Martin's Tigers won the last two meetings, but Illinois still leads the all-time series 32-18.
Tigers 10th in SEC pollMizzou finished 10th in the Southeastern Conference last season — and that's right where the Tigers are picked to finish in the media's preseason poll.
For the first time in 12 years, Tennessee was picked to win the conference, followed by Kentucky in second place, Louisiana State in third and Florida in fourth.
Missouri senior guard Dru Smith was the Tigers' only player to earn individual honors, named to the league's preseason second team.
Dave Matter brings you the latest updates from the Mizzou sports scene.