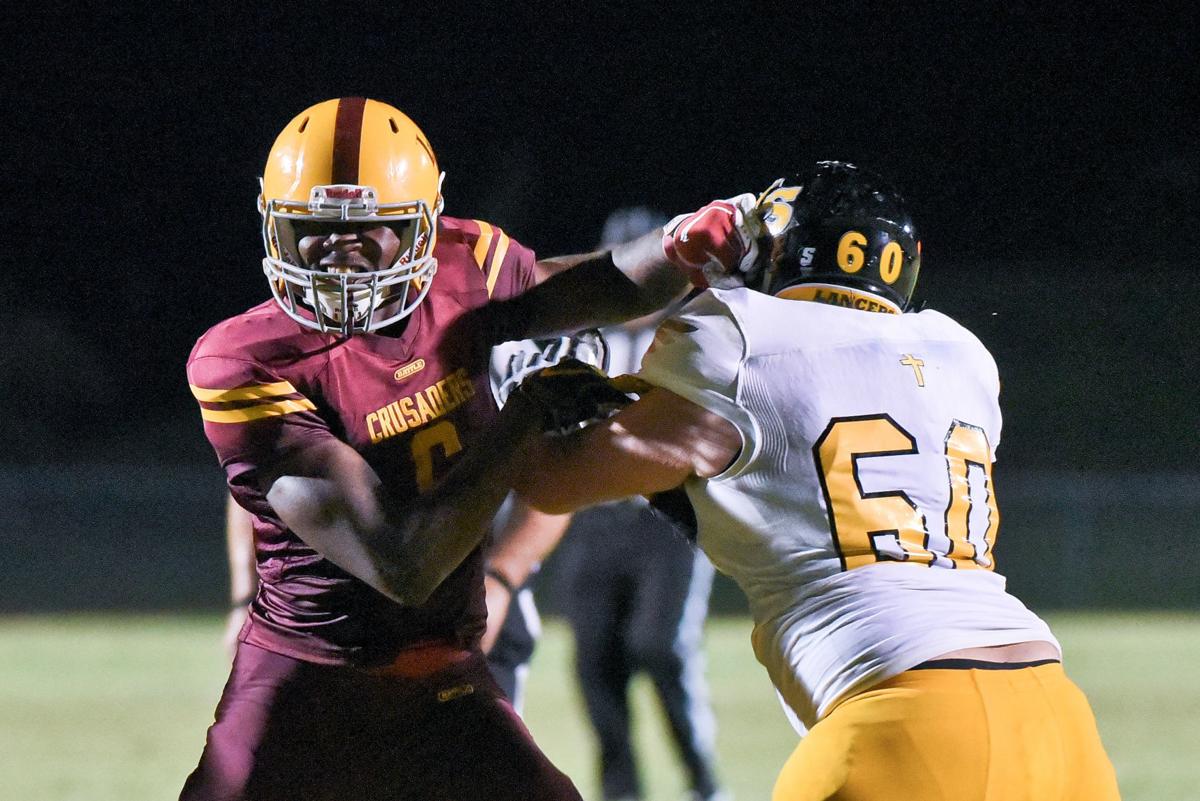 COLUMBIA, Mo. — Eliah Drinkwitz has yet to coach a game at Missouri and only made it through three spring practices when COVID-19 paralyzed the sports world. His recruiting efforts have been virus-proof.
If Drinkwitz's Mizzou staff has proven anything the last six weeks it's an ability to adapt in a recruiting environment without in-person contact. So far, the results are promising. The Tigers have seven high school players committed for the 2021 recruiting class, five from the greater St. Louis area, including four who have pledged commitments since the NCAA prohibited in-person contact in early March. Drinkwitz also landed one of the best graduate transfers on the market. Two area high school players committed last Friday, De Smet running back Taj Butts and Washington, Mo., tight end Ryan Hoerstkamp. The biggest splash came Thursday when four-star Lutheran North defensive end Travion Ford picked Mizzou.
Since he took the job in December and finalized his staff in January, Drinkwitz has vowed to ambush the state of Missouri for recruits like never before.
"That's an easy thing to say," MU recruiting coordinator Casey Woods said, "but we want to make sure we're not just talking about it but doing it the best we can."
So far, with an unexpected assist from a global pandemic that's restricted travel, the Tigers have capitalized on the buzz Drinkwitz created with his arrival.
"It's definitely resonating," Lutheran North coach Carl Reed said Thursday. "You can see by the amount of players he's gotten to commit from the area. I was talking to Coach (Darren) Sunkett and the guys over at East St. Louis and they were really excited about him as well. You have to be committed to in-state recruiting. When you look across the SEC, any programs that are winning are really committed to in-state recruiting. He's been able to do that."
"He's very energetic," Reed added. "He's a young guy. His charisma and his style resonate with young people. He's got that raw emotion and swagger that kids are really into. It's paying early dividends."
Ford (6-foot-4, 220 pounds) is rated the nation's No. 12 weakside defensive end by Rivals.com and holds offers from up and down the list of Power Five programs, including Alabama, Louisiana State, Ohio State and Oklahoma. Before the coronavirus pandemic put a halt on travel, Ford had official visits planned for Illinois, Louisville and Mizzou.
"They're getting one of the best players in the country, a national recruit," Reed said. "He could have went to a lot of places, but he really built a great relationship with (defensive line coach) Brick Haley and Coach Drinkwitz and decided he wanted to stay home."
Before Mizzou could swarm the state, the staff needed a game plan. That job went to Woods, who doubles as Drinkwitz's tight ends coach. Rather than assign assistant coaches to recruit players by their position, Drinkwitz wanted coaches in charge of certain areas of the state. Taking into account the greater metro areas across the state border in Illinois and Kansas, Mizzou has 419 "in-state" football-playing high schools on its radar, Woods said.
From there, Woods said, it's a strategy of "divide and conquer."
On the east side of the state, running backs coach Curtis Luper is Mizzou's point man in the St. Louis area. Within the region, three other coaches are assigned certain schools: Bush Hamdan, Brick Haley and D.J. Smith. On the west side of Missouri, Woods runs the point in Kansas City, joined by Ryan Walters, Erik Link and Charlie Harbison. David Gibbs is in charge of Springfield, while Marcus Johnson has the I-55 corridor that connects St. Louis to the state's southeast corner.
But that's not the entire state. Woods also wanted to cover the schools in all the rural towns across Missouri. So he got out his map and made a plan for that, too.
"The great thing about being in the middle of the state is you get to about every corner within two hours," Woods said. "So we took the remaining areas and gave all 10 coaches a day worth of recruiting. I'll leave Columbia in the morning and I'll go recruit eight schools. I can go from here to the northeast corner, turn around and come back. If I can do that and the other nine coaches can do the same, shoot, you're looking at 70 schools that you can hit on a single day."
For a program looking to revive energy among fans and prospects, Mizzou's best recruits can be the best recruiters. That's a trend with the 2021 class.
"The best recruiter in the state is our guy Mekhi," De Smet coach Rob Steeples said. That would be De Smet defensive lineman Mekhi Wingo, the first commitment of the class who quickly began recruiting others in the area. The same goes for East St. Louis quarterback Tyler Macon and Hoerstkamp.
"One of their big pitches to get Ryan to commit early was to get him to help recruit the other guys in the area," Washington coach Derick Heflin said. "With all the stuff you see on Twitter they're really building that bond with the St. Louis guys to get them to stay here."
Drinkwitz couldn't have anticipated a travel shutdown months ago, but the staff's decision to have several 2021 in-state targets visit campus the same weekend has since paid off.
"You're trying to get guys who are going to be teammates together before they're teammates," Woods said. "Anytime you've got a proximity, and they all believe the same thing and are all excited about a common goal … you can always create momentum. If you neglect it you can create momentum the other way real fast."
Drinkwitz and his new assistants aren't just recruiting players but the state's high school coaches, too. Shortly after getting the job, he made a strong first impression in December when he attended the Missouri Football Coaches Association convention at the Lake of the Ozarks.
"I'm getting to know him," said Steeples, a former Mizzou player who led the Spartans to the Class 6 MSHSAA championship last fall. "My players are like my sons. For me I'm excited for the season so I can see more of who he is and what his program's about. Right now he's pushing the right buttons and has the kids excited."
Drinkwitz isn't the first Mizzou coach to make an immediate impact with recruits. Thirty-five years ago Woody Widenhofer signed six top-100 recruits before coaching his first game, including local stars Tony VanZant, Mario Johnson and Ronnie Cameron. In 2001, Gary Pinkel landed four-star running back Damien Nash and seven more local standouts. It's early, but MU's 2021 class currently ranks No. 27.
Mizzou's in-state recruiting track record has fluctuated over time, and while the Tigers landed four St. Louis targets for the 2020 class, the region's top-rated players committed elsewhere before Drinkwitz settled into his new job. MU signed just one of the state's top-10 recruits this year, as rated by Rivals.com, and missed on all eight of the state's four-star recruits, seven from the St. Louis area. Two of those seven signed with traditional heavyweight programs (Notre Dame, Ohio State), while the rest chose programs that have had similar, if not less on-field success than Mizzou over the last decade: Texas A&M, Illinois, Minnesota, Arkansas and Arizona State.
Ford is one of just three in-state four-star players in the 2021 class. The other two previously committed elsewhere: De Smet cornerback Jakailin Johnson to Ohio State and Lutheran St. Charles defensive lineman Gabriel Rulo to Notre Dame.
Drinkwitz's staff got especially creative when courting Rutgers graduate transfer Mike Maietti. With no chance to visit Columbia before he needed to make his decision, Mizzou put on a virtual full-court press specifically designed for the New Jersey native.
Led by football director of on-campus recruiting Tori Schoonover, Mizzou created a virtual recruiting visit for Maietti and compiled footage of the new south end zone complex mixed with video clips from other areas on campus, including the student rec center and the business school.
"You've got to dive deep into the creativity to make sure they're on top of these kids and keep them interested," Woods said. "We've already established that football recruiting is the most unique experience you can go through. Now put it behind this backdrop and it's radically different for this class of players than it's ever been for sure and maybe than it'll ever be again."
From one central control room, Mizzou coordinated Zoom meetings for Maietti with different staffers within the program who could tell him about the team and answer any questions, from the equipment manager to the strength coach to the team trainers. Then Maietti had remote meetings with the offensive coaches and Drinkwitz — all from the comfort of their homes. Mizzou pulled off the meeting without a single staffer having to step foot inside the team facility.
"It was pretty sharp," Woods said.
And, yes, Maietti committed, giving Drinkwitz a three-year starting center.
Dave Matter brings you the latest updates from the Mizzou sports scene.