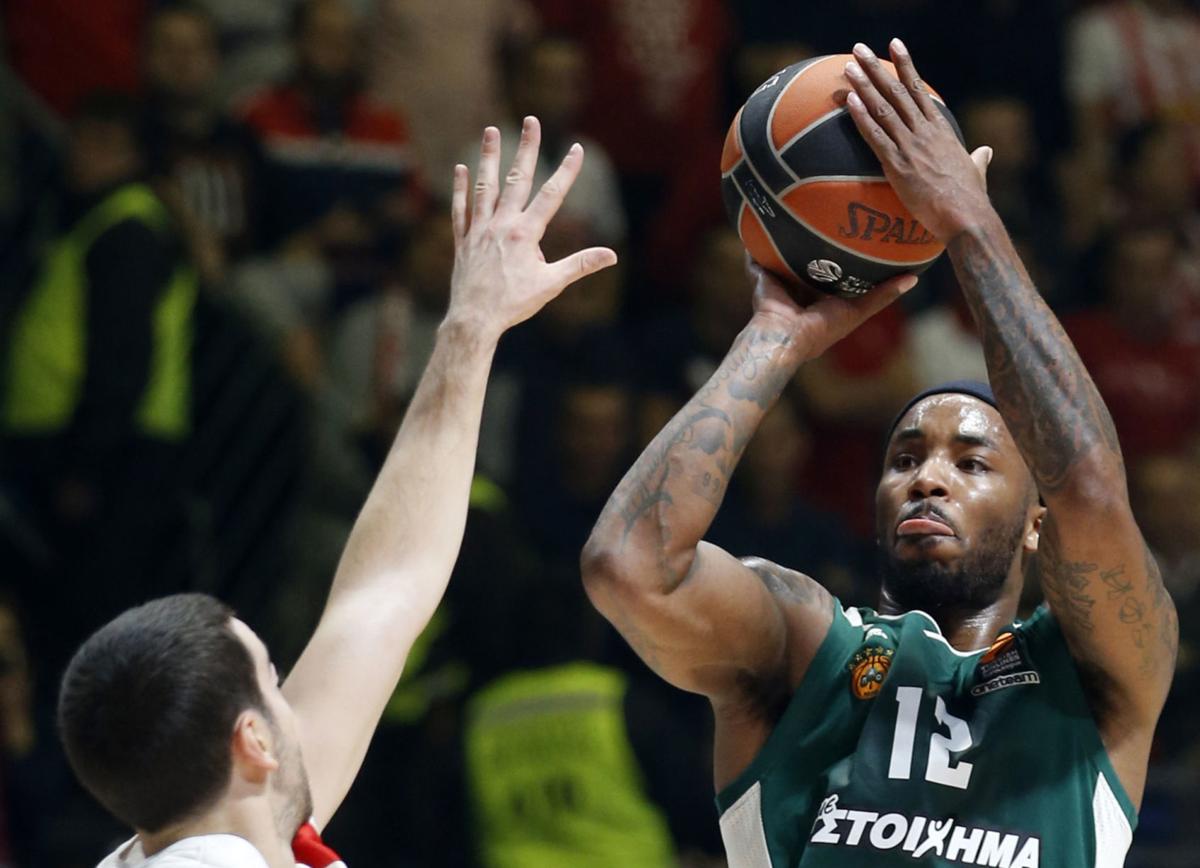 Marcus Denmon heard the news when his overnight flight from China to the U.S. landed on Jan. 24. He was bound for Kansas City to spend time with his wife during the Chinese Basketball Association's regularly-scheduled Chinese New Year break. He planned to stay about five days, but the messages he received as his plane pulled up to its arrival gate changed his plans.
The Chinese Basketball Association had suspended play indefinitely because of COVID-19.
Two months later, on March 26, the former Mizzou All-American was at the Kansas City airport again, this time for a flight back to China. The CBA had called its players back to prepare for the season to resume in early April and told them if they didn't come back they could face a three-year ban from the league.
"I thought that that was a little bit wrong," said Denmon, who plays for the Zhejiang Golden Bulls. "But I definitely wanted to go back since my contract was on the line."
As Denmon approached the check-in desk, his phone rang with a call from his agent. He ignored the call. He figured it could wait until he was at the gate for his first flight to Seattle. His phone continued to buzz when desk attendants told him the news: The Chinese government had just closed its borders to all foreign passport-holders. Some players had already landed in China. Others, like Denmon, had to stay in the U.S. indefinitely. He is currently with his wife and newborn daughter in Kansas City.
Denmon, who played at Mizzou from 2008-2012, is one of 24 former Tigers who have played professionally in other countries in 2020, including recent players like Jordan Frericks (Germany), Sophie Cunningham (Australia), Jordan Geist (Germany) and Kassius Robertson (Italy). As COVID-19 spread, leagues around the world made hard decisions. The CBA is one of the first leagues to move to resume play, and other leagues are looking to China as they consider how to eventually do the same.
The CBA's annual break came at a good time, and Denmon left the country before the virus spread out of control. He kept in touch with his translator, who updated him on the situation in Zhejiang.
"Even they didn't know what was going on," Denmon said. "A lot of the time there, (the government doesn't) put all the news out to the public like they do here. They kind of just tell you what they want to tell you."
Phil Pressey, a Tigers point guard from 2010-2013, currently plays for Movistar Estudiantes in Madrid in Spain's Liga ACB. He, too, managed to get back to the U.S. before the virus took over Spain, which had more than 146,000 cases and 14,000 deaths as of Wednesday. Pressey returned to Dallas on March 7. When the U.S. government encouraged citizens abroad to come back and closed the borders to foreign passport-holders, he knew the situation was getting serious, and he and his family decided it best that he come home. Just days before, Pressey's team had still been holding practice. Liga ACB suspended play early last month.
Before he left, Pressey said Spanish citizens were starting to get nervous. Just like in the U.S., people were buying up toilet paper and stocking their pantries.
"I remember going to the place where I get my meat, and this lady goes in there and she gets, like, a whole cart full of meat," said Pressey, who is currently staying in Dallas. "I was like, 'What is she doing?'"
Still, Pressey noticed something odd. The U.S. had fewer cases than Spain at the time, but people in the U.S. seemed far more concerned about the virus than the people around him in Madrid. That disparity was part of why he decided to return when he did. Today, Spain has the second-most confirmed cases in the world.
Rickey Paulding, who played for Mizzou from 2000-2004, hasn't come back to the U.S. He and his family remain in Oldenburg, Germany, where he plays for EWE Baskets Oldenburg in the Bundesliga. Germany has fared far better than many large European countries in the fight against the virus. While it has the fifth-most cases with more than 116,000, it has just over 2,400 deaths.
"I think it's on the citizens' part," Paulding said of Germany's low fatality rate. "I think they're deciding to tackle it and do their part. People are really being diligent about social distancing and not meeting in large groups and trying to combat (the virus). I think it's tougher in the United States for a bigger country."
The Bundesliga has been suspended since mid-March. Officials are to meet at the end of April to re-evaluate and look to resume play. In the meantime, Paulding and his wife are trying to keep their three children occupied.
All three men have no idea when or if they'll play again this season. The CBA still wants to try to resume play in mid-May, but Denmon has doubts. China's borders are closed until April 20, and once foreign players can return, they'll have to quarantine for 14 days.
The CBA debated playing without foreign players, but not all teams agreed to those terms. Before China closed its borders, they planned to play all remaining games in the same two cities. They would have played four games a week for four weeks to get through the season. The suspensions are affecting payments, too. Denmon said his team, which usually doles out paychecks on time, was late paying him last month.
"(Teams are) worried that if the league continues to be postponed until May and June," Denmon said, "they'll continue to pay players … and then when the league is resumed, the players won't come back. Why would they?"
In Germany, Paulding said he's lucky that the government backs many institutions so pay is "pretty much guaranteed." Before Pressey's league in Spain suspended, players had to decide if they were going to return to the U.S. and potentially give up two months' pay or stay and keep playing.
"It's not only us, but the teams are losing money, the league is losing money," Pressey said. "That's why they waited so long to postpone the league, because they don't have much money. But at the end of the day, this is bigger than basketball."
Pressey is spending his time finishing his MU degree online, but said that staying in shape has been a challenge. Paulding said he's taking a lot of walks and trying to keep his kids busy. Denmon is grateful to be home with his newborn daughter. He hasn't been home during this time of year since he was drafted in 2012. Still, he's itching to get back on the court.
"I honestly do feel like you can be safer in China than here, mainly because of (China's) ability to control," Denmon said. "But I'd rather be home quarantined in my house than in a government quarantine in China…. Would you rather go through a crisis at home or abroad?"
Dave Matter brings you the latest updates from the Mizzou sports scene.