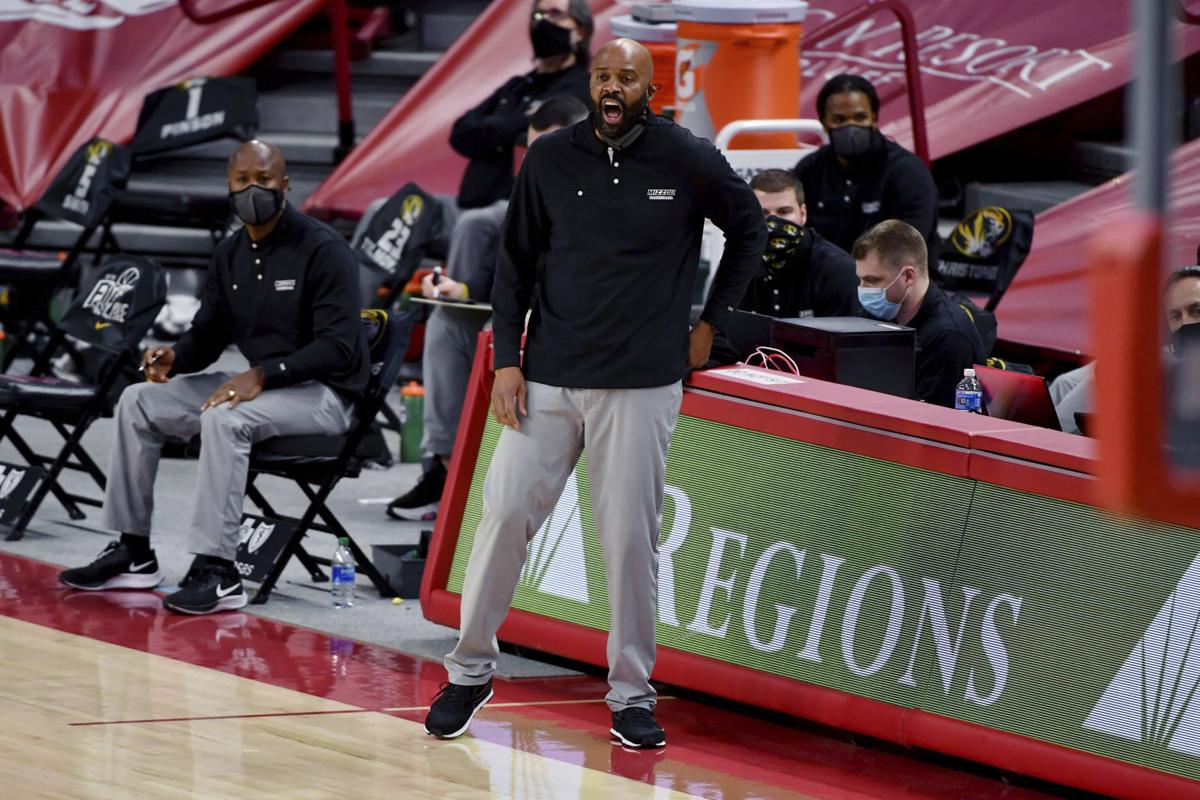 COLUMBIA, Mo. — Like their friends on the Missouri football team and women's basketball team and their peers across the state at St. Louis University, the Missouri basketball players are now on pause. After positive cases of COVID-19 surfaced in testing late this week, the No. 13 Tigers had to postpone Saturday's home game against Louisiana State and pause all team activities indefinitely.
Mizzou (7-2, 1-2 Southeastern Conference) was set to host LSU (7-2, 2-1) at 7:30 p.m., but the combination of positive tests, contact tracing and subsequent quarantining forced MU to postpone Saturday's game. No makeup date has been set. As of Friday there was no status change for MU's next two games, Tuesday at home against Vanderbilt and next Saturday at Texas A&M. Decisions on those games will be made at a later date, MU said. As standard with COVID cases in the athletics department, Missouri has not confirmed the identity of any player or coach who tested positive or is quarantined by contact tracing.
"This continues to be a challenging time across the college basketball landscape, and it is important that we prioritize the health and safety of our student-athletes first and foremost," Mizzou coach Cuonzo Martin said in a statement. "In laying out the schedule, the SEC has allowed for a week at the end of the season for the possibility that games would be canceled, and we look forward to hosting LSU at a later date. Once we can return to competition safely, we will do so."
With Saturday's game postponed, the SEC redirected LSU to Oxford, Mississippi, where the Tigers will play Ole Miss on Saturday. Earlier in the week, the Rebels' scheduled game against South Carolina was postponed because of COVID issues within USC's program. LSU and Ole Miss were originally slated to play in Oxford on Feb. 17. The SEC has built in an extra weekend at the end of the regular season, March 6-7, for any games that must be rescheduled during conference play.
For Mizzou, this is its first schedule change as a result of COVID cases within its own program, though the Tigers had to rearrange their nonconference schedule several times and scrapped plans to take part in some multi-team events. Mizzou's women's program had to cancel or postpone five nonconference games in December after an outbreak of positive cases within the team and most recently had to postpone Thursday's home game against Vanderbilt because of COVID cases for the Commodores.
SLU can relate. Travis Ford's Billikens have had their first five Atlantic 10 games postponed because of COVID cases and quarantining and haven't played since Dec. 23.
Mizzou's football schedule was scrambled all season with six of 10 games changing dates as a result of COVID cases within MU's program or their opponents. Plus the Music City Bowl against Iowa was canceled after an outbreak at MU.