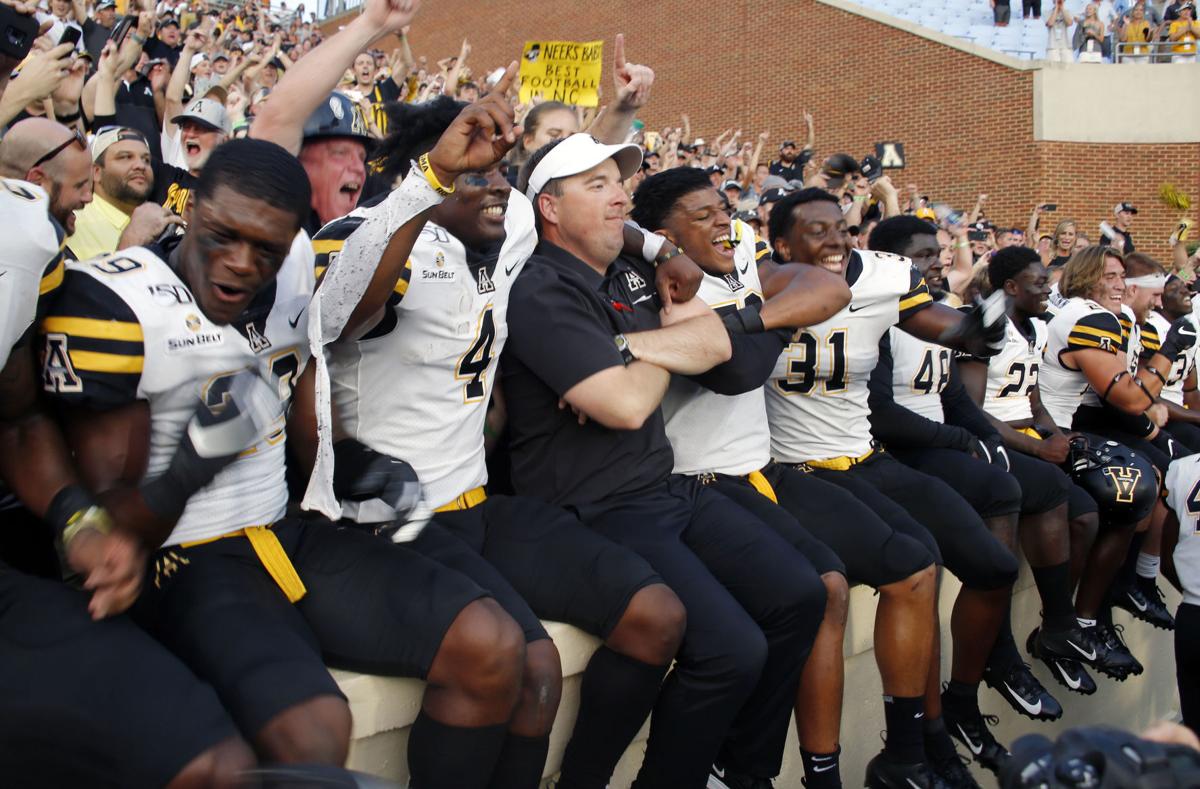 COLUMBIA, Mo. — Eight days after firing football coach Barry Odom, Missouri has his replacement: Appalachian State's Eliah Drinkwitz. Missouri and Drinkwitz agreed to terms for the 36-year-old to become the Tigers' next head coach on Sunday, pending approval of the UM System Board of Curators, a university source confirmed Sunday night.
On Monday morning, the Board announced an 8 a.m. executive session for Tuesday "for consideration of certain confidential or privileged communications with university counsel, personnel and contract items, all as authorized by law and upon approval by resolution of the Board of Curators."
Terms of Drinkwitz's deal have not been disclosed. He will be formally introduced Tuesday at a press conference at 10:45 a.m. at the Show Me Club in the south end zone facility at Memorial Stadium. The event is open to the public.
After Mizzou officials flew to North Carolina on Saturday to interview Drinkwitz, the Tigers had familiar competition for the Mountaineers coach, according to multiple reports. Arkansas was also hot after the offensive specialist, but later Sunday afternoon the Razorbacks made the surprising decision to hire Georgia offensive line coach Sam Pittman. That seemed to accelerate Missouri's move to land the Arkansas native. 
Mizzou's efforts weren't done with Sunday's agreement. Three members of the Board of Curators agreed to fly to North Carolina on Sunday to meet with Drinkwitz, a source told the Post-Dispatch, as a sign of the university's support and unity behind athletics director Jim Sterk in light of last week's unusual developments during MU's search process. Late last week some Curators expressed frustration with Sterk over his initial proposal of three candidates during an informal meeting with multiple board members. Details of that conversation were shared with the Post-Dispatch and other outlets.
The Curators whom Sterk spoke with were underwhelmed with his initial options of Arkansas State's Blake Anderson, Army's Jeff Monken and Louisiana Tech's Skip Holtz. The Curators hoped Sterk would offer bolder choices, a source with knowledge of that conversation said.
That bolder choice turned out to be Drinkwitz, who turns 37 in April, making him Mizzou's youngest head coach since Dan Devine was 34 when the 1958 season kicked off. On Sunday, Curators Darryl Chatman, David Steelman and Jeffrey Layman headed to North Carolina to send a message of support and unity for Sterk and his choice of Drinkwitz, a source told the Post-Dispatch, and to reinforce the MU campus' and the university system's commitment to the new coach.
On Saturday, another private plane landed at Columbia Regional Airport shortly before midnight coming directly from Wilkes County Airport, which is less than 50 miles from Boone, N.C., home of Drinkwitz and site of Saturday's Sun Belt Conference championship game. Earlier in the day Saturday, Drinkwitz led Appalachian State to a 45-38 victory over Louisiana in the Sun Belt title game, pushing App State's record to 12-1 under the first-year coach. 
Drinkwitz, born in Norman, Okla., but raised in Arkansas, attended Arkansas Tech and got his start coaching at the high school level in Arkansas, where he built a relationship with another offensive-minded coach whose career was just taking off, Gus Malzahn. Drinkwitz later coached with Malzahn at Auburn as a quality control coach in 2010-11 while Malzahn was offensive coordinator. Drinkwitz next spent two years at Arkansas State as an offensive assistant then followed ASU coach Bryan Harsin to Boise State for the 2014-15 seasons to serve as his offensive coordinator and quarterbacks coach. He held the same roles at North Carolina State from 2016-18.
Hired to replace departing Scott Satterfield after the 2018 season, Drinkwitz inherited a loaded Appalachian State roster but elevated the program to new heights: The Mountaineers beat two Power Five teams this season, North Carolina and South Carolina, on the way to a fourth straight Sun Belt championship.
After Saturday's game, Drinkwitz was asked about his name surfacing in job rumors.
"I hate to make this comparison, but the President of the United States always says 'fake news' and you don't believe about it until you start seeing it about yourself," Drinkwitz said. "There's a lot fake news and rumors and stuff going on out there. Our focus this week was being 1-0. My family and I love it here. We're very excited about what we're doing here at App State. But at the same time every opportunity I owe it to my family to see if that's something  we're interested in. I'm not in any hurry to leave. We feel strongly we're building something special here that can be sustained for a long period of time. … When all that stuff plays out we'll answer that stuff. Right now there's nothing to it."
Drinkwitz is in the first year of a five-year contract that pays him $750,000 per year.
Drinkwitz is far less experienced as a head coach than the three options Sterk presented informally to members of the UM System Board of Curators as top candidates: Anderson, Monken and Holtz. Those three, each in their 50s, have a combined 36 seasons as head coaches at current FBS programs. But Drinkwitz's youth and explosive offense at a nationally ranked program perhaps made him a more appealing candidate. This year's App State team ranks No. 9 nationally in scoring (39.4 points per game) and among the top 25 in rushing and passing efficiency. Drinkwitz's specialty is offense, but his staff includes veteran defensive coordinator Ted Roof, a former head coach at Duke and coordinator at eight FBS schools, including Auburn and Penn State. Drinkwitz's running backs coach is Garrett Riley, younger brother of Oklahoma coach Lincoln Riley. It's uncertain how many of his App State coaches he'll bring to Columbia or if he'll keep some holdovers from Odom's staff.