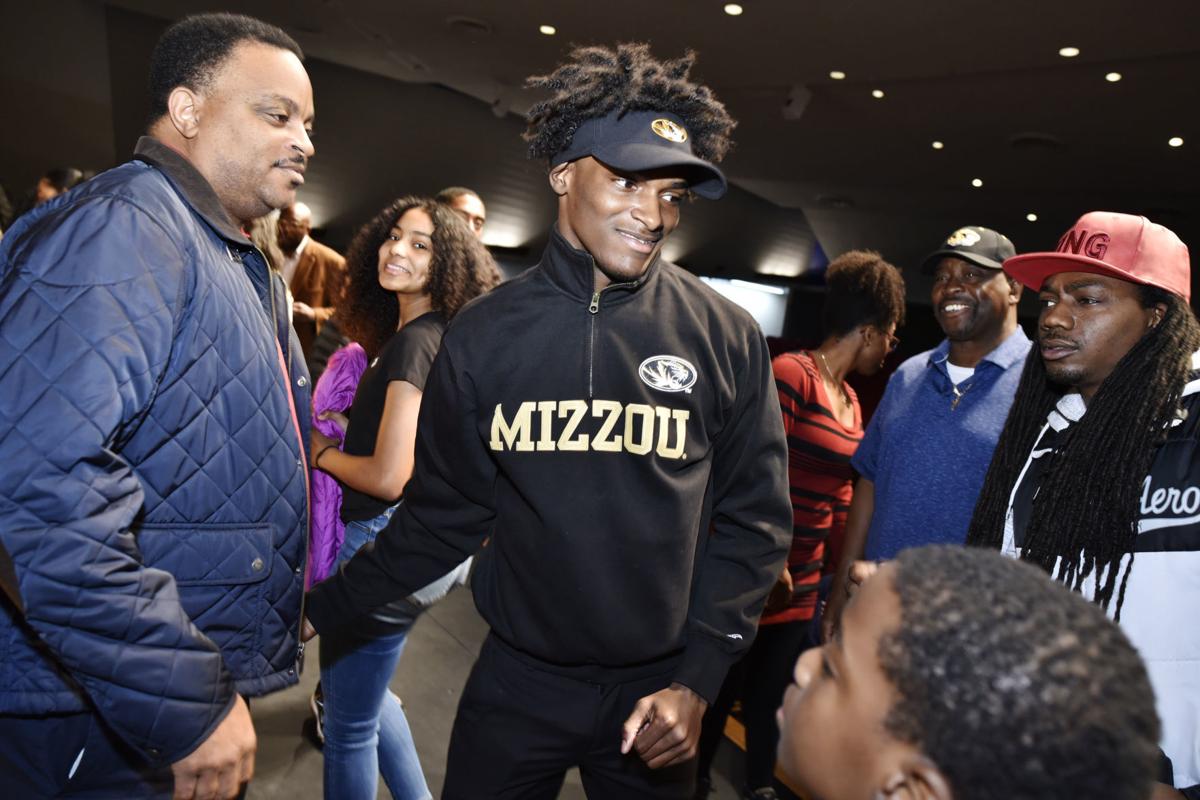 COLUMBIA, Mo. — Eliah Drinkwitz's first February national signing date as Missouri's football coach started with some early-morning drama, a celebration that went viral and a player coveted across the Southeastern Conference and beyond.
Six hours after Ennis Rakestraw Jr. surprisingly chose Missouri over his home-state program (Texas) and the team he recently called his "dream school" (Alabama), Drinkwitz had finally caught his breath.
As captured by the team's videographer, Drinkwitz watched the live feed of Rakestraw's 8 a.m. signing day ceremony on his phone Wednesday morning at MU's facility. Mizzou's staff hadn't made contact with the Duncanville, Texas, native or anyone from his inner circle since around 8:30 or 9 p.m. Tuesday night.
When Rakestraw cast aside caps bearing Texas and Alabama logos and tugged on a black Mizzou version, Drinkwitz exploded out of his chair and ran down the hallway like a maniac. He screamed, hugged, high-fived then doubled over in disbelief.
"Either I'm a heck of an actor or I was totally shocked, one of the two," he later joked, adding, "But I was that excited for everybody. They just happened to film that one."
By Wednesday evening, the scene had been viewed nearly 300,000 times on Twitter and Instagram.
By day's end, Mizzou's class of 17 additions ranked at the bottom of the Southeastern Conference by the major recruiting services — No. 50 overall by 247Sports.com and No. 56 by Rivals.com — but Rakestraw's commitment punctuated a class that addressed several pivotal areas for the first-year staff. Three-year starting cornerback DeMarkus Acy was a senior last year and fellow starter Christian Holmes entered the transfer portal last month, clearing a path for Rakestraw to compete immediately for playing time. But more important Wednesday was the statement his choice made about Drinkwitz's potential as a recruiter in the brutally competitive SEC.
Former coach Barry Odom first targeted the three-star cornerback nearly two years ago, when the staff recruited Duncanville teammate and current MU safety Stacey Brown.
MU became the first Power Five team to offer Rakestraw a scholarship last fall, and when he didn't sign anywhere in December, he became one of the hottest defensive backs on the market. Named the Dallas Morning News defensive player of the year, Rakestraw picked up offers from Alabama, Arkansas, Baylor, Georgia, Miami, Michigan State, Texas and South Carolina, among others. Three weeks ago, Nick Saban visited his home. Four days later Rakestraw took an official recruiting visit to Alabama then spent last weekend at Texas.
Drinkwitz never lost faith.
"I knew we had a great relationship," he said. "He had given us an indication that he was going to come here, but we had not heard from him in a few hours. So I was not sure. I was not sure at all. And I knew that that a couple other schools had made really strong cases and obviously had been in the home and (he had) been on official visits and knew that they really wanted him really bad."
Fortunately for MU, Drinkwitz retained Odom's two assistant coaches who were Rakestraw's lead recruiters, defensive coordinator Ryan Walters and cornerbacks coach David Gibbs. That mattered to Rakestraw, Duncanville defensive coordinator John Towels said Wednesday.
"The reason Missouri is getting him is because he's very loyal," he said. "Missouri was the first one to show interest in him and has stuck with him for at least a year and a half, maybe two years. That means a lot to him. When no one knew his name and no one believed in him, Missouri was always there."
Also on Wednesday, Mizzou announced letters of intent from offensive lineman Dylan Spencer (Madison, Miss.), defensive end Johnny Walker Jr. (Tampa, Fla.), wide receiver Kris Abrams-Draine (Mobile, Ala.) and defensive tackle Montra Edwards Jr. (Lexington, Miss.) In recent days the Tigers also added two transfers, junior college defensive lineman Ben Key and Virginia Tech wide receiver Damon Hazelon Jr., a graduate transfer the Tigers expect to be eligible this fall.
"To add a veteran type guy who's been in big games, who's been extremely productive really for three years it was a no-brainer for us," receivers coach Bush Hamdan said this week."
Wide receiver Chance Luper, the son of new running backs coach Curtis Luper, was not among the 17 players in the 2020 class MU unveiled. He's still expected to join the program at some point. 
Eddie Watkins, a three-star defensive end from Evergreen, Ala., chose West Virginia over Missouri and Arizona, while Trinity Catholic offensive lineman Jalen St. John, the only undecided high-profile target in the St. Louis area, chose Arkansas over Missouri. St. John had been committed to Mizzou but backed off his pledge when Odom was fired.
Mizzou's 2020 recruiting class
Player, Position, Ht., Wt., Previous school (Hometown)
Jaylon Carlies*, DB, 6-2, 193, West Orange (Winter Garden, Fla.)
Harrison Mevis*, K, 6-0, 220, Warsaw (Warsaw, Ind.)
Drake Heismeyer*, OL, 6-3, 283, Francis Howell
Will Norris*, LB, 6-1, 220, Rock Bridge (Columbia)
Tyler Jones*, DB, 5-10, 185, West Orange (Winter Garden, Fla.)
JJ Hester*, WR, 6-3, 190, Booker T. Washington (Tulsa, Okla.)
Brady Cook*, QB, 6-3, 210, Chaminade 
Elijah Young*, RB, 5-9, 175, South Doyle (Knoxville, Tennessee)
Jay Maclin*, WR, 5-11, 178, Kirkwood
Mitchell Walters*, OL, 6-8, 290, Mehlville
Damon Hazelton, WR, 6-3, 213, Virginia Tech (Towson, Md.)
Ben Key, DL, 6-3, 274, East Los Angeles College (Cranbourne West, Australia)
Johnny Walker Jr., DL, 6-3, 204, Chamberlain (Tampa, Fla.)
Dylan Spencer, OL, 6-4, 300, Madison Central (Madison, Miss.)
Ennis Rakestraw Jr., CB, 6-0, 170, Duncanville (Duncanville, Texas)
Montra Edwards Jr., 6-3, 293, Holmes County Central (Lexington, Miss.)
Kris Abrams-Draine, WR, 5-11, 179, Spanish Fort (Mobile, Ala.)
*signed during early period