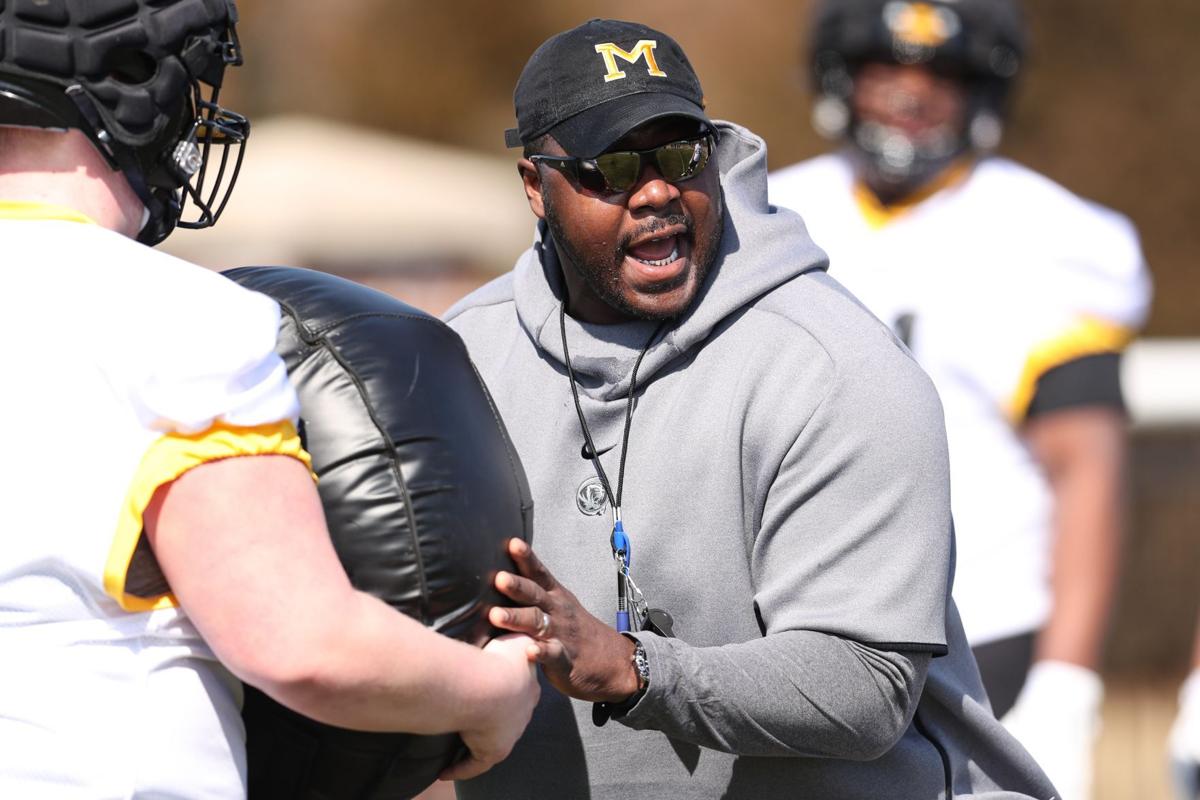 COLUMBIA, Mo. — Heading into Eli Drinkwitz' second season at Mizzou, several of his returning assistant coaches have agreed to new two-year contracts, including one substantial promotion. MU's athletics department is projecting a budget shortfall of nearly $30 million as a result of the pandemic, but the one sport that continues to drive the most revenue is the one sport that continues to push spending on salaries. The Tigers are coming off a 5-5 season and third-place finish in the Southeastern Conference East Division. 
Marcus Johnson (offensive line), Bush Hamdan (receivers), Charlie Harbison (defensive backs), D.J. Smith (linebackers), Casey Woods (tight ends) and Erik Link (special teams coordinator) all have two new two-year deals through Feb. 28, 2023. 
Johnson also has a new title for 2021: assistant head coach and run game coordinator. Johnson's new two-year deal and salary increase are still being finalized, an MU official confirmed Wednesday. Johnson was entering the second year of a two-year deal that paid him $500,000, a $300,000 base salary and $200,000 in non-salary compensation. Ole Miss, Johnson's alma mater, has been in the market for an offensive line coach since firing Randy Clements after the Rebels' spring game last month. Johnson's new title and raise could have been spurred by Ole Miss' search for a replacement. Johnson played for the Rebels from 2001-04. He was MU's nominee for the Broyles Award last year given to then nation's top assistant coach.
"Coach Johnson is a tremendous leader of young men," Drinkwitz said in a news release. "His work with our offensive line is a key element to our future successes. He has a bright future with our program."
"My family and I are incredibly grateful to Coach Drinkwitz for this opportunity," Johnson said. "It's been exciting to see our staff come together this winter and spring. We have great momentum going here at Mizzou."
Under the terms of his initial two-year contact, Hamdan made $400,000 in 2020 ($300,000 in base salary and $100,000 in non-salary compensation), but his non-salary compensation was set to increase to $250,000 in 2021, putting his guaranteed compensation to $550,000. That will be his total compensation for both the 202 and 2022 seasons under his new two-year deal.
Compensation packages remain the same for Harbison ($415,000), Link ($425,000), Smith ($350,000) and Woods ($350,000) under their new two-year deals.
Mizzou defines non-salary compensation as income for participation in TV/radio/Internet or streaming shows, speaking appearances, marketing events, footwear/apparel contracts and "all such matters related to community or University functions." Those payments are made monthly through MU's payroll system. Mizzou's assistant coach pay in 2020 of $4,840,875 ranked 20th among FBS programs and 10th in the SEC, according to USA Today's annual salary database. 
Mizzou also released the contracts for MU's two newest defensive assistants, secondary coach Aaron Fletcher and defensive line coach Jethro Franklin. Fletcher's two-year deal pays $300,000 for the 2021 season and increases to $320,000 for 2022.
Franklin will make $400,000 in 2021 ($300,000 base salary plus $100,000 in non-salary compensation) and $425,000 in 2021 ($300,000 plus $125,000).
Earlier this year, new defensive coordinator Steve Wilks agreed to a two-year contract that pays him $800,000 in 2021 plus a $200,000 retention bonus and $1 million in 2022 plus two more retention bonuses of $200,000, bringing his total package to $2.4 million. 
Running backs coach Curtis Luper has two years left on his original three-year deal that pays $550,000 per year in combined salary and non-salary compensation.
The coaches' incentive packages remain unchanged from their original two-year deals.
Drinkwitz is in the second year of his original six-year deal that pays him a guaranteed $4 million per year before incentives.