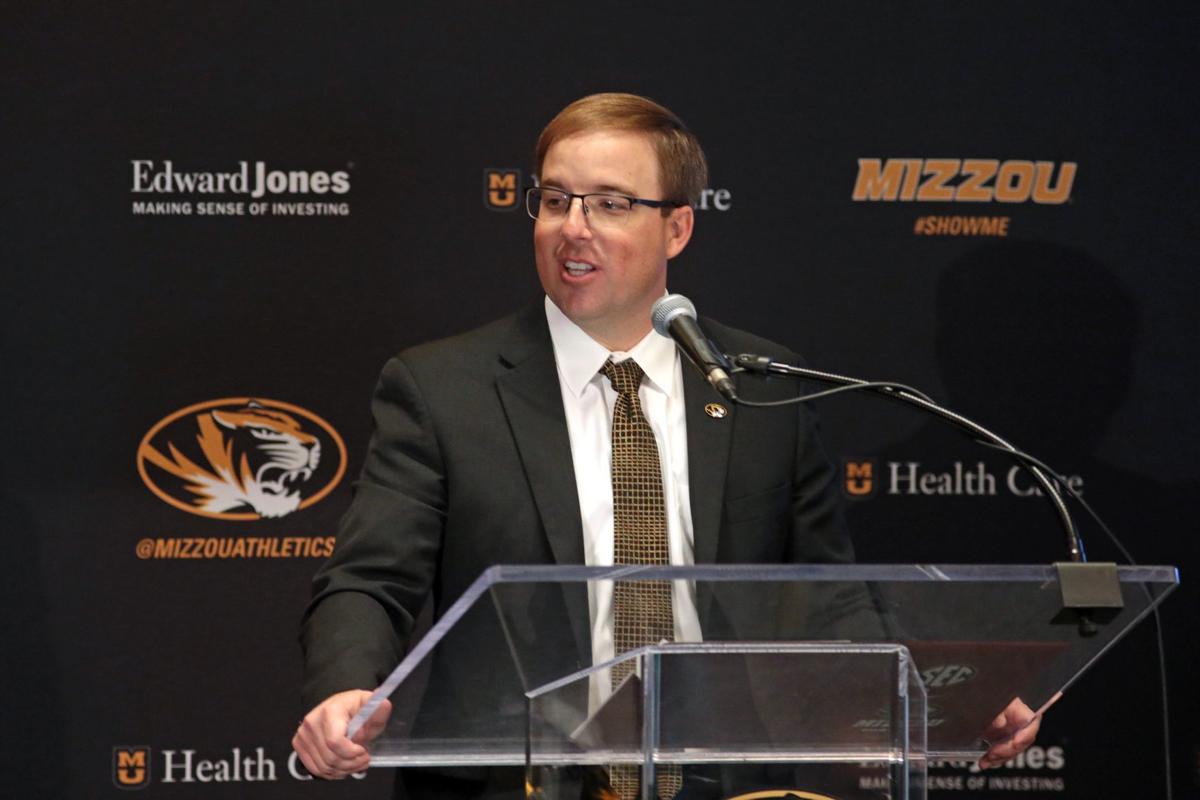 COLUMBIA, Mo. – In a stunning turn of events (not really), new Missouri football coach Eliah Drinkwitz was pleased with his first recruiting class after MU put the final touches on its class of 17 additions on Wednesday, the start of the traditional national signing period. MU announced five high school recruits who submitted their national letters of intent, to go along with two transfers announced in recent days and the 10 high school recruits who signed in December.
Meeting with reporters Wednesday, Drinkwitz talked about the "OH MY GOD!" heard around the Internet earlier in the day, the addition of a proven Power 5 wide receiver, his staff's commitment to future in-state prospects and even took a jab at a certain SEC West school that now employs his predecessor as defensive coordinator.
Here's more from Drinkwitz's press conference:
CATCH OF THE DAY
Ennis Rakestraw provided the day's only drama. The three-star cornerback from Duncanville, Texas, narrowed his choice to Alabama, Mizzou and Texas. Texas was the state school. Rakestraw had described Alabama as his "dream school." Mizzou was the first program to take interest, a relationship that began two years ago, when Barry Odom's staff recruited Duncanville teammate and current Tigers safety Stacey Brown.
"I knew we had a great relationship," Drinkwitz said. "He had given us indication that he was going to come here, but we had not heard from him in a few hours. So I was not sure. I was not sure at all. And I knew that that a couple other schools had made really strong cases and obviously had been in the home and (he had) been on official visits and knew that they really wanted him really bad.
"But credit to Coach (David) Gibbs, Coach (Charlie) Harbison, Coach (Ryan) Walters for building a relationship with his high school coach, with parents, with all the influencers. They did it really nice job of getting us over the top there."
Drinkwitz's reaction quickly went viral on Twitter — and even entertained Ole Miss coach Lane Kiffin. Sources around the program insisted Wednesday the reaction footage was not recreated: That was Drinkwitz's real-time discovery of Rakestraw's decision.
"Either I'm a heck of an actor or I was totally shocked, one of the two," he joked, adding, "But I was that excited for everybody. They just happened to film that one."
With the loss of cornerbacks De'Markus Acy and Christian Holmes it was pivotal for the Tigers to sign multiple defensive backs. Based on the other schools in pursuit, Rakestraw was in high demand.
"Obviously Ennis has great length, ball skills, he's got transition ability speed, ability to play man to man, can mix it up in some zone coverage to track the ball down the field," Drinkwitz said. "He's a willing tackler so we can set the edge we want to play some sort of two coverage where he's primary run stopper so he provides a lot of position versatility and obviously with his length provides us the ability to play man to man and, you know, match up with wide receivers in this conference."
How did a three-star cornerback become the object of affection for so many top programs? It's not that he was a late bloomer his senior year, Duncanville defensive coordinator John Towells said Wednesday. As a junior, Rakestraw was overshadowed in a loaded secondary that included four other FBS recruits, including Mizzou's Brown, 2020 four-star Auburn recruit Chris Thompson, 2019 four-star Illinois recruit Marquez Beason and 2019 three-star Rice recruit Tre'Shone Devones.
"People were late to see what he truly has," Towells said "The deal is as a junior he was in a secondary full of monsters. It was easy to overlook him. But he hasn't stopped being who he always was."
While Drinkwitz was new to Rakestraw's recruiting process, staff holdovers Walters and Gibbs had been recruiting him since last year. "Walters came up last year a lot to see Stacey," Towells said. "Presence means a lot to kids."
ADDING TO THE TRENCHES
Four of the five players Mizzou signed Wednesday had been committed to other schools before MU hired Drinkwitz. That includes defensive tackle Montra Edwards Jr., who for a while last summer was committed to … Mizzou. He opened his recruitment during his senior season but MU stayed in touch, even after the head-coaching change. That's where the team's other staff holdover proved valuable, defensive line coach Brick Haley.
"When things change obviously it causes everybody to pause," Drinkwitz said. "Coach Haley did an unbelievable job of just maintaining that relationship with him and the high school coach and his dad. Obviously, when we hired (offensive line) coach (Marucs) Johnson, he was also from Mississippi. Those two guys really did a nice job of working together to sustain that relationship until I could get caught up.
"But Montra was one of the first really to just buy into our message and our vision and be vocal about it. I'm very thankful to him and he did an outstanding job of when he committed to us he went and tried to get other people on board, which led us to the Dylan Spencer connection."
Mizzou came out of the December signing period needing another offensive lineman. That became Spencer, like Edwards, also a Mississippi native who clicked with Johnson, also a Mississippi native who played at Ole Miss and coached at Mississippi State.
Back to the defensive line. Both of MU's additions there have a Mike Leach connection. Mississippi State lost junior college D-lineman Ben Key after making the head-coaching change from Joe Moorhead to Leach, while edge rusher Johnny Walker Jr. backed out of his commitment to Washington State a few weeks before Leach left for MSU.
Either way, the D-line was a clear position of need for this recruiting class with eight of MU's returning 12 scholarship defensive lineman being seniors in 2020.
"It was extremely important," Drinkwitz said. "It was probably, after the first signing day, my biggest point of concern, just because next year we have a lot of seniors in the defensive line. You're going to be really thin moving forward, and especially with the scholarship numbers, it's going to be tricky to in order to work around it. So we definitely needed to sign some guys.
"Being able to get Ben Key, a guy who was signed previously (to Mississippi State), they had a coaching change and was able to get out of his NLI. Coach Harbison had a relationship with the junior college coach and worked extremely hard to build a relationship with Ben and his parents. We actually flew his parents up from Australia. …  Ben has only been here for three years in the United States. So being able to work that connection and build that relationship, trust and respect, which again is a core value of ours, within a short period of time."
"Ben is like clay in Coach Haley's hands," he added. "He's got all types of potential, untapped potential, but big physical, strong suddenness. He's going to be able to hold the point for us whether he plays nose or a four (technique) or five or three."
Walker is just 204 pounds but at 6-3 has the frame to muscle up and play along the edge in Walters' defense.
"Johnny Walker was a guy that we need to be better at pass rush," Drinkwitz said. "Obviously our sack production last year was not where we want it to be. And you'd like to be able to produce rushing the quarterback without having to bring pressure all the time. We need somebody who's got that quick first step, can bend and can be an effector of the quarterback. We believe Johnny's got that ability, so he's going to have to do a really good job with our director of athletic performance in continuing to develop his body and get bigger. But he does have that speed and suddenness that you're looking for at the defensive end position."
TWO MORE RECEIVERS
The 2020 addition with the best chance to make an immediate impact is clearly Damon Hazelton Jr., the graduate transfer receiver from Virginia Tech. The coaching staff had no prior relationship or connection to Hazelton but quickly pounced once he entered the transfer portal late last month. With receivers/quarterbacks coach Bush Hamdan in the lead, the recruitment lasted all of six days, Drinkwitz said.
"Obviously that for us is a big get," he said. "He's a grad transfer but a guy who's got production in Power Five-level games. He's been a featured wide receiver, been an honorable mention all-conference player guy, 50 touches, 500 yards. He's got a lot of touchdowns and made plays on a big stage. We know he can beat man to man coverage. Got great size, catch ability, catch radius. So we're excited about him and know the maturity he brings to that room and the competition he brings to that room, which is something we needed."
Drinkwitz said he'll leave Hazelton's eligibility up to the compliance department but didn't have any worries about any waiver process he might need to play immediately this fall.
Kris Abrams-Draine, a Wednesday addition who had once been committed to LSU then Ole Miss, projects as a slot receiver. He's played quarterback and point guard in basketball.
"A guy that's got all kinds of athleticism when the ball is in his hand," Drinkwitz said. "The moment is never too big for him, a guy who can create on his own and when we when he gets the ball in space is able to do something with it. He has a lot of characteristics of former players that I've coached in the past, especially at that slot wide receiver position, and somebody we're very excited about."
ROSTER STILL FLEXIBLE
Chance Luper, another wideout the Tigers expected to sign, did not sign an NLI on Wednesday but still plans to join the program. The NCAA-mandated scholarship restrictions put a ceiling on the 2020 class at 17 or 18, Drinkwitz said, though there's still some "roster flexibility" to add pieces, possibly transfers.
"I think college football roster management's changed over the past two years because of the transfer portal, the ability to add players and manage your roster through transfers and immediate eligibility," he said. "Been fortunate to be able to utilize that in my past and will utilize that moving forward as we already have with Damon. We do have some roster flexibility if the right person or fit comes available. But the biggest thing for me was not to rush and assign people that we didn't know or panic. We need to sign the right player that fits who we are, the right fit for us, and we wanted to be very disciplined in our approach."
DOUBLING DOWN IN STATE
All 10 of Drinkwitz's assistant coaches will be assigned a region in the state of Misosuri as well as other parts outside of the state border. He'll have four different coaches in both St. Louis and Kansas City. Running backs coach Curtis Luper will be the primary recruiter in St. Louis and work the region along with Haley, Hamdan and linebackers coach D.J. Smith. Tight ends coach Casey Woods will be the primary recruiter in Kansas City.
Luper will also recruit the Dallas metro area, while special teams coordinator Erik Link will handle several Midwest states, including Iowa, Minnesota and Illinois.
"The state of Missouri has to be our strength in recruiting," Drinkwitz said. "It has to be. Wee have to close the borders. We have to emphasize our state do a great job of evaluating and make it a strength. That's the point of emphasis that I made to our staff. We're going to see the high schools in this state. We're going to see the players and we're going to evaluate them. That doesn't mean we're going to take every player in the state. It means we're going to take the kids that we believe can help us win the SEC East. And we're going to trust our evaluation and our eyes and ears. We're going to be in those schools to make those evaluations. Then once that's completed, then we will go to supplemental areas."
DRINKWITZ ZINGS HOGS
Drinkwitz wants to make the Missouri-Arkansas rivalry a real thing. He lobbed some zingers at the Razorbacks back in December. He had another jab Wednesday in the context of a longer answer about surprises the staff came across during this recruiting cycle.
"I think about Dylan Spencer, a guy that that Marcus Johnson knew that didn't commit to us until he got up here and was really be impressed," he said. "An in-state school (in Mississippi) and another school within the SEC East was really pressuring him. A school south of us seemed to keep offering every single person that we offered. There's all kinds of those stories that make it unique. Ennis Rakestraw had an official visit to his state school (Texas) and his dream school (Alabama) but yet to pick the Tigers obviously is unique. Kris Abrams-Draine is a guy who cancelled a visit a university (Florida State) that was less than an hour away from his hometown to commit to us. Montra Edwards, who had pressure from his two in-state schools to stay home, made all of those surprising and exciting."
That "school to the south" was clearly Arkansas, Drinkwitz's home-state school. With three former Mizzou staffers now in Fayetteville, including former Tigers coach Barry Odom, the Hogs pursued several players MU signed on Wednesday — and also landed a player the Tigers had hoped to sign, Trinity Catholic offensive lineman Jalen St. John, who was committed to MU before Odom was fired.
As of 5:30 p.m., Arkansas had the higher ranked class by both major recruiting services. First-year Razorbacks coach Sam Pittman's 2020 class ranked No. 38 by Rivals.com and No. 11 among SEC teams. Missouri's class ranked No. 56 overall and last in the SEC. MU and Ole Miss signed the league's two smallest classes with 17 players each. When ranked by average player ratings, which takes overall class size out of the formula, Arkansas' class ranks No. 45 and No. 12 in the SEC, followed by MU at No. 51 and No. 13 in the SEC.
Dave Matter brings you the latest updates from the Mizzou sports scene.