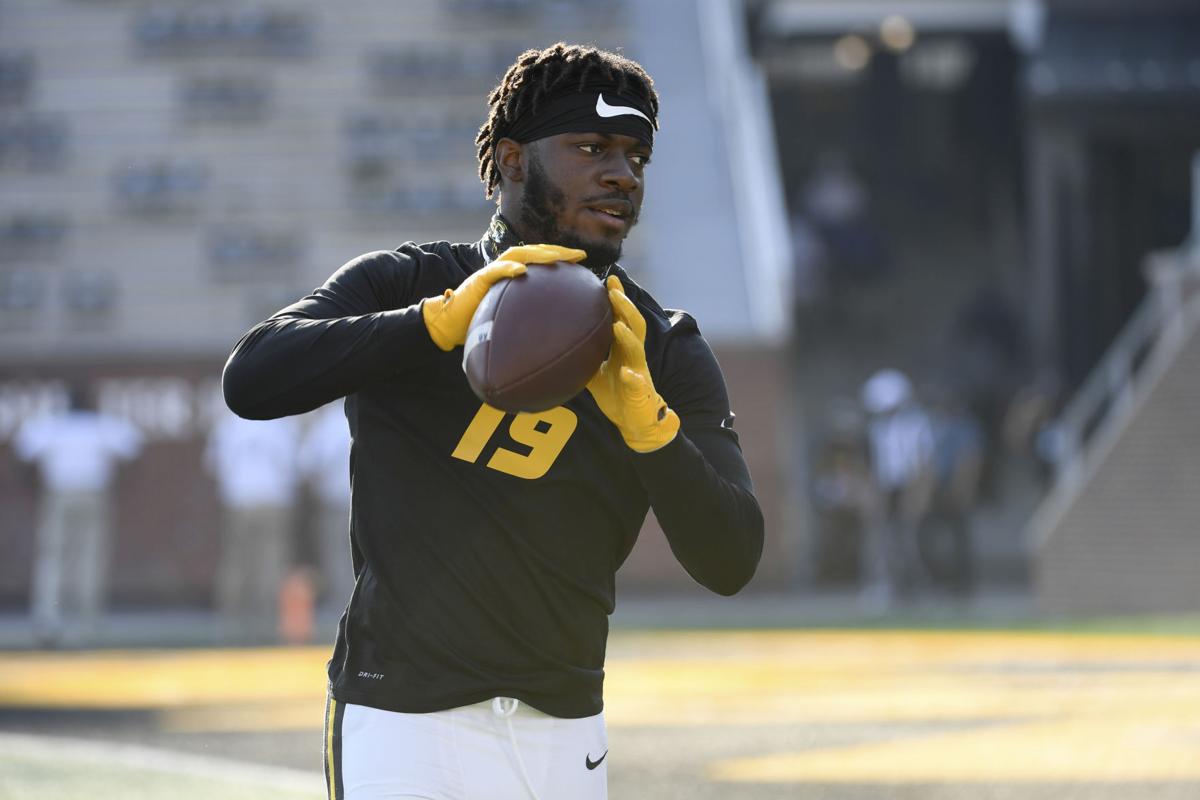 COLUMBIA, Mo. — Eli Drinkwitz's first spring football session at Missouri ended early last year. This year, it's starting early — so early that the Tigers' scheduled spring game falls on the first day of spring, March 20.
Rather than sandwich a few weeks of practices around the school's spring break the last week of March, the second-year coach prefers a compressed four-week schedule that starts with the Tigers' first practice Friday. Mizzou will have three practices after the annual spring game and wrap up practices March 26 before moving into the next phase of the offseason.
"Let's go four weeks and make sure we improve every day," Drinkwitz said this week. "It's going to be a grind. But when it's over we can all drink Mai Tais on the beach and enjoy our time."
The pandemic cut short last year's spring schedule after just three practices, setting up a unconventional offseason when Drinkwitz had to install his new offense mostly via Zoom meetings then couldn't see his new team in action until late summer.
This year, the circumstances have changed but not the purpose. Drinkwitz has three core goals for spring practices: individual player development; establish foundations for the offense, defense and special teams; and build team chemistry and camaraderie.
The next four weeks will be less defined by depth charts and geared more toward building the identity of the 2021 Tigers.
"Everybody's going to get reps and opportunities to perform and develop," he said.
Here are five storylines to watch over the next four weeks.
1. New voice, new scheme on defense: After letting holdover defensive coordinator Ryan Walters leave for Illinois, Drinkwitz reset the defense with new coordinator Steve Wilks, a longtime NFL coach who's back on a college campus for the first time in 16 years. He'll have the next four weeks to evaluate his personnel and decide how the returning talent fits into his plans. He's not the only newcomer on the defensive staff. Jethro Franklin, another NFL import, now coaches the defensive line, while newly hired Aaron Fletcher will work with the secondary.
Wilks plans to install a 4-2-5 base defense, a twist on MU's previous scheme that used more three-man fronts. Expect more variety in how the Tigers defend the pass and a renewed emphasis on rushing the pocket.
"We needed to eliminate explosive plays, specifically in the pass game," Drinkwitz said. "We needed to be more multiple in our coverages."
2. Encore for Bazelak: Drinkwitz has consistently said players will compete for starting jobs in preseason camp, but he's also made this clear: His quarterback is Connor Bazelak. The co-freshman of the year in the Southeastern Conference started MU's last eight games, displayed unusual poise for a redshirt freshman and posted one of the best completion percentages in Mizzou history at 67.3%. But he's far from a finished product. While four-star freshman Tyler Macon from East St. Louis gets his first taste of college practices, Drinkwitz wants Bazelak to sharpen three areas of his game this spring: improve ball security in the pocket, throw more red-zone touchdown passes and be more aggressive with decision-making. Four of his six interceptions came in last year's final two games.
"I don't want him to be reckless," Drinkwitz said. "I don't want to be careless or comfortable. What I want him to be is to challenge himself and continue to improve as a quarterback."
3. Who's next?: The Tigers return 24 of the 31 players who played at least 200 snaps on offense or defense last year, an even dozen on each side of the ball. That's a lot of returning talent and experience, though some key contributors must be replaced, starting with two-time All-SEC linebacker Nick Bolton, record-breaking running back Larry Rountree III and safeties Joshuah Bledsoe and Tyree Gillespie. The Tigers expect a wide-open competition at linebacker, while the offense could rely on a running back committee to replace Rountree's production, led by all-purpose threat Tyler Badie. The most intriguing safety candidate is former starting quarterback Shawn Robinson, who switched to defense for last year's season finale and intercepted a pass at Mississippi State.
"I know what I saw in that last game that he played," Drinkwitz said. "Obviously he's got a lot of potential."
4. Welcome aboard: The Tigers added 11 scholarship newcomers at the semester break in the form of seven freshmen and four transfers. The group includes five players from the St. Louis area: Ohio State receiver transfer Mookie Cooper from Trinity Catholic, Lutheran North defensive end Travion Ford, Washington tight end Ryan Hoerstkamp and East St. Louis teammates Macon and receiver Dominic Lovett. Cooper and Lovett could push for roles at slot receiver, while Oklahoma transfer E.J. Ndomoa-Ogar could immediately figure into the offensive line depth.
5. Upgrade at receivers?: The Tigers lost only one receiver from last year's core rotation, Damon Hazelton Jr., but still need depth and talent to emerge from a group that lacks anything close to an All-SEC candidate. Six of the eight players who caught 10 or more passes return, including top wideout KeKe Chism, but MU needs more dynamic playmakers at the skill positions, especially wide receiver. That's where rookies like Cooper and Lovett could fit into the mix or second-year wideouts like Jay Maclin (Kirkwood), J.J. Hester and Chance Luper.