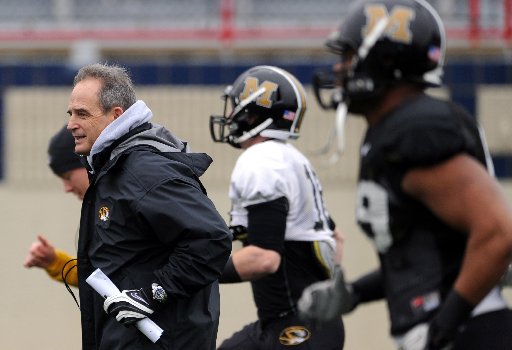 COLUMBIA, Mo. • At its spring game April 14, Mizzou football will unveil new uniforms and helmets, which will ditch the block "M" that has adorned the headgear for 40 years.
Without giving details on the change, which Mizzou was studying before the SEC move, coach Gary Pinkel said the uniforms are "off-the-charts" and have resonated with recruits.
"They went crazy," he said. "Those are 18-year-old kids, and (those concepts are) what we're recruiting against and what we're playing."
As for the helmets, he seems to have a sense that traditionalists will be a hard sell.
"I would like to think people know that I have a deep respect for Missouri football, OK? I know the history of that helmet, I know everything about that helmet," he said. "But we chose to take the `M' off the helmet."
That's because studies showed that MU's most distinct icons are the word "Mizzou" and its Tiger-head logo. And nationally, he added, the "M" is easily confused with Michigan or others.
"Who knows what it is?" he asked.
Noting MU's successes in the 1960s with numbers on the side of the helmet, he added, "I have great respect for everything (that's happened) here, but I'm going to do the right thing for the University of Missouri, not what's popular. As long as you win enough, that takes care of itself."