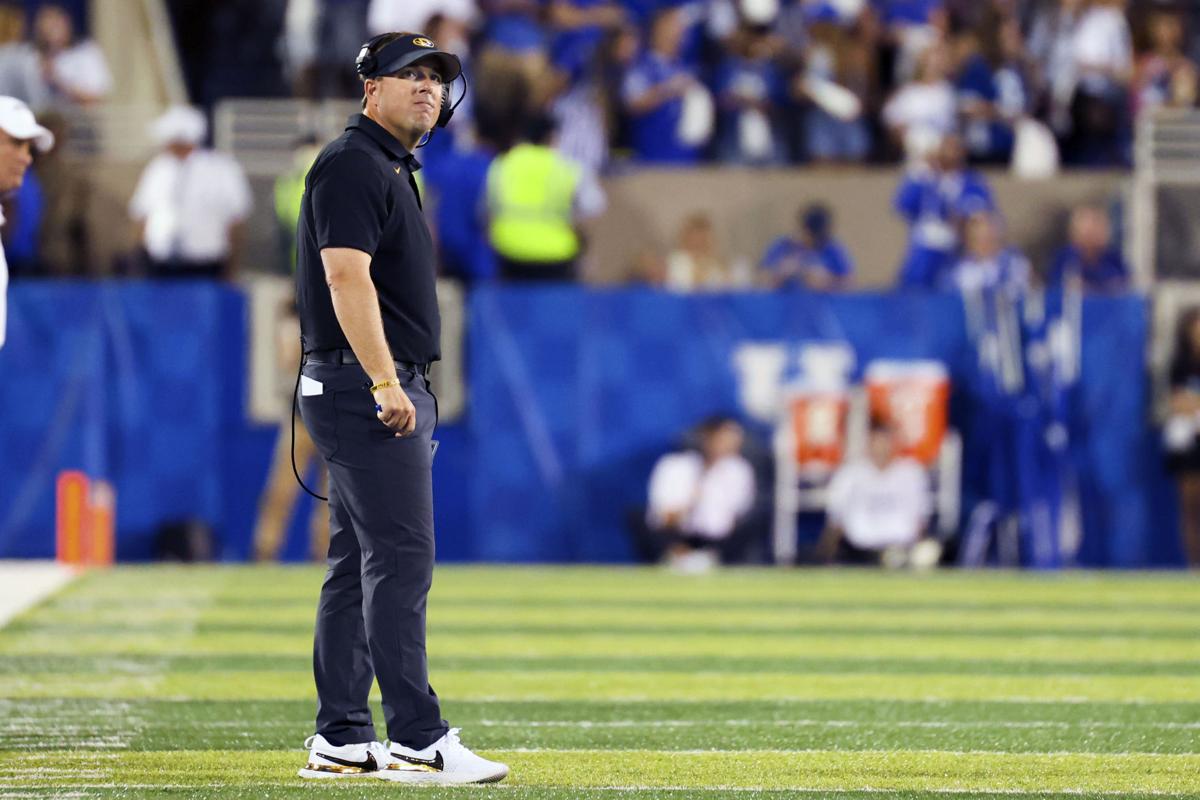 LEXINGTON, Ky. — Here's everything Missouri coach Eli Drinkwitz said after the Tigers' 35-28 loss to Kentucky at Kroger Field.
On Mizzou's rush defense:
"We got our butt whipped up front and weren't able to stop the run. Until I watch the film, I'm not sure exactly what happened."
On quarterback Connor Bazelak's game:
"He did enough to keep us in the game. Obviously I wish we had the interception back. It was a bad play-call. I thought he did a nice job managing some of the aggressiveness we took down the field. He took check downs, he did a nice job managing it with the feet, but at the end of the day, it wasn't good enough. We had a chance to drive it down and win the game. We didn't get it done. I didn't give him a good enough play-call. 
"I'm proud of my football team, really freaking proud of them. They fought their butt off in a hostile crowd, down, didn't start the way we wanted to. The second half didn't start the way we wanted to. They freaking fought their butt off, blocked a field goal and gave us a chance to win the game. We didn't get it done. But there's no reason to hang our heads. There's no reason to panic, anybody needs to panic or jump on Twitter and go crazy. Like relax it's week two on the road, night SEC football game versus a good opponent. We had a chance to win, we didn't get it done. We'll go back to work tomorrow and we'll go to fixing it and that's what we're going to do. Lot of football season left, whole heck of a lot of football season left.
"I'll tell you what, I saw a bunch of fighters in that locker room. A bunch of freaking fighters on the sideline. That's a football team that's going to continue to improve and get better. They're going to fight to improve and get better. I don't know how many games we're going to win, but I know we're gonna fight."
On Mizzou's methodical offensive approach:
"Kentucky, if they get a lead, that's how they play defense. They don't have to be aggressive, they can keep everything in front of them. That's what we were prepared for. It's how the game was dictated."
On Kentucky's offensive plan:
"They got out on the pin and pull in the first half, they got out on a jet sweep in the first half. Then they were running the inside zone and we weren't able to pound the A gap. ... We weren't getting it done. We had all kinds of issues."
On Bazelak's health status:
"I mean he got hit. It's SEC football. No, he's fine. He'll be sore tomorrow, but more importantly he'll be pissed off because we lost."
On Mizzou's second-half defense:
"In the first half, we had a couple of times where we didn't get the tight end stunt, where the tackle didn't keep contain. That was the second third down, second drive. Didn't play zone coverage very well when we mixed it in. They hit the in-cut, which is there number one pass concept on third down. We didn't do very much of anything right. 
"It was a road game. Whatever."
On Daniel Parker's two touchdown catches:
"We just call plays, man. We were just calling plays. If it's a good play, we call it and if it goes to the tight end, it goes to the tight end. I think both of them had options to go other places. The quarterback does a nice job of getting it to the guy who was open. We're not sitting around trying to get Daniel Parker touchdowns. We're calling football plays. So if it happens to work out, great. He answered the bell when his call was ready. Ran a great route that first one. Second one, he was on the shovel, but we had a two-way go on it. It worked out perfect. I'm not worried about who gets it, I'm worried about winning football games. 
On the team handling the 'don't panic' message?
"It's a good reminder for myself. It's one football game of 12. We had an opportunity. We didn't get it done, but there's a lot of season left and a lot of fight left in this football team. That's what I like to see. They could have easily (quit) in the first half. Didn't stop them a single time on third down. They could have easily tucked their tail. They didn't do that. That's a good sign. We got to get a lot of things fixed and we got to do it in a hurry, but we're fighting."
"He's a hell of a football player. The dude is playing his butt off. He doesn't get very many breaks. He's a factor in both the run game and the pass game and has to run a lot of routes, a lot of yardage. He's a very good football player and we need him to continue to be in order for our offense to have any chance of success."