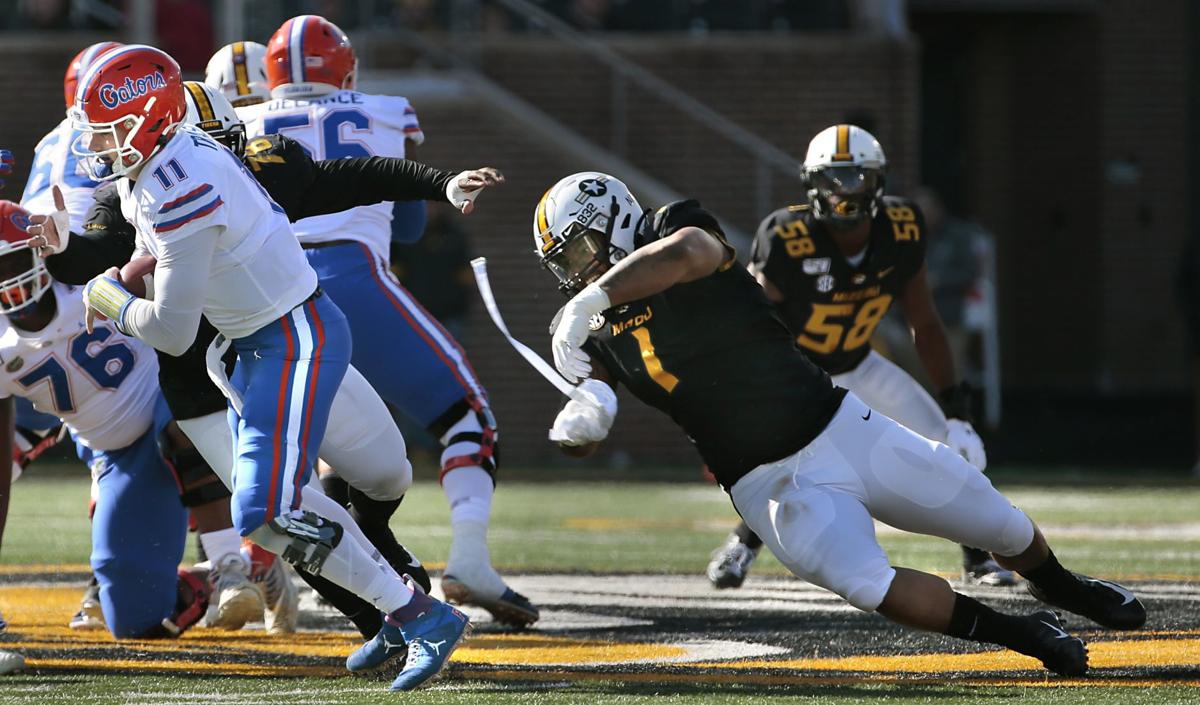 COLUMBIA, Mo. — Barry Odom isn't the only one leaving the Missouri football program. A day after the Tigers fired their coach, defensive tackle Jordan Elliott announced he's making himself available for the NFL draft instead of returning to MU for his senior season.
"It has been an amazing three years at Missouri," Elliott posted on Twitter Sunday. "I want to thank God for teammates for pushing me and continuously holding me accountable, Coach (Barry) Odom, Coach (Brick) Haley and the staff for molding me and teaching me lessons that I will take with me for the rest of my life. Thank you all for helping me grow as a man and as a player. I am ready for the next chapter in my life."
Elliott, who transferred to Missouri from the University of Texas in May 2017, is coming off a strong season worthy of All-Southeastern Conference honors. The co-captain led the Tigers in tackles for loss (8½) and finished fourth in tackles (44), the most for a Mizzou defensive tackle since 2014. He also had 2½ sacks, six hurries, three pass breakups and a blocked field goal. Elliott is the highest-rated interior defensive lineman in college football, per Pro Football Focus, with a rating of 91.5.
Elliott came off the bench for the Tigers in 2018, his first eligible season at MU, and finished with a flourish, racking up three sacks in the regular-season finale against Arkansas. In the offseason, he cut out red meat, shed nearly 30 pounds and earned a starting job.
"He's transformed his body and he's transformed more than anything his motor and his willingness to do it," Odom previously said. "He's a talented guy that's going to play ball for a long time. And he's so explosive. Those things that have happened, in my opinion, for a number of reasons. One, he's completely changed his diet. No. 2, he works extremely hard in the weight room. Then three, maybe most importantly, he takes coaching."
Haley is serving as Mizzou's interim coach while athletics director Jim Sterk seeks the replace for Odom, who was fired on Saturday after the Tigers' 6-6 season.
Elliott is the 10th Missouri player since 2010 to leave school to enter the NFL draft with remaining eligibility. and the sixth defensive linemen from that group. Four of the five before him were first-round selections, most recently Charles Harris in 2017.
Junior tight end Albert Okwuegbunam, coming off a disappointing career-low 26 catches, also could decide to enter the NFL draft. He explored his stock after the 2018 season but chose to return.
Local recruit changes mind
A second high school player dropped his verbal commitment to Mizzou in the wake of Odom's firing — and the first among MU's local pledges. Trinity Catholic offensive lineman Jalen St. John, rated a four-star recruit by Rivals.com, announced Sunday he was considering other schools. Robert Wooten, a three-star defensive end from Stafford, Texas, backed out of his commitment on Saturday.
St. John, No. 12 on the Post-Dispatch's Super 30 list of the top high school senior prospects in the area, first committed to MU in July. He tweeted Sunday that he will take four official visits and won't choose a school until the February signing date. The early signing period begins Dec. 18.