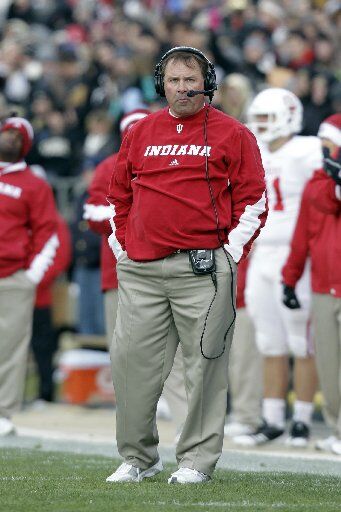 COLUMBIA, Mo. • Indiana hasn't played Missouri since 1992, but Hoosiers coach Kevin Wilson knows the Tigers well. As an offensive assistant at Oklahoma from 2002-10, Wilson faced Mizzou seven times, going 6-1 against Gary Pinkel's program, including consecutive victories in the Big 12 championship game. Wilson's Sooner teams outscored Missouri 259-152 in those seven matchups, for an average score of 37 to 21.8.
Wilson won't have a cast of Sooners on his sideline in Saturday night's game in Bloomington, Ind., – the Hoosiers (2-1) are just 7-20 since he took over in 2011 – but he'll see familiar traces in black and gold.
"Having seen Coach Pinkel's teams for years, they've always been dynamic on offense and they have balance," Wilson said on today's Big Ten teleconference. "They have a run game going. Both of their running backs show great speed. The ball gets out in tough. The players make plays. And they've got a veteran quarterback, whether it be a (Chase) Daniel, whether it be a (Blaine) Gabbert, now with their quarterback now, James Franklin, it's a very mature player who can make plays running but a good thrower. You hear 'dual threat' you think of a guy who's just a runner. But this guy's a great thrower.
"Defensively, those guys have always played a solid package, know what they're doing. And they have a good kick game. If you watch Coach Pinkel's teams year after year, they're solid in all three phases. They've got good players in all three phases. They're coming off a rough year, but to me, it looks like a typical Missouri team and it'll be a tough challenge for us Saturday night."
Wilson is especially familiar with Franklin. Oklahoma recruited him somewhat out of high school. (Remember, Franklin is a Sooner legacy. His father, Willie Franklin, played receiver at OU in the 1970s.) The Sooners never offered Franklin a scholarship but signed his high school teammate, offensive lineman Daryl Williams. OU's current starting quarterback, Blake Bell, was also part of the Sooners' 2010 recruiting class.
"I remember him well," Wilson said of Franklin. "At the time we had some other quarterbacks. … He's picked, to me, a place that's a perfect fit for him. I know last year he had some injury issues, but he's going to win a bunch of games and be a great player in the history of Missouri."
Franklin played a central role in Mizzou's lone victory over Oklahoma during the Pinkel years, the 2010 homecoming victory, Wilson's last season on the OU staff. Subbing for Gabbert in a short-yardage package, Franklin scored the go-ahead touchdown run in the fourth quarter of the 36-27 win.