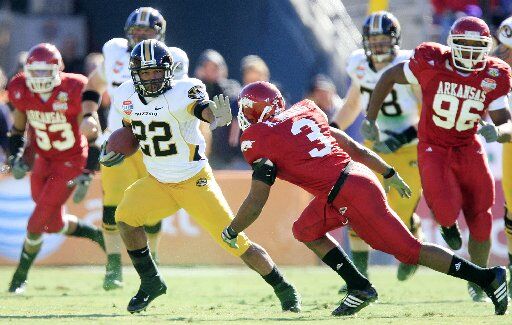 COLUMBIA, Mo. • Mizzou football fans might have to put their Black Friday shopping on hold this year. Missouri's first SEC football clash with Arkansas has been moved up a day to  Nov. 28, the Friday after Thanksgiving, CBS announced Tuesday. The game will kick off at 1:30 p.m. in Columbia and will air nationally on CBS. 
Arkansas has historically played Louisiana State the Friday after Thanksgiving, but that changed when Mizzou and Arkansas were designated as new cross-division permanent opponents under the conference's tweaked scheduling format. Starting this fall, Mizzou and Arkansas will meet every season through 2025. The SEC announced schedule rotations for 2015-2025 last week. The Tigers will host the Razorbacks in even-numbered years and play at Arkansas in odd-numbered years. The Razorbacks plays home games at both Fayetteville's Razorback Stadium and Little Rock's War Memorial Stadium. 
 "You've got to play them before you can start a rivalry," Missouri coach Gary Pinkel said earlier this month. " I think it can be great. I have great respect for Arkansas. It's got the potential to be an outstanding (rivalry). We've got to get it going, and I think it can be very positive. Hopefully, one day it'll be considered one of the great rivalries in the SEC and in the country."
Missouri and Arkansas' first SEC meeting was announced last August when the league revealed the 2014 schedule, but there was an initial discrepancy on the date: Arkansas and the SEC had the game on Nov. 29, a Saturday; Mizzou had the game on Nov. 28, a Friday. Missouri later admitted a miscommunication caused the confusion. 
Nine months later, we have a new date — the date Mizzou announced after all. This will mark the first time since 1954 that Missouri's Thanksgiving weekend game won't fall on a Saturday. That year, on Thursday, Maryland thrashed the Tigers 74-13. 
Missouri is 3-2 all-time against Arkansas, winning the first and only meeting in Columbia in 1906, a 1963 matchup in Little Rock and the Cotton Bowl on New Year's Day 2008. The Razorbacks scored their victories in 1944 in St. Louis and in the 2003 Independence Bowl.
CBS also announced that it will broadcast Georgia at South Carolina at 2:30 p.m. on Sept. 13, Florida vs. Georgia at 2:30 p.m. on Nov. 1 and the SEC championship game at 3 p.m. on Dec. 6.
CBS will have two doubleheaders during the regular season, with games at 11 a.m. and 2:30 p.m. on Oct. 11 and 2:30 p.m. and 7 p.m. on Nov. 8. Missouri plays host to Georgia on Oct. 11 and has a bye week during the second CBS doubleheader. All other SEC games on CBS will be announced six to 12 days prior to the broadcast date.
Missouri did not appear on CBS' weekly SEC slot at all during the regular season last year, not until facing Auburn in the SEC championship game.