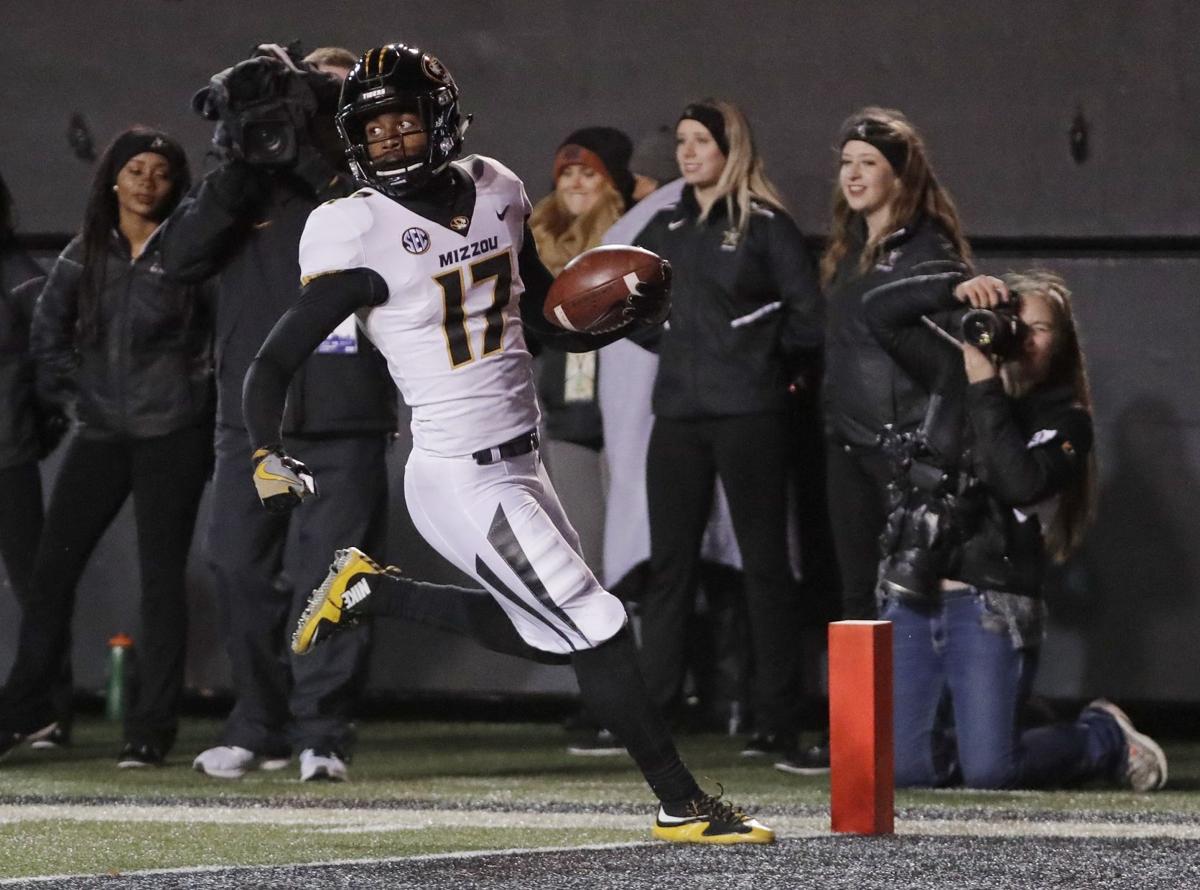 COLUMBIA, Mo. — Johnathon Johnson will end his Missouri career as one of the most prolific receivers in team history, but his days a punt returner appear over. Johnson struggled in that role last year and again Saturday when regular return specialist Richaud Floyd was out with a hamstring injury. Floyd could be back Saturday for No. 22 Mizzou (5-1, 2-0 SEC) at Vanderbilt (1-5, 0-3 SEC), Tigers coach Barry Odom said Tuesday, but if not, walk-on receiver Cade Musser will be the No. 1 option.
Floyd "looked better than expected today in practice, said he felt great," Odom said. "I saw him in the hallway walking down here, so we'll see how he responds tomorrow after having some opportunity today. I'd say it looks pretty promising."
Musser cleanly caught the ball on his chances Saturday and had a 9-yard return. The redshirt freshman from Blue Springs, Mo., is a backup receiver but earned looks with the return unit during preseason camp.
"We need to test him more in that spot tomorrow," Odom said "He's had a million reps at it. I trust him being out there securing the ball. The goal in that unit is to make sure we secure the ball. Then after that if we can get a first down for our offense then it's a bonus."
Johnson muffed a punt on his first and only return attempt against Ole Miss then later made a mental mistake on a kickoff return when he called for a fair catch inside the 5, picked the ball off the ground and took a knee, which downed the ball at the 2-yard line. Odom gave the fifth-year senior a pass for that mistake.
"I'm putting that on one on myself and our staff," Odom said. "He wasn't clear. He thought he made a fair catch and he wasn't clear on what the rule was. So that's our fault."
For the season, the punt return unit remains one of Mizzou's most improved areas. The Tigers ranked No. 129 out of 130 FBS teams in average punt return yardage (2.6 yards per return) last year and now rank No. 15 at 14.8 yards. 
Senior linebacker Cale Garrett underwent surgery to repair his torn pectoral tendon last Tuesday and the very next morning was at the team facility for the start of practice. He'll all but certainly miss the rest of the season, but that doesn't mean he won't have a role on the team.
"He was out there on the field at 8:30 ready to go and asked, 'Where's my whistle?'" Odom said. "We got him his whistle. He's obviously a huge part of what we're going to continue to do, not only on the defensive side but the functioning of our program."
As for his replacement, Odom gave measured praise to sophomore Cameron Wilkins, who had a career-high six tackles as the primary middle linebacker against Ole Miss. Jamal Brooks played a couple series to spell Wilkins, and this week, there's an OR between their names on the depth chart.
Wilkins "did some really good things," Odom said, "and he also had some learning experiences that hopefully we move past — and we got to do it with some urgency because the here and the now on playing better this week is for all of us. But for the total body of work I thought he did some really things for the amount of time that he was on the field. Wasn't perfect but we can play winning football with the way he played the other day. But we need him to play better as well."
Missouri opponents have made just 12 visits to the red zone this year. Only seven defenses have allowed fewer possessions reach the red zone. Only eight times have those 12 visits turned into touchdowns. The Tigers rank ninth nationally in allowing red-zone scores (66.7 percent) and red-zone touchdowns (41.7). But Ole Miss was 2 for 3 when its offense got inside the Mizzou 20-yard line, including the first series of the game.
For a defense that's been so good in the red zone, how did freshman defensive end Isaiah McGuire end up covering tailback Scottie Phillips out of the backfield on the game-opening 21-yard touchdown pass? On third and 13, McGuire was assigned to handle pass-coverage duties on the play — but not necessarily by himself into the end zone. Safety Tyree Gillespie was in the middle of the field but was late getting over to the McGuire's side.
"Usually we get safety help, but the safety didn't lean that way," Odom said. "We'd like to get a little bit more help by the middle field safety, but he read it differently than then what the play design end up being. Great call by (Ole Miss).  There's not many times that we're going to have the outside linebacker on that side or the defensive end matched up on a back, especially that one."
"At that point," Odom said, "I was hoping Isaiah just tackled him and get a pass interference call honestly when I saw it developing. But anyway, (we'll) go make corrections and hopefully we don't get that matchup any time soon."
Tucker McCann was 4 for 4 on field goals Saturday to give him 11 for the season, but he also missed two PATs. His three missed PATs are the most in the SEC.
"He felt the follow-through was short on one of them and the other I don't know that the efficiency of the snap and hold was exactly where it needs to be," Odom said. "That's obviously something that could have been so impactful on the game and will be down the stretch. We understand the importance of making sure those (attempts), when we walk out of the game, isn't even a discussion."
McCann is on pace to finish his career as Mizzou's all-time scoring leader. He sits in third place with 335 points, 27 behind all-time leader Jeff Wolfert.
Missouri is playing one of the most unique schedules in the country. When the Tigers head to Nashville it will be their first road trip in seven weeks—and they won't be back on Faurot Field for another four weeks after playing at Kentucky, a bye week and game at Georgia. By the time Florida visits Columbia on Nov. 16, Mizzou will have gone 35 days between games on Faurot Field, the longest stretch of any Power 5 team this season.
Odom will refresh his team on road game routines this week and treat the Vanderbilt trip like it's the first week of the season.
"We'll go through our travel tips and reminders because … I have a hard time remembering what we did yesterday, much less six weeks ago," Odom said. "So we'll take a very elementary approach on (showing the team) this is the way it's supposed to look, this is what we're going to do. And then once we get to the hotel in Nashville then we're locked in just like it's a home game for us, to the minute, the same structure in the same setup."
Tight end Albert Okwuegbunam was named to The Associated Press second-team midseason All-American team. Three players on defense showed up on Pro Football Focus' midseason All-American team: Garrett was a first-team choice and linebacker Nick Bolton and defensive tackle Jordan Elliott were second-team picks. … Mizzou has scored at least 31 points in 11 consecutive games, the second-longest streak in the country behind only Oklahoma at 16 games. … MU has won six consecutive conference games going back to last season, which ranks fifth among Power 5 teams, behind Clemson (17), Alabama (13), Oklahoma (10) and Ohio State (eight). Penn State has also won six straight conference games in the Big Ten. … Dave Neal, DJ Shockley and Dawn Davenport will be on the call for Mizzou-Vandy on SEC Network for the 3 p.m. kickoff. … Mizzou is a 21 ½-point favorite over the Commodores. It's the largest spread that favors the Tigers in an SEC road game. Since 2004, the Tigers have been favored by 20 or more points three times in a road conference game: by 26 points at Iowa State in 2008, by 21 points at Baylor in 2008 and by 20 points at Baylor in 2004. The Tigers won all three games but only covered the spread at Iowa State.