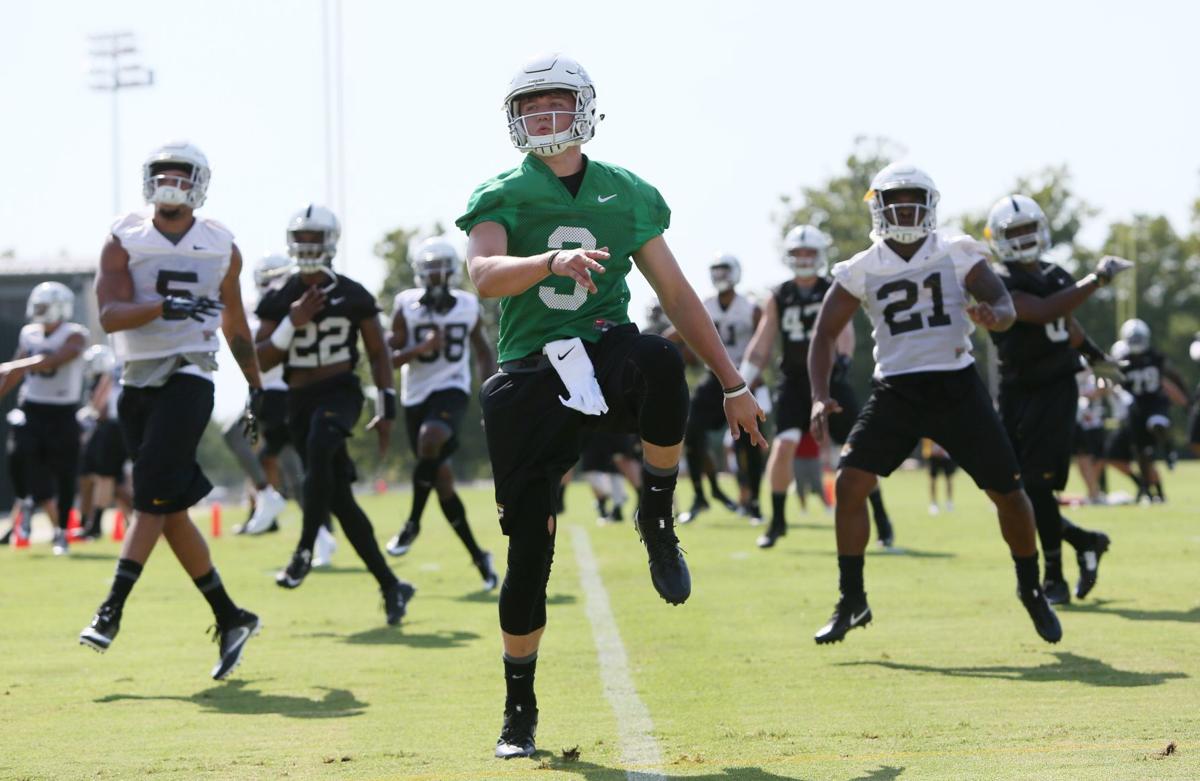 COLUMBIA, MO. • Missouri offensive players met with the media Wednesday during the lunch hour. The Tigers practice at 3:30 in the afternoon. Barry Odom will give his daily injury report after practice. Receiver Nate Brown was unavailable for interviews Wednesday because of a possible injury situation. Stay tuned.
Here are five things we learned Wednesday …
1. Forget the triple-XL redshirts for freshmen offensive linemen Tre'Vour Simms and Trystan Castillo.
Before they reported for summer workouts in June, they received the same message from offensive line coach Glen Elarbee.
"He told us to come in and be ready to play," Castillo said, "and come with the mindset that we're probably not redshirting."
Or, as Simms recalled: "You got to play this year."
It's rare for offensive linemen to see the field as true freshmen. In the 15 years Gary Pinkel coached the Tigers, only three O-linemen played immediately as freshmen: Dan Hoch, Jack Meiners and Evan Boehm. But the Tigers have extreme depth issues this year, with only seven scholarship linemen among sophomores, juniors and seniors who were here for spring practices. (Actually, there's not one senior in the bunch.)
For now, Simms is working with the No. 2 line at right tackle, behind sophomore Paul Adams. The 6-5, 345-pound rookie from East St. Louis plans to play in some capacity this year.
"I can't make the average mistakes a freshman would make," he said. "I hold myself higher than a freshman. I don't consider myself a freshman. That's pretty much what I go on every day."
When he reported to Columbia in June, Castillo was 295 pounds and cast as a left guard. Then he moved to right guard. Gradually, he put on 25 pounds and has settled in at center as a backup candidate for starter Samson Bailey. Castillo operated in a run-heavy veer offense at Webb City High School, playing right tackle as a junior and senior. He also was the team's backup center but never had to snap the ball out of the shotgun. That's been a big adjustment in camp, he said. He's already tweaked his hand placement a few times under the watch of graduate assistant Jon Cooper, a former standout center at Oklahoma.
"They're making strides every single day," Adams said of the freshmen. "I'm very impressed, more with the mental side of the game. They're going through a hard two-a-days, probably the hardest. Watching them grow has been a great experience from when they came here at the beginning of the summer."
Mizzou's third freshman offensive lineman, tackle Darvis Holmes, is on the mend with a sprained left shoulder that's going to require surgery.
2. When receivers coach Andy Hill went looking for a junior college wideout last winter, Dominic Collins was at the top of his shopping list.
Collins, from Fullerton, Calif., didn't expect to leave the West Coast but instantly clicked with Hill and the rest of Odom's staff. Collins especially appreciated Hill's candor when he asked questions about last fall's football team boycott.
"He was 100 percent honest," said Collins, an outside receiver who's worked with the first and second unit.
What did Hill tell him about the boycott that was tied to racial unrest on campus? "Once it was done it was done," Collins said. "There was no backwash. He said, 'It won't be a problem again.'"
"I didn't' really have fears to begin with (about the boycott) because I'm a realist," said Collins, an African-American. "I have my own beliefs and I can think for myself. I knew what I was getting into from the get-go with that stuff and I was pretty confident I could handle all of it."
3. Another day, more lavish praise on freshman slot receiver Dimetrios Mason.
Or K-9 as teammates call him. This from quarterback Drew Lock: "He flies. You almost think you should see him on TV in the Olympics turning the corner in the 400. The dude can run."
Mason also explained the origin of his nickname.
"Because I'm a dog," he said. "And dog spelled backwards is God and that's who I play for. I'm a huge believer in God and everything he does for me."
So, it's not because he wears No. 9 and has worn it all his life?
"No, but It has turned into that, though," he said.
I reminded Mason that another slot receiver wore No. 9 for Mizzou and had a nice little career. This guy.
Mason seemed unfazed by the history.
"I'm trying to beat all the records, to be honest with you," said Mason, who would have been in fourth grade during Jeremy Maclin's first of two All-American seasons. "I'm not thinking about what they did. I'm just focused on the game, take it play by play, make sure I catch every ball, score every touchdown I can and break every record."
4. At the start of spring practices, Adams switched from No. 64 to No. 77. He had two reasons.
One, the Nashville native wanted to honor one of his idols, Titans right tackle Taylor Lewan. Two, the number became available when Evan Boehm exhausted his eligibility. (And you thought it was because he wanted to pay homage to Pat Mingucci?)
Boehm, now a rookie center for the Arizona Cardinals, started every game from 2012-15. A co-captain last year, Boehm set the team record for consecutive starts with 52.
"I just know the number 77 is pretty important here at Mizzou," Adams said. "There's some pride there."
You can all but mark Adams down in permanent marker as Mizzou's starting right tackle. He said the starting five along the line seems mostly set leading up to Saturday's scrimmage, the second of the preseason. After that, the team will move ahead and focus more on preparing for West Virginia. 
5. Tight end Jason Reese might need to reconsider his wardrobe choices. Reporters quickly noticed Reese's tank top as he answered questions. It read, "Lawrence, Kan." Even though the Tigers are gone from the Big 12 and not a single player on the roster has played the Jayhawks, this is a strict dress code violation, right? Norm Stewart might have yanked his scholarship for such an offense.
Reese explained he has a friend who attends Kansas and he went to a sorority function with her where they gave out the shirts.
"You guys are grilling me," he said, laughing. "I'm going home and changing now. I'm still Mizzou forever."
For the record, the tank top was reversible and said "Gamma Phi Beta" on the other side.