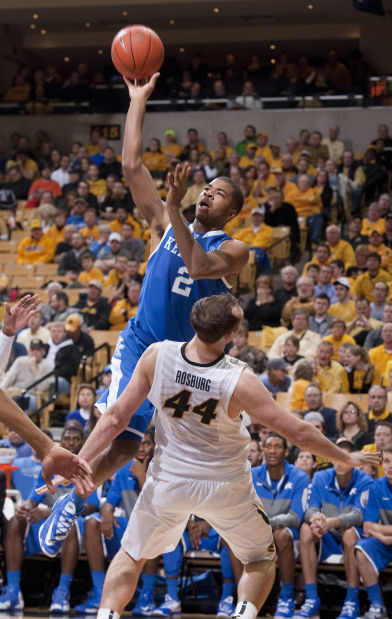 COLUMBIA, Mo. • Kim Anderson's first Missouri team was picked to finish seventh in the preseason SEC poll by a select panel of SEC and national media members. The Tigers finished tied for sixth in the SEC last year under Frank Haith and had the No. 8 seed in the SEC tournament.
Kentucky earned all 20 first-place votes. Kentucky sophomore guard Aaron Harrison was voted the SEC preseason player of the year. The Wildcats landed five players on the two preason teams, including four of the five second-team selections.
Here's how the preseason poll looks, including poll points, which were compiled on a 14-13-12-11-10-9-8-7-6-5-4-3-2-1 basis. Each media member also voted for a five-player All-SEC team. (As one of 20 voters on the panel, I've included my ballot at the end of this blog entry.)
1. Kentucky (20 first-place votes) 280
14.  Mississippi State 35
Bobby Portis, Arkansas, F, 6-11, 242, So., Little Rock, Ark.
Michael Frazier II, Florida, G, 6-4, 194, Jr., Tampa, Fla.
Aaron Harrison, Kentucky, G, 6-6, 212, So., Richmond, Texas
Jordan Mickey, LSU, F, 6-8, 235, So., Dallas, Texas
Jarvis Summers, Ole Miss, G, 6-3, 186, Sr., Jackson, Miss.
Charles Mann, Georgia, G, 6-5, 215, Jr., Alpharetta, Ga.
Willie Cauley-Stein, Kentucky, F, 7-0, 240, Jr., Olathe, Kan.
Andrew Harrison, Kentucky, G, 6-6, 210, So., Richmond, Texas
Alex Poythress, Kentucky, F, 6-8, 238, Jr., Clarksville, Tenn.
Karl-Anthony Towns, Kentucky, F, 6-11, 250, Fr., Piscataway, N.J.
SEC Player of the Year: Aaron Harrison, Kentucky
Here's how I filled out my ballot, which you'll notice is identical to the final media poll in 12 of 14 spots:
Willie Cauley-Stein, Kentucky
SEC Player of the Year: Aaron Harrison, Kentucky
* Missouri's women's team tied with Arkansas for 11th in the SEC's preseason poll. Here's the complete poll:
8. Mississippi State (108)
Martha Alwal, Mississippi State
Tiffany Mitchell, South Carolina
Aleighsa Welch, South Carolina
Isabelle Harrison, Tennessee
Courtney Walker, Texas A&M
SEC Player of the Year: Tiffany Mitchell, South Carolina