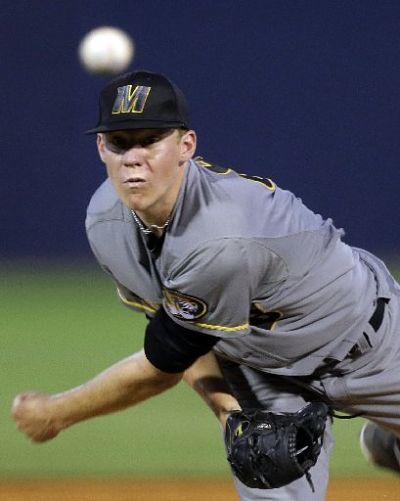 COLUMBIA, Mo. • Missouri pitcher Rob Zastryzny didn't sneak into the first round of the MLB draft like he hoped, but he came close, going to the Cubs with the 41st overall selection, the second pick in the second round.
Over the last 40 years, only four players straight out of Mizzou have been chosen higher in the draft: righthander Kyle Gibson (No. 22, Twins, 2009), righthander Aaron Crow (No. 9, Nationals, 2008), righthander Max Scherzer (No. 11, Diamondbacks, 2006) and letfhander Dave Otto (No. 39, Athletics, 1985).
In a phone interview from his family's home in Corpus Christi, Texas, Zastryzny said his advisor sent him a cryptic text message shortly before the second round began: "The Cubs want you ..."
Zastryzny wasn't sure how to interpret the message.
Representing his former team, Kerry Wood announced the Cubs' selection on MLB Network's draft coverage.
"So, I'm watching and I was really hoping Kerry Wood says my name because I love Kerry Wood and he's been an idol of mine since I was a young boy," Zastryzny said.
Sure enough, Wood, a big Texan like Zastryzny, did his best to work through the logjam of consonants.
"I'm glad it went that way," Zastryzny said. "I didn't want to be one of these guys who knew he was going to a certain team at a certain spot."
"It's a historic organization," he added. "I don't know a lot about them being from South Texas. But I've watched a lot of baseball and have always had respect for them. Obviously they're a legendary team and they've got the whole curse thing and Wrigley Field is unbelievable."
(For the record, Zastryzny has never been to Wrigley Field.)
Hoping to be a first-round pick, the Mizzou lefty still managed to go 35 spots higher than his draft ranking by Baseball America.
"If I would have gone in the first round, I would have gotten paid more or whatever," he said. "But I'm glad. Because at 41, that means everyone passed over me. And now I have a reason to hate every other team in baseball. It worked out perfect."
Zastryzny, who has one more year of college eligibility, stopped short of saying he's done playing for Mizzou … but he's done. There's no guarantee he'll boost his stock with another year of college baseball, and for a 21-year-old who wasn't drafted coming out of high school, Zastryzny sees this as his golden ticket into a professional career.
"I expect (the Cubs) to treat me fairly," he said. "I'm willing to accept fair treatment. All signs point to me being gone. I'm excited to go. The Mizzou coaches and I talked about it. They didn't expect me back. They just want what's best. And I want what's best. I had a great career there. I wouldn't have changed a thing about it. Hopefully if all works out I'll be a Chicago Cub."
Thirteen spots after the Cubs took Zastryzny, the Brewers drafted Hazelwood West pitcher Devin Williams, who is committed to Missouri but was widely projected as a first-round draft pick. Williams and fellow Mizzou recruit and Parkway South lefthander Jake Brentz, who wasn't drafted in the first two rounds, could give more consideration to playing in college. What would be Zastryzny's advice?
"I know (Williams) was supposed to go higher and he's a little bit frustrated. But he needs to use that as motivation," he said. "Going to Mizzou is not all bad. Look what they did for me. I went in as an undrafted prospect. Now I'm going 41st overall. They have a great pitching coach and a great coaching staff. It's like a family over there. Any road for him is good right now. There's no downside to doing anything. He's a great player. I've heard all about him, and he needs to use it as motivation and know that any path he takes, he's going to be successful."