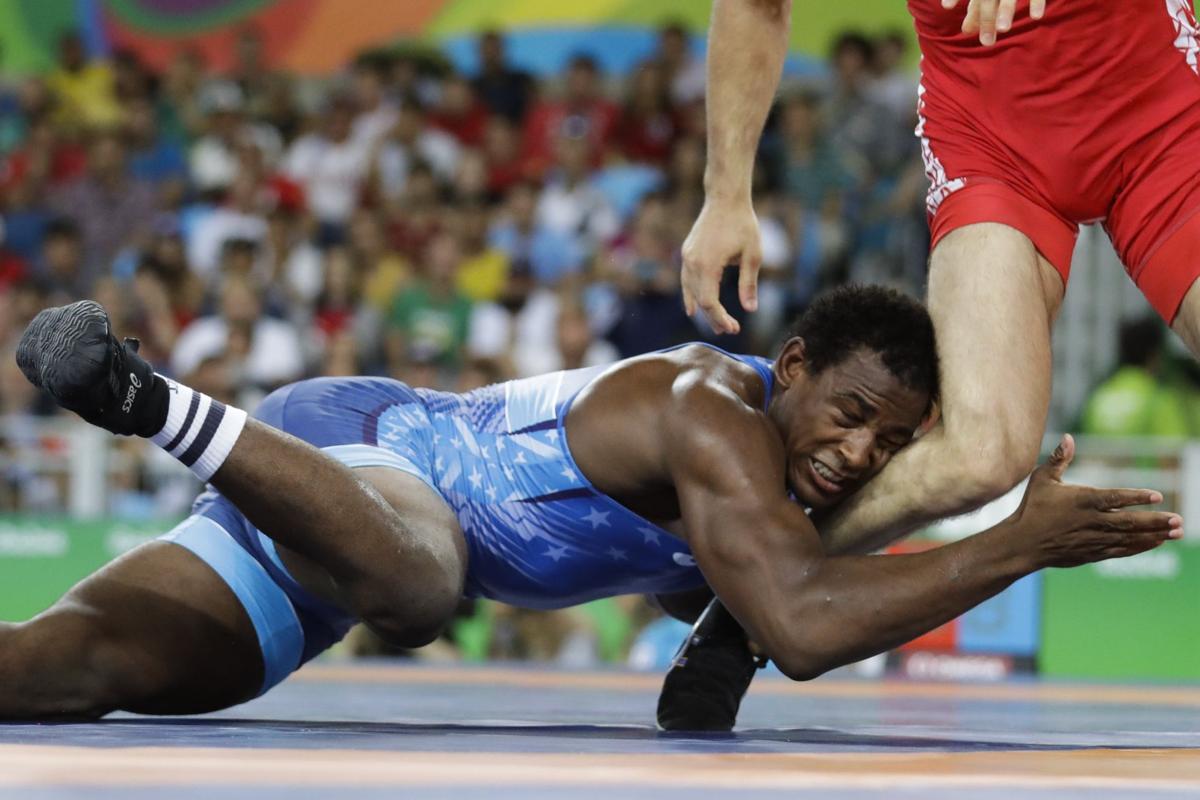 COLUMBIA, MO. • A few notes to pass along from Barry Odom's weekly press conference. Look for more in Tuesday's print edition and online. 
• Before he headed to the Rio Olympics, Mizzou two-time NCAA champion wrestler J'den Cox told Odom he wants to play football for the Tigers in 2017. Cox, a bronze medalist last month and a likely contender for gold at the Tokyo Games in 2020, will be a senior for the Tigers this season but would have another year of eligibility to play football.
Cox was a two-time all-state linebacker at Columbia's Hickman High School.
"Obviously he's one of the best wrestlers in the world," Odom said. "I told him, 'You make sure you take care of wrestling and if you want the opportunity to play football we'll sit down and have a serious conversation about it.' We did. If it lines up and he wants to play, I'm all for it."
"I didn't also want to end up in a figure four down on the ground waving for help," Odom added, "because I know who would win the match if we were squared up. I kind of said, 'Whatever you want man, let's go.'"
Odom figures USA Wrestling might not be thrilled with one of its top athletes playing another sport. He'll also take into consideration any thoughts from MU wrestling coach Brian Smith, a close friend. But for now he's open to the idea.
"I know this: He's got to be one of the best competitors in the world. I kind of like that," Odom said. "He's an unbelievable kid and ambassador not only for the university, the athletic department, the state of Missouri but our country. We'll continue to talk and see where it goes."
Here's what Cox said last week on "The Writers Block" on KFNS 590, hosted by the P-D's Derrick Goold, Benjamin Hochman and Ben Frederickson:
"I like to hit people – I like to hit stuff. Wrestling, I have a true love for the technique and the drive you have to have for it. With the football thing, I just want to put my efforts and talents toward something else. … I look to do anything I can for the team. It's a decision I came to, and I talked to both coach (Gary) Pinkel and Odom. But now I want to do my part for the wrestling team my senior season.
"Whether Odom was caught off guard, I'm not sure. But I asked him if it would be OK and we said we'd try it out. As for whatever I have to do, I don't know where I'd play, but it's just another challenge and something possible to attain."
• Odom admitted he shouldn't have replaced Drew Lock with Marvin Zanders on the second-quarter drive that resulted in a futile Zanders run on third and 7. Lock had completed three first-down passes on the drive. "I know I pulled (Lock) at the wrong time," Odom said Monday. "I understand that. We had some momentum going then Marvin went in. Like I said, I'm learning, too. I'm getting better." After the game, Odom got an earful from an unlikely source, his oldest son, J.T. who asked his dad, " 'Hey, what in the world are you doing with your quarterback on the third series?'"
• MU ran an FBS-high 100 plays in Saturday's game, but the Tigers won't necessarily play at light speed every week. Here's Odom on the offensive tempo: "We'll play faster than that as time comes. There's also some elements of our offense we didn't get to with formations, shifts, trades and adjustments. We've got a pretty good offensive mind and staff upstairs. It's about putting our kids in position to do what they can do. With our skill set right now that's what will give us an advantage. There'll be times we play faster than that. I think there's also times that we need to slow down so to speak and do some different things out of the huddle."
• Odom and offensive coordinator Josh Heupel have talked a lot about using pre-snap shifts, motions and trades but we didn't see much of that Saturday. That will change as the season continues, Odom said.
• J'Mon Moore has a solution for Mizzou's red-zone woes: "That formation with Big Josh in there. I think we should just give Big Josh the ball." That would be 355-pound nose tackle Josh Augusta who made his offensive debut Saturday and converted a fourth-and-1 with a dive play up the middle.
"Nobdy wants to tackle him," Moore said. "Just pitch him the ball and see if anyone wants to tackle him. ... When josh hits the ground the whole practice field shakes. For real. He's a big guy."
• Mizzou's defensive staff resisted using a nickel package against WVU's spread formations and instead relied on outside linebacker Donavin Newsom in man and zone pass coverage. That was the plan MU put together for the game, Odom said. "There were going to be times that we were matched up (with a slot receiver against a linebacker)," he said. "We didn't match those correctly at times. They've got a good squad on the other side. I like our linebackers. I like our schemes. We've got to be better at what we're doing. There will be, as we continue to grow, times when we play more of a five defensive back system."
• I'll touch on the defensive miscues more in the print edition later this week. Only three defensive players spoke to reporters Monday: linebackers Michael Scherer and Joey Burkett and cornerback Aarion Penton. (Several more were requested.) Scherer said some criticism of Newsom's pass coverage issues are misguided because he wasn't necessarily assigned to cover the receiver on every given play. Scherer also made the point that players are still adjusting to a new defensive system. Even though Odom ran his defense last season as coordinator, the Tigers changed their terminology, coverages and run fits under new coordinator DeMontie Cross. "There's not a word that I use in this year's defense that was used in last year's defense," Scherer said. "There's not a similar play. It's completely different. We've been practicing it since the spring. We've just got to go out and do it. We've seen when it works it works and it's good. When we're out of position it can be bad."
Also, this from Scherer: "Honestly, when you take a step back and look at it, we have high expectations around here. I thought we played pretty crappy like everyone else did. Then you go home and realize it's 26 points and you start watching games. It's not bad. It's not bad. ... It's bad as we make it sound because we have such high expectations, but it's not terrible. We need to keep pushing forward. The only good thing is we gave up 26 points and played extremely bad. Extremely bad on many different levels."