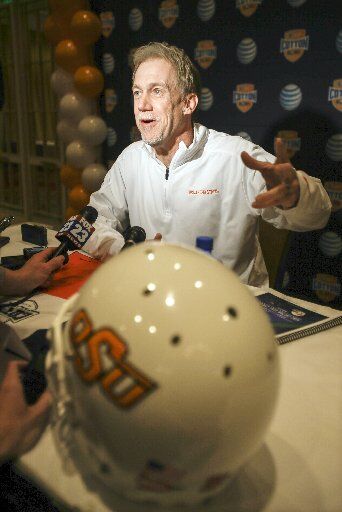 IRVING, Texas • Oklahoma State defensive coordinator Glenn Spencer described his reaction to finding out OSU was headed to the Cotton Bowl as "elation … and then you're like, 'Oh, that's not very fun.'"
Why no fun? Because of 6-6, 6-5 and 6-4. Those are the heights for Missouri receivers Dorial Green-Beckham, Marcus Lucas and L'Damian Washington, a group of wideouts that Spencer called the "biggest, strongest and fastest" the Cowboys have seen all year.
With Friday's Cotton Bowl fast approaching, the Cowboys defensive contingent met with reporters today. Missouri offensive coordinator Josh Henson and several offensive players will be available later this afternoon.
I'll touch on this more in Wednesday's Post-Dispatch, but Spencer talked at length about the challenges of facing Missouri's offense, particularly the passing game and Green-Beckham. The Cowboys counter with All-American cornerback Justin Gilbert, one of the country's biggest playmaking defensive backs.
A reporter asked Spencer how much he'll assign Gilbert to cover Green-Beckham in single coverage. He paused and smiled. "We'll see," he said.
"You've got to some," Spencer added. "You can't too much away from what you do. But I'm not an idiot. You can't leave (Gilbert) alone all the time. You've got to give him relief some times. You've got to pick and choose the right times. We've done that all year. It's not like he's played man coverage all year long."
Spencer insisted he'll keep Gilbert in the same spot all night and won't shift him around to cover Green-Beckham. Otherwise, the Cowboys haven't had an easy time preparing for the 6-6 sophomore in practice.
"He's got a unique skill level," Spencer said. "He's got the size to body you up. He's got the speed vertically to get over the top of you. And he's got the ball skills where the ball doesn't have to be perfect and he can make the catch."
Then he went where no coach has gone, at least to my recollection: Spencer compared Green-Beckham to the best receiver in football, Detroit Lions All-Pro Calvin Johnson. Spencer coached at Georgia Tech while Johnson played there.
"I helped recruit Calvin and he's kind of the same mode," he said. "If you were to draw one up, that's what you'd want to draw one up and look like and play like. And he can finish. There's a lot of guys who have all that and can't finish. He can finish."
As much attention as we're giving the Gilbert-Green-Beckham matchup, Spencer is just as concerned with the rest of Mizzou's passing attack and its other receivers.
"They've got the horizontal game and the vertical game," he said. "A lot of teams can't do both. They've got all of that. (James) Franklin's an unbelievable quarterback. He can do it all. We've had some dynamic receivers here, Dez (Bryant) and Justin (Blackmon). But a great receiver like that can make a quarterback look good, too, and they have the ability if the ball's not perfect all the time to catch it outside their body, high, low, front, behind. They'll catch it in traffic. They're fast. They're big.
"The biggest compliment I can give them is they make their horizontal game work because they all look like they love to block. They take pride in blocking. A lot of teams run that perimeter game with smaller slot receivers. And it doesn't work because you can't give your guy space to get his shoulders turned and move north and south. Because they're such dominant blockers, they swallow up DBs. Even (linebacker) Shaun (Lewis) will have his hands full. A lot of Shawn will be coming up and the guy cracking down on him on the bubble screen.
"That's the big matchup for me as much as (Gilbert) on Green-Beckham: How are we going to defeat perimeter blocking? Are they going to be second and 4 and second and 3 all night because of 7-, 8-yard gains on quick game on first and 10."