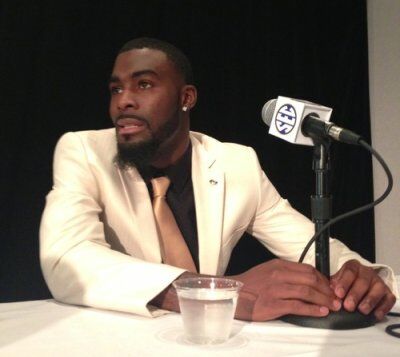 HOOVER, Ala. • An early SEC media day post before Hurricane Manziel hits the area this morning.
Of the 12 players from four schools who attended Tuesday's session, nobody seemed to bask in the moment quite like Missouri receiver L'Damian Washington.
If you don't know Washington's story by now, here's the quick bio on the Shreveport, La., native: Washington's father was shot and killed when he was 5. His mother died when he was 15, suffering a fatal heart attack during one of Washington's high school basketball games. Washington and his three brothers were left orphaned and nearly rendered homeless but pulled together and helped raise each other. Washington was a late addition to Mizzou's 2009 recruiting class and has since become an inspiring, integral team leader.
Told a few weeks ago Gary Pinkel had selected him to represent Mizzou at the SEC's annual season kickoff event, Washington settled on a crisp white suitcoat, black shirt and gold tie. The 6-foot-4 senior looked more like 6-7 today as he floated through the media hotel.
I asked Washington, whose roots took shape in SEC country, if he could have ever imagined five years ago he'd be sitting at SEC media days, one of the select few chosen to represent his school.
"This is just a blessing for me," said Washington, who's on schedule to earn his undergraduate degree this summer. "I'm fortunate enough to be here. … I was never the best guy on any (team), middle school or high school. I always worked to where I've gone in life. It's one of those things that makes me appreciate everything."
"Some people don't humble themselves enough to enjoy what's going on around them. Right now, I'm enjoying this all. I know I'm fortunate to be here. I'm embracing it all."
I can't say I've covered many athletes who express more pride in their hometown than the way Washington has always embraced Shreveport. Three weeks ago he returned home to help Dallas Cowboys cornerback and Shreveport native Morris Claiborne host a youth camp in their hometown. Several of Claiborne's former LSU teammates joined them, as did Denver Broncos fullback and Shreveport native Jacob Hester.
Like the others, Washington has survived and thrived.
"There's a lot of people rooting for me," he said, "because coming where I come from, it's rare."
Washington is more than a feel-good story for the 2013 Tigers. A potent deep threat in the Mizzou passing game, Washington has the ability to stretch the field vertically, clear running lanes for the Tigers' tailbacks and complement Dorial Green-Beckham on the opposite side of the field. Over the last two years, Washington has averaged 17.9 yards per catch - just the kind of explosiveness the Tigers could use this fall.