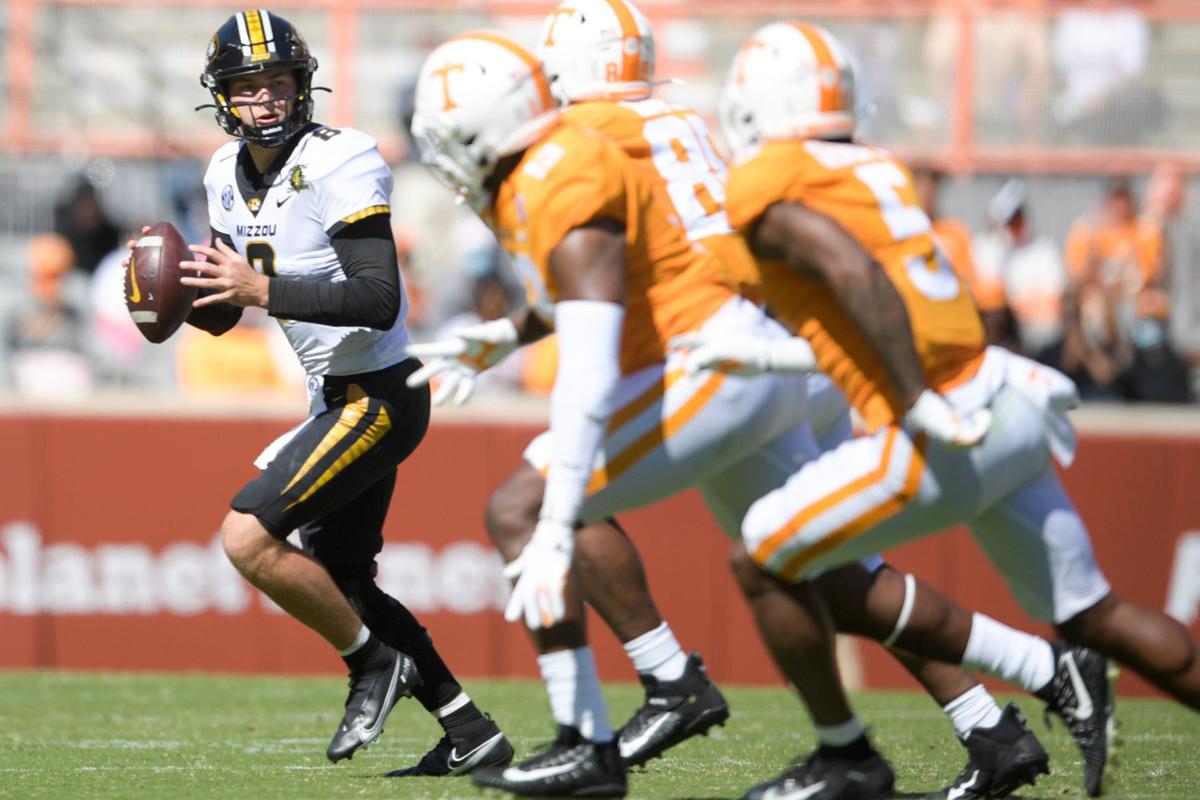 1. Can Bazelak build on Tennessee outing?
Eli Drinkwitz has moved on from Shawn Robinson and will start Connor Bazelak at quarterback after the redshirt freshman sparked the offense back to life at Tennessee, albeit guiding the Tigers to only 12 points in a loss. Bazelak showed uncommon poise in Knoxville, Tennessee, for being so inexperienced, but now he'll face a more talented defense, notably the LSU secondary, a unit that includes Derek Stingley Jr., perhaps the best cornerback in the country. "He usually cancels out a receiver a game and we got to make it where he can't," Drinkwitz said. "We got to try to affect the box by being able to throw the ball effectively. It's going to be a tremendous challenge."
2. MU's COVID results take a toll on depth?
Mizzou will be without a minimum seven players as a result of COVID-19 testing. As of Thursday, only one player had tested positive but six others must also quarantine because they were identified as close contacts through contact tracing. Drinkwitz didn't identify which players are sidelined but indicated that they're key contributors. Mizzou's depth could be on display — or lack of depth depending on the position groups affected by the attrition.
3. Can Walters' defense recover from last week?
Tennessee trampled Mizzou's defensive front last week, routinely finding gaps along the trenches for big gains. The Vols ran the ball 51 times and not once did the Tigers manage a tackle in the backfield on any of those carries. Defensive coordinator Ryan Walters said the Tigers weren't prepared for UT's heavy sets, which featured multiple tight ends and two extra offensive linemen. The Tigers also struggled with UT's hurry-up tempo and several times got caught misaligned against the Vols' formations. LSU will punish Walters' defense if those mistakes weren't corrected this week in practice.
4. Will MU's special teams stay solid?
Will the Harrison Mevis honeymoon continue? The freshman kicker has drilled all four of his field goal attempts through the uprights, including a 50-yarder at Tennessee. Mizzou needs a clean performance in the kicking game, especially when Stingley lines up to return a punt from Grant McKinniss. Stingley had three returns last week at Vanderbilt for a combined 92 yards. "We've got to be very intentional with what we're doing in our game plan and be able to execute at a high level," MU special teams coordinator Erik Link said. "Now, a lot of that starts and falls on the shoulders of the punter, obviously. But also our coverage has got to be on point. We got to get guys out in coverage."
5. Can MU clean up unforced errors?
As well as Bazelak threw the ball last week, MU's receivers let him down with a day full of drops. The Tigers let three third-down throws slip through their fingers. MU's six drops marked the team's most in a game since 2017. This isn't a team with enough margin for error to overcome those kinds of unforced mistakes, especially against a team with more talent, like LSU. Penalties became an issue at times, too. Mizzou drew six flags at Tennessee for 49 yards. Self-inflicted damage would torpedo MU's chances Saturday. 
Prediction: LSU 31, Missouri 13
Dave Matter brings you the latest updates from the Mizzou sports scene.