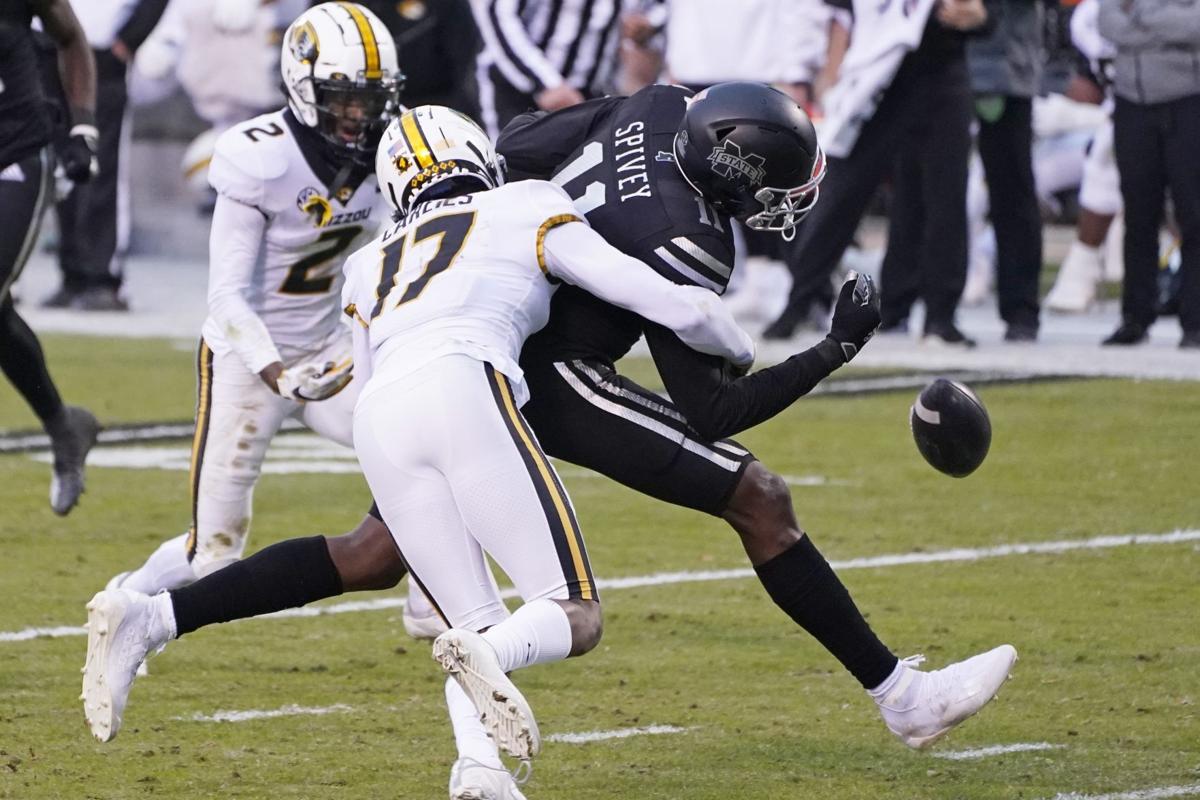 COLUMBIA, Mo. — Like everything this fall, the COVID-19 edition of college football's bowl season will be unique. But Missouri is bound to make the most of the unconventional experience.
After wrapping up the regular season with Saturday's loss at Mississippi State, the Tigers chose to play in the Music City Bowl in Nashville, Tennessee, where they'll face Iowa on Dec. 30. The Tigers (5-5) and Hawkeyes (6-2) will play in front of a limited crowd at Nissan Stadium in a 3 p.m. kickoff on ESPN.
Mizzou also considered the Outback and Gator bowls, both Jan. 2 games in Florida, but favored the Music City so that more players' families could attend the game. Missouri coach Eli Drinkwitz said playing the earlier bowl also affords the players a chance to return to their hometowns for Christmas and New Year's.
"This game fit perfectly in the window and opportunity that we wanted for us as a team in order to maximize the opportunity to play," Drinkwitz said, "but also give our guys an opportunity to be at home and see their families."
After a regular season schedule that changed by the week with COVID-19 interruptions, the Southeastern Conference also adjusted its bowl selection process this year. Once the College Football Playoff finalized its four-team field and the New Year's Six bowl pairings were set, as always, the Citrus Bowl had first choice of remaining SEC teams and chose Auburn (6-4) to play Northwestern (6-2).
From there, the SEC normally plays matchmaker with the remaining SEC teams and a pool of six affiliated bowls. This year, though, the SEC allowed teams to choose their bowl game in order of regular-season winning percentage. At 5-5, Mizzou had the best record among available teams, followed by Mississippi (4-5), Kentucky (4-6), Arkansas (3-7), Mississippi State (3-7), Tennessee (3-7) and South Carolina (2-8). Louisiana State (5-5) was out of the mix after imposing a postseason ban for this year.
For Mizzou, the Music City Bowl was the best fit, Drinkwitz said.
"We just looked at the calendar and made a decision based on what we felt like was in the best interest of our program competing and moving forward," he said. "We knew we were going to get matched up against a great Big Ten opponent. We knew we're going to get to be in a city like Nashville, which is central locale to where most of our players' families are going to be. And we knew that we were going to be able to be able to go home for Christmas and be home for New Year's. When you wrap all of those things together, it just made the perfect sense."
Nissan Stadium, home of the NFL's Tennessee Titans, will be limited to 20% capacity, around 14,000 fans, with both schools allotted a small amount of tickets for family members of players and coaches. Fans may purchase tickets directly from the Music City Bowl's web site.
Unlike a typical postseason, COVID protocols will prohibit bowl teams from spending a week on-site to participate in festivities surrounding the bowl. Mizzou players will return to Columbia on Friday and practice Saturday and Sunday before leaving for Nashville, where they'll practice twice before the game a week from Wednesday.
While several teams around the country have elected to opt out of bowl season, university and athletics officials at Mizzou signed a document with the SEC last week pledging their commitment to play in a bowl this year, MU athletics director Jim Sterk said.
Injuries, opt outs, transfers, COVID-19 cases and contract tracing have gutted Mizzou's roster all season — the Tigers played with fewer than 60 scholarship players in six of 10 games — but after meeting with the team's seniors Sunday, Drinkwitz insisted the Tigers want to play once more.
"We want to continue to fight and earn respect," he said. "We want to continue to put a good product on the field. . . . We're going to have some adversity in this game, but it's an opportunity for us to compete."
Drinkwitz circled back to the summer, when COVID concerns put the season in jeopardy and factions of players from across the country spoke up about wanting to preserve the season.
"You got to remember, when this thing started it was started by players saying, 'Let us play. Let us play. Let us play,'" he said. "Our team still wants to play. . . . We're going to do our best to represent this university and this state against a regional opponent."
At least one Mizzou player won't play in Nashville. Junior right tackle Larry Borom told Drinkwitz on Sunday and later announced on social media that he plans to enter the 2021 NFL draft and will sit out the bowl game.
"We wish him all the best and all the success and we're going to support him in every way we can," Drinkwitz said.
Drinkwitz wasn't sure if any other draft-eligible players would choose to skip the bowl game, though senior running back Larry Rountree announced he'll play in Nashville. The Tigers will need him against a stout Iowa defense that allows just 16 points per game, third-best among all Power Five teams.
"One of the Big Ten coaches that I know that I've tried to get a hold of said it was the best defensive front they played all year," Drinkwitz said. "I know that they're very fundamentally sound. Coach (Kirk) Ferentz is going to be committed to running the football, stopping the run and playing good defense, solid special teams. It's going to be a very difficult opponent much in the mold of what we've seen every game in the SEC."