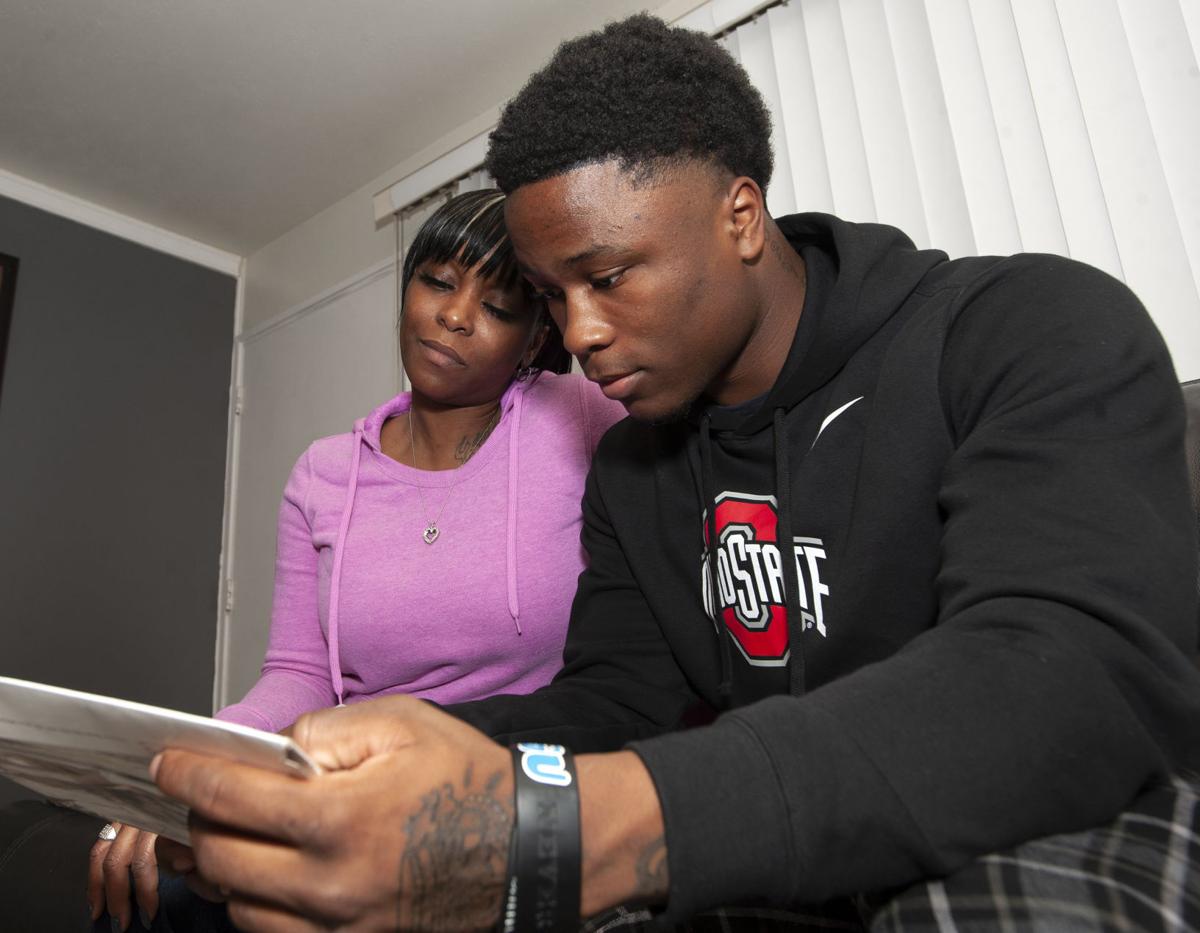 COLUMBIA, Mo. — Twenty years ago Arnold Britt was part of Mizzou football's first recruiting class under Gary Pinkel and four years later entrenched himself in MU trivia when he caught the first pass of Chase Daniel's record-breaking career in 2005.
A generation later Britt plays a major role in the life of Mizzou's newest wide receiver.
Teriyon Cooper, known since he was a baby as Mookie, transferred from Ohio State to MU this month. The former four-star recruit began his first week of classes Tuesday and could become a pivotal addition to Eli Drinkwitz's offense this fall.
Cooper was 7 years old when his mother took him to tryouts for Team Takeover at the Herbert Hoover Boys & Girls Club. His first coach was Britt, who had moved back to St. Louis after graduating from Mizzou and began his career as a city firefighter.
"They had an instant bond," Danita Gibson, Cooper's mother, said in a phone interview. "He was always very coachable, willing to learn and was always putting in hard work. 'AB' just took him under his wing because with me being a single mom he wanted to put in as much energy to make sure that he stayed focused, because he also saw what I saw in him."
In Cooper, Gibson saw boundless energy, uncommon agility and an unquenched desire to prove himself. So did Britt.
"I gravitated towards him and he definitely gravitated towards me," Britt, 37, said.
A few years ago Gibson asked her son how he defined his relationship with Britt.
"He told me he considered him his godfather," Gibson said.
Over time, Gibson entrusted Britt to help steer her son through his football career, from a tumultuous end to his high school years, to the college recruiting process and his subsequent decision to transfer. Britt would help manage the recruiting calls from coaches and attend the official recruiting visits.
First, though, Cooper had to get through a final year of high school. In August 2019, shortly before the start of his senior year, Cooper withdrew from Trinity Catholic and enrolled at Pattonville. The Post-Dispatch later reported that Trinity had placed Cooper on probation for a social media post that violated a school policy. He practiced with the team at Pattonville but was ruled ineligible to play in games that fall.
"That was heartbreaking for him," Britt said. "I felt like he had finally put in the effort and started to work hard without being pushed to work. To get it taken away that really crushed him."
By then Cooper had already verbally committed to Ohio State — after initially pledging to Texas — and enrolled at the Big Ten school last January so he could make an early impression on the coaching staff. But then came the pandemic, spring practices were canceled and the Big Ten postponed the entire season.
The Buckeyes would eventually kick off a shortened season and reach the College Football Playoff championship game, but Cooper didn't crack a loaded rotation at receiver. Late in the year, Cooper realized his path to playing time might take longer than he expected, Britt said, especially with how the Buckeyes only played a small core of wideouts. In OSU's eight games this past season, only three receivers played more than 300 snaps — and all three would return in 2021, including fellow St. Louis native Jameson Williams.
"I told him, 'It's Ohio State. Not to knock any other schools, but they had a hell of a recruiting class,'" Britt said. "He could wait until his junior year because none of those guys in the Ohio State (receiver) room deserved to lose a starting spot."
If Cooper stayed, Britt was concerned Ohio State might ask him to gain weight and move to running back. Otherwise, playing time could be sparse.
"And he hasn't touched the field in two and a half years," Britt said. "That's not gonna sit well."
Just before Christmas, Cooper entered the NCAA transfer portal and commanded instant attention.
"There were a lot of schools calling between his phone and AB's phone," said Vashon coach and former Mizzou receiver Will Franklin, Britt's former teammate and lifelong best friend. "He just wanted to make sure he gets in a place where he gets the opportunity to play. That's what it's about, just playing. No one's asking for anything to be handed to him."
Cooper quickly heard from Mizzou and scheduled virtual Zoom meetings with Drinkwitz and receivers coach Bush Hamdan. They gave him a tour of the playbook, showed him footage from the 2020 season and explained how they'd incorporate him into the offense. Cooper also considered Georgia, Florida and Tennessee, Britt said. Proximity to home wasn't much of a factor, but ultimately, Mizzou's vision resonated most.
"I like that they are making (St. Louis) a big priority in their recruitment and I trusted Mizzou the most when it came to my decision," Cooper shared in a text message before declining further comment.
Franklin doesn't temper his expectations for the kind of impact Cooper can have in Drinkwitz's system.
"I see him being what we had with J-Mac when I was there," Franklin said.
That would be Jeremy Maclin, the two-time All-American slot receiver who'd play eight years in the NFL. Franklin also compared Cooper to former All-America return specialist Marcus Murphy.
"He's a guy that can line up in the backfield, he can line up in the slot," Franklin said. "He's just a mismatch. He can run routes. The moment you put the ball in his hands he's going to be electric."
Similar to four-star freshman receiver Dominic Lovett from East St. Louis, who also started classes at Mizzou this week, Cooper could deliver the kind of big-play receiving threat the Tigers lacked in Drinkwitz's debut season. MU averaged just 10.9 yards per reception in 2020, which ranked 11th in the SEC.
"In that offense last year," Franklin said, "to be able to make the plays that they made with just possession receivers, how much better can that offense be with some explosive guys?"
"He has a major point to prove — major," Gibson said. "He didn't get a chance to play (his senior year) in high school, but adversity builds character, so he's going to do just fine."
Gibson dropped Cooper off at Mizzou on Saturday. Sometime this year, the NCAA is expected to approve a one-time transfer rule, which would make Cooper eligible for the 2021 season. If so, after a long wait, his support system back home expects big things.
"He's got a chance in the next eight to 10 months to rewrite his story," Britt said. "And it'll be at home with the home team."
D-line coach leaving
The football team's staff shakeup continues with another departure from the defensive side. Defensive line coach Brick Haley is not expected to return after spending the last four years at MU, PowerMizzou.com first reported Wednesday. MU officials declined to confirm any official staff changes. Haley was not available for comment. Haley first joined the staff under former coach Barry Odom after the 2016 season and was one of three defensive staffers retained when Drinkwitz replaced Odom last year. Haley had two more seasons left on his contract, which was amended last January and extended through Feb. 28, 2023. His base salary was $625,000. Earlier this month, defensive coordinator Ryan Walters left the Mizzou staff for the same position at Illinois.
2022 receiver commits
Mizzou picked up a fourth verbal commitment for the 2022 recruiting class and a second player from the Kansas City area. Wide receiver Mekhi Miller from Overland Park, Kansas, and Blue Valley North High School announced his pledge on Twitter. Miller is rated the No. 3 player in the state of Kansas and No. 44 overall receiver in the 2022 class by Rivals.com.