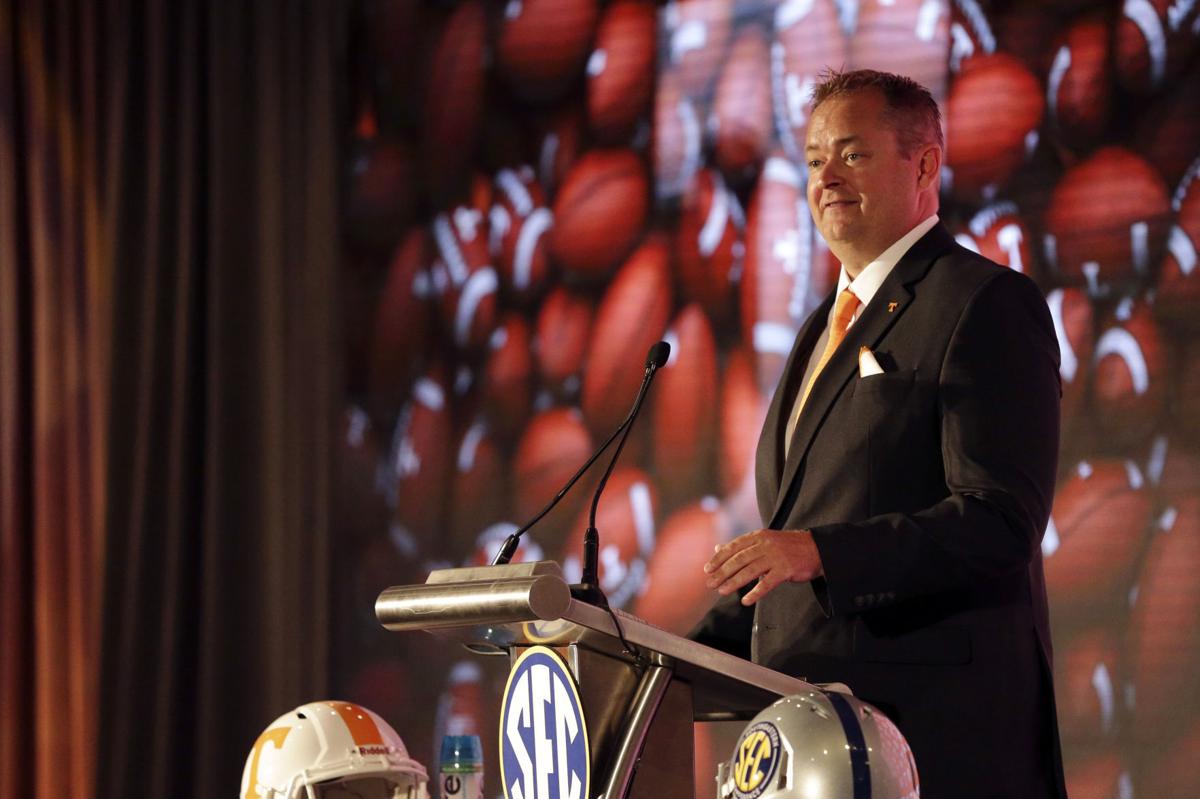 HOOVER, Ala. — Three times during his debut news conference at SEC media days, new Tennessee coach Josh Heupel used the word "iconic" to describe the Volunteer program and the school's easily identifiable orange Power T logo.
But all icons carry similar burdens. The Vols are no exception.
Despite a decade of far more lows than highs, one of the sport's most demanding and full-throated fan bases will expect much from Heupel, even as the Vols absorb looming sanctions for NCAA violations allegedly committed prior to his arrival, including possible postseason bans.
Heupel, the former Mizzou offensive coordinator (2016-17) and UCF head coach (2018-20), doesn't flinch at those lofty, if not outdated standards on Rocky Top.
"If you go by wins and losses, right, we're not where we need to be for sure," he said Tuesday at The Wynfrey Hotel, "but the only time constraints you put on are ones you put on yourself.
"I have a different perspective ... of the opportunity that is Tennessee football, and I say that from my playing experience. I went to Oklahoma (in 1999) when they hadn't been to a bowl game for five straight years. When you get the right alignment from president to chancellor to athletic director to head coach and you hire a great staff and you're consistent and you're accountable, I feel like you have an opportunity to move things forward quickly."
"There's certainly challenges we face as a program, but there's great opportunities, and that's why I came to Tennessee," he added. "This is Tennessee. This is one of the iconic programs in all of college sports, in all of college football. We have an opportunity to celebrate the great traditions while putting a new age approach on it."
There's no mystery that Heupel probably wasn't new athletics director Danny White's first choice for the job, but he was the most familiar option as both spent three years together at UCF. White's search for Jeremy Pruitt's successor wasn't the catastrophe of Tennessee's 2017 coaching quest — when the Vols whiffed on seemingly every coach with a pulse while firing its AD midway through the process — but other names surfaced as options before White settled on the 43-year-old Heupel, most prominently Penn State's James Franklin.
But the Vols' recent history is marked by doomed choices. Each of UT's last three head coaches were fired after losing seasons, from Derek Dooley to Butch Jones to Pruitt. All three had losing records in SEC play and were a combined 32 games under .500 in the conference. Of the three, Jones is the first to become a head coach again, resurfacing this year at Arkansas State. Dooley and Pruitt are in the NFL witness protection program, both as staffers with the New York Giants.
Once a staple in the nation's top 10 and a regular in the most prestigious bowl games, the Vols have finished in the final AP poll just twice in the last 13 years — and no higher than No. 22.
Can Heupel break the trend? He doesn't have the natural charisma of Mizzou's Eli Drinkwitz or the proven recruiting prowess of Georgia's Kirby Smart, but offense has always been Heupel's specialty. A Heisman Trophy runner-up quarterback at Oklahoma, Heupel was Sam Bradford's play-caller and QB coach with the Sooners and later turned Drew Lock into a record-setting passer at Mizzou. UCF was a top-10 scoring team each season under Heupel, though the Knights were better across the board under Scott Frost the season before Heupel arrived in 2017, when they led the nation in scoring (48.2 points per game) and ranked second in yards per play (7.4) and passing efficiency (178.5).
Still, once he settles on a quarterback, Heupel's no-huddle spread attack could make UT among the league's most improved offenses this fall.
"You look at the last three national champions, (Clemson in 2018, LSU in 2019, Alabama in 2020), offensively, I think every team has averaged over 520 yards on offense," Heupel said. "You look at what we've been able to do and our track record as a staff at the previous two stops at UCF and at Missouri, top five in basically every offensive category the last three years. ... This is a quarterback-friendly offense that's going to allow us to play and apply pressure to defenses every single Saturday that we step on the football field."
It was in 2017 when Heupel's Mizzou offense led the SEC with 502.2 yards per game and 484.9 per conference game while Lock set an SEC single-season record with 44 touchdown passes. Heupel's boom-or-bust offensive pace can put a strain on his team's defense, but after two years of Jim Chaney's plodding system, the Vols welcome the more modern attack.
"I'm so excited with my ability to catch the ball, to get yards after the catch and (be a) deep-ball threat," UT receiver Velus Jones Jr. said. "It's like a dream come true playing in this offense."
With a roster depleted by the transfer portal and scholarship reductions likely coming, it could be years before the Vols become serious threats to Georgia and Florida in the SEC East, but if Heupel wins sooner or later — he's got a six-year, $24 million contract, same as Drinkwitz — a fan base so hungry for relevance will embrace him while the school fills his bank account with cash and security. Just look at how Tennessee rewarded baseball coach (and St. Louis native) Tony Vitello after he guided the Vols to the College World Series. Tennessee has never been a baseball superpower but now pays Vitello like a superpower: UT just jacked up his salary from $600,000 to $1.5 million with a new contract through 2026. Women's basketball coach Kelly Harper just landed an extension after her second season.
Can Heupel reach that point? At UCF, he inherited a ready-made Group of Five power, produced respectable but measured results, enough to convince his AD he could thrive at a place with greater resources but greater expectations. Heupel believes he's more equipped now to tackle the Rocky Top challenge than he would have been three years ago when he moved from Mizzou to Orlando.