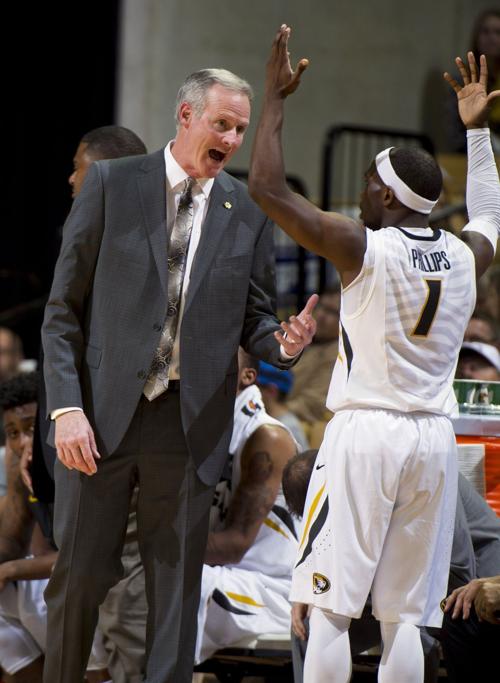 COLUMBIA, Mo. • Missouri discovered a secret weapon in last Tuesday's win over Arkansas State. When the offense got stagnant in the halfcourt, Mizzou had success giving the ball to freshman slasher K.J. Walton. He had one job.
"With the way the game's being played now it's to the offense's advantage to just put your head down and drive to the basket," Missouri coach Kim Anderson said.
That's just what Walton did, resulting in a team-high seven free throw attempts. Walton made six to go along with a couple of baskets as he joined four teammates in double-figure scoring on their way to a 10-point win.
The NCAA has made efforts to promote scoring across the country, and no team needed a boost like Anderson's Tigers, who last year scored just 60.5 points a game. With a push for shorter games and more scoring, the NCAA trimmed the shot clock from 35 to 30 seconds this season and reemphasized its stricter defensive rules.
Those changes, plus an injection of newcomers in Anderson's lineup, have the Tigers (4-3) averaging 70.3 points a game thanks to better shooting, crisper ball movement and — not to be overlooked — more chances at the free throw line. Heading into Wednesday's visit from Omaha (4-4), set for 7 p.m. at Mizzou Arena on SEC Network, the Tigers are getting to the foul line 22.4 times a game, compared to 17.5 last year.
Walton, a 6-foot-3 guard averaging 5.7 points a game, has attempted 24 free throws in just 99 minutes, making him, by far, the team's most frequent visitor to the stripe per minute. Sophomore guard Namon Wright, Anderson's second-leading scorer at 9.7 points a game, has already eclipsed his freshman totals for free throw attempts.
Heading into the season, officials were expected to carefully enforce fouls in certain areas: perimeter defenders on the dribbler, physical play in the post, moving screens and player movement away from the ball.
At times this season, the best way for Mizzou to unlock its offense in the halfcourt is a head full of steam toward the basket.
"With the way the game is being required to be called — and I'm not criticizing the officials — that's an advantageous way to play," Anderson said last week.
The price to reach that goal is a symphony of whistles. Missouri has averaged 22.4 personal fouls a game, up from 19.5 last year. Opponents are taking 26.3 free throws a game, up from 23 last year.
It's been a challenge for some players to get acclimated to the officiating, notably point guard Terrence Phillips, who played only 12 minutes last month at Xavier after early foul trouble. The Tigers have committed at least 22 fouls in six of seven games.
Anderson hasn't been afraid to throw opponents some curveballs on the defensive end. The Tigers have aggressively trapped screens at times. They've applied a three-quarters press in other games. Last Friday, Northern Illinois flinched when the Tigers applied extra pressure in the backcourt.
"We don't necessarily preach turnovers with the trapping," junior guard Wes Clark said. "It's just to speed the defense up, get some rotation and get some movement and use some clock. That little bit of aggression we showed picked up the whole defense."
Perhaps mindful of the way games are being called, the Tigers have gone into some defensive lapses, too, especially guarding penetration. It was a point of emphasis in practice Sunday, Anderson said.
"There were times (against Northern Illinois) when you could drive a truck through the lane on both ends of the floor, on our end and their end," he said. "That's something we've got to work on."
That was especially true this week as Mizzou prepared for Omaha, a team that prefers a frenzied pace. The Mavericks rank No. 2 in Division I in Ken Pomeroy's adjusted tempo advanced metric, at 78.3 possessions per 40 minutes — far faster than MU's pace of 68.3 possessions, which ranks No. 273.
"We've got to do a great job of getting back and guarding the basket," Anderson said. "Our transition defense is going to be critical, and I think I probably say that every game now because it seems like that's the way that every team's playing. They're going to get the ball, push it down the floor and try to score quickly, try to drive it to the basket and they either get a basket or get fouled."
That's the name of the game in 2015. Can Mizzou adjust and capitalize?
Mizzou (4-3) vs. Omaha (4-4)
Where • Mizzou Arena, Columbia
TV, radio • SEC Network, KTRS (550 AM)
All-time series • Mizzou leads 1-0
About the Tigers • After beating Arkansas State and Northern Illinois last week, Missouri can sweep its three-game homestand with a win Wednesday. … Freshman forward Kevin Puryear continues to lead MU in scoring at 13.6 points per game and as reached double-figure points in six of seven games. ... Missouri coach Kim Anderson was 3-3 vs. Omaha as head coach at Central Missouri. … Freshman point guard Terrence Phillips has 37 points and 17 assists in MU's last three games. … The Tigers' 18 assists vs. Northern Illinois marked their most under second-year coach Anderson.
About the Mavericks • UNO had two close calls against high-major opponents, losing to Colorado and Minnesota by a combined eight points. … Tre'Shawn Thurman, a 6-7 sophomore, leads Omaha with 16.8 points per game and 8.1 rebounds per game. … Tra-Deon Hollins, a 6-2 junior, leads the nation in steals and steals per game. … Ten different UNO players have reached double-digit scoring in games this year. … Senior Randy Reed II, a St. Louis native from Crossroads Prep and St. Louis Community College, is UNO's top scorer off the bench, averaging 6.3 points per game. … UNO transitioned from Division II for the 2011–12 season.