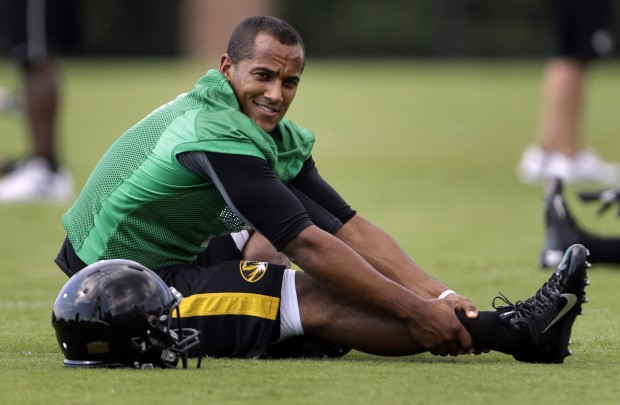 COLUMBIA, Mo. • Andy Hill hasn't been coaching Missouri's quarterbacks for long, but he knows all about the playmakers surrounding the delivery man in the offense. As the team's receivers coach for the last 17 years, Hill knows what kind of firepower the Tigers have stockpiled.
In Hill's vernacular, they are simply dudes.
And the Tigers have a bunch.
"We've got big guys on the outside. We've got quick guys in the middle," Hill said after Saturday's scrimmage on Faurot Field, the first of the preseason. "We've got Henry Josey and Marcus Murphy and (Russell) Hansbrough in the backfield. We've got dudes, you know. Give them the ball. And get the thing going. Get lined up, and let's play football."
Now, if only Missouri's coaches would settle on a quarterback. The Tigers' wealth of playmakers at receiver and tailback were on display Saturday along with some new wrinkles from first-year offensive coordinator Josh Henson, including — gasp — a short-yardage package featuring not one but two tight ends. But 10 days into preseason camp and less than three weeks from the Aug. 31 opener against Murray State, coach Gary Pinkel hasn't decided on a quarterback.
"When we make a decision, you'll know it," he said.
Though his production was a bit skewed by playing mostly against the No. 2 defense, senior co-captain James Franklin looked the part of Missouri's starting quarterback Saturday. He led the No. 1 offense on four scoring drives — three touchdowns and a field goal — and aside from an interception was the day's most consistent passer, completing 11 of 19 throws for 174 yards and two touchdowns.
Running Missouri's no-huddle offense at Henson's favored blistering pace, Franklin came out attacking early, completing four of his first five passes for 24, 20, 10 and 75 yards — the last one a touchdown strike to Marcus Lucas, who streaked past cornerback David Johnson on his way to the end zone.
"He's really confident in us as receivers," Lucas said. "So it makes his job easier when he knows if he throws it up we're going to come down with it."
Franklin added a 2-yard touchdown pass to Bud Sasser and later drove the offense to the goal line in the two-minute drill to set up a field goal.
His only turnover was no less his receiver's fault as Dorial Green-Beckham failed to knock down an underthrown pass that cornerback E.J. Gaines swiped for an interception.
Green-Beckham also dropped two catchable throws by Franklin.
"Dorial, a young receiver, he has to go and bat that down," Missouri coach Gary Pinkel said. "But it's a great play by E.J."
Franklin blamed himself for mistiming the throw to his 6-foot-6 target.
"That's on me to throw it further," he said. "He does like the jump ball, but I've got to place it better to give him a better alley-oop."
That speaks to Missouri's need to develop continuity among its top quarterback and receivers. Through the first week of camp, No. 2 quarterback Maty Mauk had taken a handful of snaps with the first unit — he had a couple series with the starters Saturday — but with the opener getting closer, the Tigers need every rep to polish their timing.
"Whenever they do decide (on a starter), it's pivotal that we keep driving with the same quarterback, the same rotation, just to get that chemistry and get things on the same page," said Lucas, who led the team with 103 receiving yards on three catches.
In what might have been his final audition to unseat Franklin for the job, Mauk shook off an early turnover and produced three scoring drives, including a 65-yard touchdown pass to Jaleel Clark. Mauk threw a late interception to linebacker Kentrell Brothers on a pass that bounced off receiver Levi Copelin but finished with a team-high 211 yards, on 11-of-22 passing. He was also sacked twice.
Facing the No. 1 defense more often than Franklin, Mauk tried resisting his impulse to flee the pocket and scramble but got caught standing still on his first possession, had the ball swatted away by a defender and recovered by defensive tackle Harold Brantley.
"The main thing is stepping up in the pocket," he said. "I trust my arm. I can make the throws, I just have to trust myself to stay in that pocket and trust the five guys blocking for me."
Said Hill: "Maty, the thing he brings to the table is he's going to be able to create when he's out of the pocket. We're trying to get him to stand in there. I thought he did a nice job."
But nice enough to keep the competition going? When Pinkel makes a decision, we'll know.