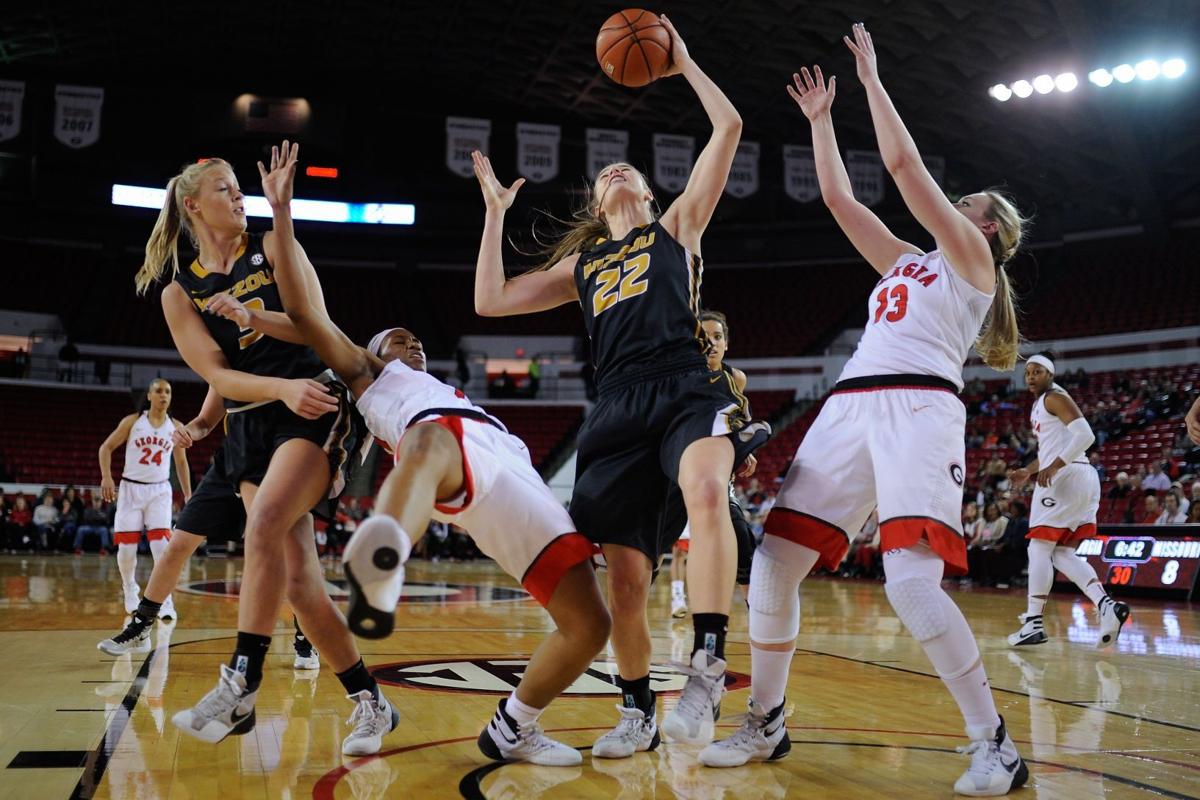 COLUMBIA, MO. • Missouri junior guard Sophie Cunningham saw enough in one preseason practice to declare the Tigers "the best team we've ever had here at Mizzou." It was a bold statement based on a balance of returning talent and crucial additions to Robin Pingeton's roster.
Jordan Frericks falls into both categories. The fifth-year senior forward missed all of last season after tearing the anterior cruciate ligament in her right knee during preseason practices, giving her a front-row seat to a 22-win campaign that saw the Tigers finish third in the Southeastern Conference and return to the NCAA Tournament. With key players back on campus — All-SEC scoring machine Cunningham, SEC co-freshman of the year Amber Smith and third-year starting forward Cierra Porter — the Tigers bolster that nucleus with Frericks, a proven post scorer and one of the best rebounders to come through the program under Pingeton, last season's SEC coach of the year.
While Cunningham made the most headlines two seasons ago when she set Mizzou's single-game scoring record four games into her freshman year, there were plenty of nights when Frericks was MU's best player on the floor. As a junior she earned second-team All-SEC honors and averaged 12.1 points and a team-best 7.7 rebounds while shooting 55 percent from the floor.
"Anytime you have a player that's been here for five years, that maturity level, that understanding of expectations and details and the discipline that you need to have day in and day out … she's certainly an impact player on the court," said Pingeton, back for her eighth season at Mizzou. "She just gives us an anchor inside. She's a kid that really likes to play with her back to the basket. Although we've really worked in the offseason trying to extend her game as much as we could within the limits of her rehab."
Frericks will be on the floor Oct. 21 when the men's and women's teams hold public scrimmages at Mizzou Madness, an exhibition event free to the public at Mizzou Arena, set to begin an hour after the conclusion of MU's football game against Idaho. Point guard Lauren Aldridge, a transfer from Kansas and expected starter, will make her MU debut at the event, along with a handful of freshmen who could join the rotation. Pingeton's team plays its first of two exhibition games Nov. 2 against Southwest Baptist.
Last year, Pingeton's staff hoped to expand Frericks' offensive range as the 6-1 forward worked on a midrange jumper to complement her rugged inside game, but just as the Tigers started preseason workouts, Frericks suffered the season-ending injury. Teammates have raved about Frericks' dedication to her rehabilitation plan, and by the summer she was back taking part in team workouts. Frericks was eager for the team's first official practice earlier this month and tested her knee's strength the first time she attacked the baseline.
"I hadn't done that yet against our scout team," she said, "but after (the play), I knew, OK, I'm strong, I'm good."
Frericks used her year on the bench to learn more about the intricacies of the game and stayed engaged by studying game film on her own time.
"I have a whole new perspective and I'm not taking this year for granted," the Quincy, Ill., native said. "I'm just excited to be back and play for our coaches and be on the court with my teammates."
She's not the only player recovering from an injury. Cunningham, the SEC's fourth-leading scorer last year at 17.5 points per game, was playing through a lower back injury that kept her off the practice floor most days. Cunningham briefly considered surgery this offseason that would have sidelined her for the entire 2017-18 season. Instead, she opted for rigorous physical therapy three to four days a week.
"I was actually going to get (surgery), but being the stubborn person I am, I was like, 'P.T. is not going to help,'" Cunningham said. "But I learned if I had surgery I'd have to redshirt. It would have been a 12-month (recovery). No way I'm doing that. … Last year was miserable," she said. "Looking back, I don't even know how I got through the season. But I'm feeling strong. I'm feeling really healthy."
While Pingeton's staff closely monitors Porter's workload in practice — a knee injury has limited her practice time at MU — her older sister, Bri Porter, isn't expected to resume her playing career. She's suffered five ACL tears since high school, including a season-ender last fall. Pingeton said Porter will apply for a medical hardship waiver and stay with the program as a student assistant.
"She's been through a lot, and she means a lot to this program regardless if she's ever in uniform again or not," said Pingeton, who is the Porters' aunt. "After five ACLs you'd think it's a no-brainer (to quit playing), but she's passionate about the game. … In her heart she wants to play. In her head she knows from a quality of life standpoint it's probably not the best decision."