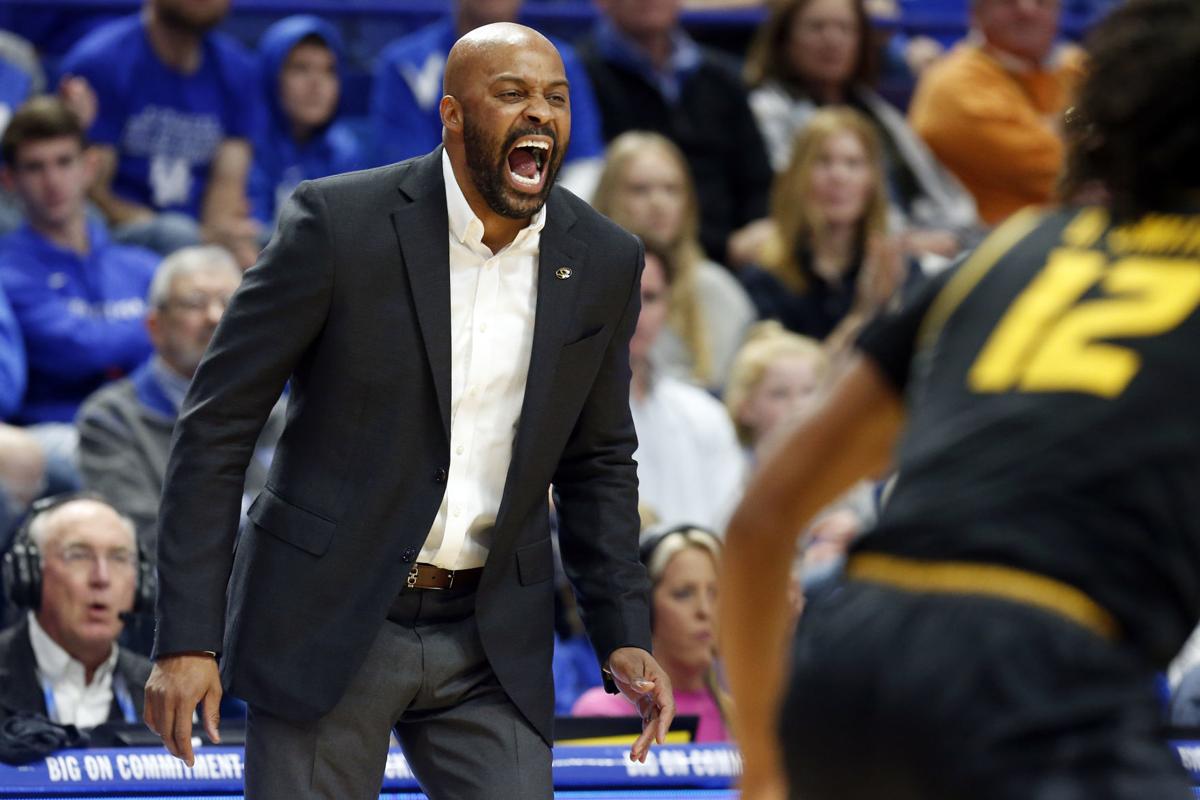 A record-breaking day at the foul line wasn't nearly enough for Missouri on the road at Alabama on Saturday. The Tigers set team and Southeastern Conference records by making all 31 of their free throws in Tuscaloosa, Ala., but couldn't match Alabama's firepower from the rest of the floor in an 88-74 loss.
The SEC's highest scoring team stayed on brand as the Tigers allowed their fourth-most points in three seasons under Cuonzo Martin.
"I thought the energy was good defensively, but there were a lot of breakdowns," Martin said in his postgame radio interview. "It's just one of those things where you have to learn some painful, painful lessons."
Hoping to catch Alabama on a post-Auburn hangover — the Tide became the first team to topple No. 4 Auburn just three days earlier — Mizzou instead became the first SEC team to four conference losses, though Ole Miss and Vanderbilt both sat at 0-3 with Saturday games against Louisiana State and Tennessee, respectively. Now the Tigers head home for a Tuesday visit from Texas A&M (8-8, 2-3) with their hopes of reviving the season in conference play looking grim.
For weeks Martin has urged his offensively starved team to attack the lane, draw contact and get to the foul line. For long stretches, that was Mizzou's only offense at Coleman Coliseum. MU's previous team record for consecutive made free throws in a game was 23 against Oklahoma in 2005 and Kansas State in 1997. The SEC record for the most made free throws in a game without a miss was 27 by Florida against Tennessee in 1994. 
Mizzou came three free throws short from tying the NCAA single-game record of 34 successful attempts without a miss, shared by three teams: UC-Irvine (vs. Pacific in 1981), Samford (vs. Central Florida in 1990) and Oklahoma (vs. Iowa State in 2013).
Despite Saturday's historic touch from the line, the Tigers (9-8, 1-4 SEC) couldn't capitalize on all those ventures inside the lane. When the whistle didn't blow, the Tigers struggled to finish, missing 16 of 27 dunks and layups.
But unlike last Tuesday's horrendous showing at Mississippi State, Mizzou kept this game competitive until late.
"We talked to them about answering the bell after a big win against Auburn," Alabama coach Nate Oats told reporters after the game. "It's kind of human nature to possibly have a letdown, so I thought we needed to avoid that. I thought we came out of the gate a tad sluggish, but we picked it up there in the first half and got ourselves a lead."
"For them to make 31 straight free throws and we still won by 14," he added, "we had to be doing a lot of good things."
Just as the Tigers got within three points with 5:53 left, Xavier Pinson couldn't finish a layup at the rim. Mizzou never got closer and missed 16 of its final 19 shots from the field.
"X had a good one at the rim and it could have cut it to one," Martin said. "I thought we had some great looks from 3. I thought the whole night I thought our guys did a tremendous job attacking. I think we had 70 paint touches. I think the most all season we had before (today) was maybe 40. So we did a great job of attacking, making free throws, being aggressive. But those open looks from 3 didn't fall."
The Tigers made just five of 20 from 3-point range while Alabama (10-7, 3-2) connected on 13 of 39.
For all the problems Mizzou had shooting the ball from anywhere but the foul line, this loss was just as much, if not more, about problematic defense. The Tigers still committed more fouls (23) than Alabama (22) and continued their sloppy play guarding the 3-point line. With a limited bench, the Crimson Tide produced five double-digit scorers, led by John Petty and his 20 points. It wasn't a record-setting day, but Alabama also made a habit of getting to the foul line and shot 25 of 30 from the stripe.
Through the first two weeks of SEC play, Mizzou's defense came into Saturday's game allowing a league-worst 39.5 percent from 3-point range in SEC action. That trend continued in Tuscaloosa.
"It's the mental discipline," Martin said. "We talk about the focus, the concentration, the attention to detail. It's very important. … But more than anything, it comes down to a personnel thing. If a guy is a shooter, he can't make shots. He's got to be a driver. You have to do a great job defending 1 on 1."
Mizzou shot only 8 of 24 from the field in the first half but connected on all 21 of its free throws to prevent Alabama from pulling away early. The Tide drilled 11 3-pointers in the half — four by center Alex Reese — but only led 47-40 at the break.
Mizzou went 12:03 between field goals in the half but stayed within a dozen points of Alabama, getting as close as three after a much-needed surge midway through the half. Pinson broke the long field goal famine with a layup and free throw, followed by a Kobe Brown basket off the dribble.
One of Martin's concerns heading into the game was Alabama's ability to space the floor and free up Reese for open 3s. The 6-foot-9 junior lurked around the perimeter most of the half and took advantage of open looks, scoring 12 of his 15 points from deep. Petty was a deep threat early with three quick 3s and freshman Jaden Shackelford was the closer, hitting two late 3s to stall Mizzou's rally.
Four minutes into the second half, MU's Dru Smith drew a third foul for point guard Kira Lewis on a drive into the lane, prompting an explosion on the sideline from Alabama coach Nate Oats, earning him a technical foul.
The Tigers got within seven on Pinson's two free throws and a Dru Smith 3-pointer, then after falling behind by 10, got back within three with a 6-0 run.
With Alabama backcourt depth nearly depleted — James Bolden fouled out and Lewis had to play with four fouls — Mizzou got as close as 73-70 with more free throws and some Reed Nikko paint points but the offense went back into hiding late.
After scoring just two points at Mississippi State, Dru Smith led MU with 18, while Mark Smith finished with 15, though shot just 3 of 11 from 3-point range. Pinson and Brown both scored 11 points.
Javon Pickett remains a scoring enigma and the barometer of MU's success. He rejoined the starting lineup but went scoreless on five shots in 30 minutes. In MU's nine wins the sophomore guard has scored 94 points; in MU's eight losses he's scored just 31, and failed to score in losses to Xavier, Butler and now Alabama.
Dave Matter brings you the latest updates from the Mizzou sports scene.