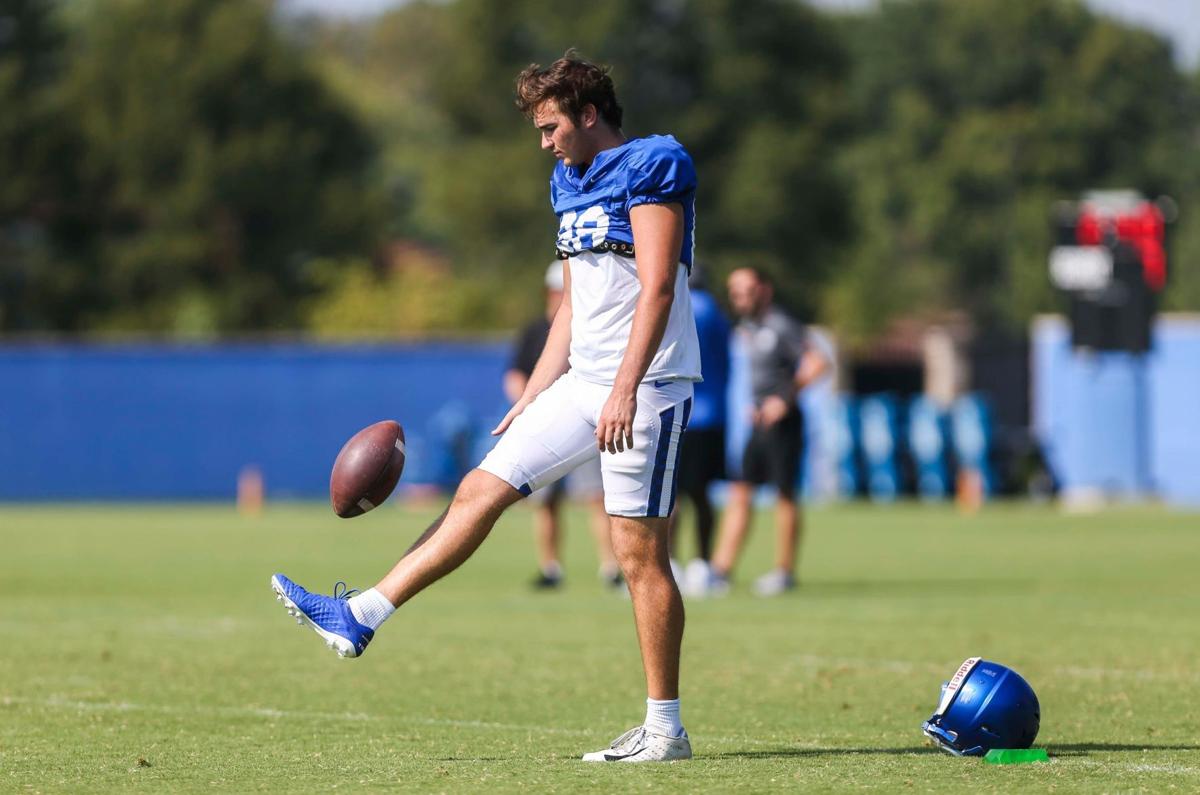 COLUMBIA, Mo. — The scenes inside Kentucky's and Missouri's football facilities contrasted starkly at the beginning of this week.
In Lexington, players printed about 30 copies of a former teammate's photo in his new colors. In Columbia, Tigers punter Grant McKinniss started receiving Snapchats from his old Kentucky friends. When he opened them, he saw his own smiling face. The Wildcats had taped the same picture of McKinniss wearing his Mizzou polo on walls, windows, weight machines and every other place imaginable in the facility.
"The guys just thought it was funny to put his picture around everywhere," Kentucky punter Max Duffy said. "He was a popular person within the team. He doesn't take himself too seriously."
As McKinniss was getting spammed with his own face, he was surrounded by Missouri players desperate to end a cycle of recurring miscues and misfortunates against Kentucky. The graduate transfer is Mizzou's starting punter, but he has been on the opposite sideline for the last four years when these SEC East rivals have clashed. Kentucky has won the last five.
The gravity of those losses by MU didn't occur to McKinniss until a team meeting this week, when coach Eli Drinkwitz asked for a show of hands: Who in the room has beaten Kentucky? No hands went up.
"I never really thought about it," McKinniss said, "but today I thought, like, 'Dang, I guess I never lost to Missouri.'"
He's hopeful he can help end that streak at 3 p.m. Saturday in Columbia, but the game still presents an exciting opportunity for McKinniss to reunite with old teammates at Faurot Field. In particular, there's Duffy, Kentucky's Australian punter who beat out McKinniss in a 2018 position battle. Now they're close friends, and their frequent conversations mostly consist of punting gossip.
"We just talk about guys that we think are good and guys that we think get a little bit too much praise," Duffy said. "That's mainly our favorite thing to talk about. Guys that maybe have some stats that exaggerate how good they are, and then the guys that deserve the praise. Also who the good returners are and who the not-so-good returners are.
"Not many people like talking punting, so it's always good to have someone that enjoys talking about it — all the little things that go into it that people don't really care about. I can't say there'd be too many other guys on the team that would enjoy having a punting conversation with me."
They also have the benefit of playing in the same conference. Every week, McKinniss and Duffy like to go over their respective upcoming opponents together. They'll bounce ideas off each other and discuss their experiences competing against the same returners and punt block schemes.
That's not the case this week, of course.
"Grant's keeping everything pretty close to his chest," Duffy laughed, "and I'm keeping everything pretty close to mine."
Two years ago, their sustained friendship might have been considered an unlikely one. McKinniss had arrived at Kentucky in 2016 and earned the punting job as a freshman. After redshirting in 2017, he expected the starting job again, but Duffy joined the team from Perth, Australia, where he had played for Fremantle in the Australian Football League.
The AFL's version of the sport is best described as a cross between American football and rugby, so Duffy came in with marketable talent but little knowledge of the punting nuances he would need to succeed.
McKinniss was competing with him for the starting job, but that didn't stop him from helping out.
"Even though he wasn't winning the job, he was always helping me with little things that I probably didn't understand being from Australia and little rules and situations," Duffy said. McKinniss taught him that late in a close game, opponents are more likely to bring more pressure in search of a punt block. Duffy learned when to get the ball in the air quickly.
"There's no doubt he helped me with the spiral technique as well," Duffy said.
He in turn taught McKinniss the intricacies of rugby-style rollout punts. Missouri might see a lot of those from Kentucky this weekend. The Wildcats aren't afraid to call reads for Duffy. Last year in Lexington, he ran a fake punt for 25 yards against Mizzou.
He was on his way to the Ray Guy Award for the nation's best punter, averaging 48 yards per boot.
"Max does a great job mixing it up with going cross-field," McKinniss said. "He's just really consistent."
They were together for some of Kentucky's fondest memories, which often doubled as Missouri's greatest heartaches. There was that 2018 game at Faurot, when Kentucky scored on an untimed down to win 15-14 after a controversial pass interference call. "I talked about it briefly with some of the teammates around here," McKinniss said. "They don't like that moment too much. So I'm trying to keep that on the down low."
Missouri notably failed to get a single first down in the second half of that game, which meant many, many punts. McKinniss and Duffy may be keeping their secrets to themselves this week, but they're both hoping for one thing together.
"We're both secretly hoping it's another good defensive game so we can get out there a bit more," Duffy said. "It's always fun when you win, but it's always fun when you can win as well as getting a few punts in."
Dave Matter brings you the latest updates from the Mizzou sports scene.